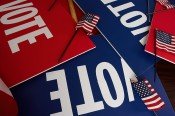 In a town where the majority of residents vote Democratic, tomorrow's runoff election in Jackson will decide the winner in many races. With historically low voter turnout in runoffs, however, tomorrow's winners may not be the people the majority of voters want in those positions if they don't turn out to vote tomorrow.
Winners of tomorrow's Democratic runoffs for Council seats in wards 2, 4 and 5 will not face any opposition in the June 2 general election, meaning that the winners in those wards will take their seats in the Jackson City Council. The winner of the Ward 6 runoff will face an Independent June 2.
All of Jackson's eligible voters who reside in one of the contested wards are eligible to vote in their ward's council runoff, regardless of whether they voted in the primary.
Candates in those wards are:
Ward 2: Wydette U. Hawkins and Chokwe Lumumba
Ward 4: Frank Bluntson (incumbent) and William R. "Bo" Brown
Ward 5: Bettye K. Dagner-Cook and Charles H. Tillman (incumbent)
Ward 6: Joe Lewis and Tony T. Yarber
In Ward 1, incumbent Jeff Weill, a Republican, is running unopposed. The Ward 3 council seat was decided with the primary vote May 5, and in Ward 7, incumbent Margaret Barrett-Simon will face one Republican and one Independent in the general election.
In the mayor's race the Democratic winner tomorrow will face one Republican and four Independent candidates on June 2. The Democratic candidate will either be former Councilman Marshand Crisler or former Mayor Harvey Johnson Jr.
In the absence of a Republican primary, all eligible voters in all Jackson precincts can vote for a mayoral candidate in tomorrow's runoff whether they voted in the primary or not.
See the JFP Politics Blog for stories, interviews and editorials about the candidates and the race.
Also see Answers to Election Day Questionsfor information on eligibility, poll hours, who to contact if you run into problems and more.