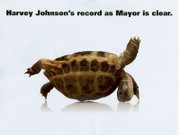 The Marshand Crisler campaign is sending out a rather bizarre campaign mailer using the children's fable of the tortoise and the hare. The only problem is that this particular fable does not help their candidate. The mailer starts: "We all know the old fable about the turtle and the hare." Er, do we *all*, really?
You see: Johnson is supposed to be the turtle in this fable. But, wait. Per Wikipedia, in case you've forgotten the moral of the tortoise-hare story:
One day a hare saw a tortoise walking slowly along and began to laugh and mock him. The hare challenged the tortoise to a race and the tortoise accepted. They agreed on a route and started off the race. The hare shot ahead and ran briskly for some time. Then seeing that he was far ahead of the tortoise, he thought he'd sit under a tree for some time and relax before continuing the race. He sat under the tree and soon fell asleep. The tortoise, plodding on, overtook him and finished the race. The hare woke up and realized that he had lost the race.
The moral, stated at the end of the fable, is, "Slow and steady wins the race."
Wonder how much this mailer cost?
Previous Comments
ID

147447

Comment

"For a Jackson of which we can all be proud."

Author

Todd Stauffer

Date

2009-05-15T19:17:41-06:00
ID

147448

Comment

Yeah, yeah.

Author

DonnaLadd

Date

2009-05-15T19:21:29-06:00
ID

147451

Comment

Plodding - To work doggedly or laboriously.

Author

thabian

Date

2009-05-15T20:10:41-06:00
ID

147452

Comment

Funny, thabian. Oops.

Author

DonnaLadd

Date

2009-05-15T21:08:34-06:00
ID

147454

Comment

Oh, I forgot.... didn't Harvey pass the Air Force exam...the first time...?

Author

thabian

Date

2009-05-15T21:21:31-06:00
ID

147617

Comment

Poor turtle. There's a sick photographer out there torturing turtles for Crislers' campaign. CALL PETA! ;-)

Author

kaust

Date

2009-05-18T12:11:45-06:00
ID

147623

Comment

Good point, Kaust. Somebody should look into Crisler's record on managing his household pets.

Author

jbreland

Date

2009-05-18T13:01:45-06:00
ID

147740

Comment

Plodding - To work doggedly or laboriously. From Merriam-Webster Dictionary 1: to work or act laboriously and monotonously a: to walk heavily or slowly b: to proceed slowly or tediously transitive verb: to tread slowly or heavily along or over

Author

Jeff Lucas

Date

2009-05-19T10:52:15-06:00