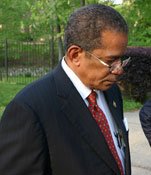 WAPT will offer a live video stream of the noon memorial for late Jackson Mayor Frank Melton at Thalia Mara Hall.
The 2,400-seat auditorium is expected to fill fast, seating will be first come, first serve basis.
The memorial will include a short video of the mayor's time in Jackson and a performance from the Mississippi Mass Choir.
16 WAPT was told the ceremony is closed casket and Melton's son, Matthew Melton along with city spokeswoman and longtime friend Goldia Revies will speak.
Part of Pascagula Street near the police department and the auditorium will be closed. Police said drivers can park in metered spots downtown and asked for everyone to arrive early and carpool if possible.
Order of the service:
Prelude/Processional
Prayer: Rev. Charles E. Polk, St. Luther Missionary Baptist Church
Scripture Reading: (1 Corinthians 13:1-13 - 15:10) Rodney H. Melton
Musical Selection: Williams Brothers
Instrumental Selection: "Amazing Grace," Jessie Primer, III, Chairman, Tougaloo College Music Department, Saxophone, and Sandra Bell, Piano
Expressions: Goldia M. Revies, City of Jackson; Moses T. Smith, Mentee; Matthew R. Melton, Son
Musical Selection: Jackson Southernaires
Homily, Rev. James "Jim" Evans, Mississippi Legislator
Musical Tribute: The Mississippi Mass Choir
Benediction: Rev. Charles E. Polk
Postlude/Recessional