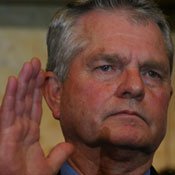 The Mississippi Legislature is taking another two weeks off before returning May 26 to grapple once again with the state's $5 billion budget for fiscal year 2010, which begins July 1. Between serious shorfalls in anticipated revenue and ideological disagreements, lawmakers are deeply divided, especially on public service issues such as education and health care.
"I don't know what the biggest one is, but they do have some hang-ups," Rep. David Gibbs, D-West Point, told The Commercial Dispatch.
The Democratic-dominated House wants to spend more, but the Republican-controlled Senate, allied with Gov. Haley Barbour, wants to spend less.
"The budget offered by the governor and Senate will devastate (local schools and state colleges). The House has a balanced budget without destroying the state financial plan," House Speaker Billy McCoy said in a statement issued by House Democrats.
However, the Senate's Republican leader said the state's declining tax collections – brought on by a deep economic recession – require a "conservative" budget.
"This is the worst budget situation that I've seen ... We're going to have to take some serious cuts," said Lt. Gov. Phil Bryant, who presides over the Senate.
The Senate's budget proposal offered last week called for spending about $5.87 billion in state funds – $40 million below what the House put forward.
One of the many points of contention between the two chambers is Barbour's proposed tax on hospital beds to cover the shortfall in Medicaid, an issue that has plagued the Legislature for years. Federal stimulus funds are earmarked to bolster the fund temporarily, but a long-term, permanent funding mechanism seems out of reach.
Last week, McCoy told The Clarion-Ledger that he doesn't believe the House will pass the requested $90 million tax, and Rep. Cecil Brown, D-Jackson, accused Barbour of misrepresenting the relationship of Medicaid and any tax levied.
"The hospitals perform services for Medicaid patients and these services cost money," Brown told the Ledger. "They then submit their bills to the Division of Medicaid which pays them the Medicaid rate for services, often less than the cost of those services. Medicaid then submits a request for reimbursement from the federal government at our allowable match rate. The difference between the federal match rate and the allowable Medicaid payments to hospitals for services is the state 'match' requirement. ... Where the state gets its match is irrelevant in the payment process,"
The Mississippi Hospital Association is also opposed to the tax, which MHA president Sam Cameron characterizes as a "tax on sick people."
Barbour, meanwhile, is threatening "historic" cuts to the program's budget of up to $571 million.
"The (federal) stimulus money is masking an enormous revenue shortfall," Barbour told the Dispatch, and warns of a potential budget deficit of more than $500 million in 2011.