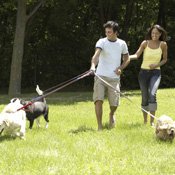 I was recently horrified to learn that our state is one of only four in the U.S. without a felony law against the crime of abusing cats or dogs. A law like this seems like a common-sense thing, yet there appears to be pockets of opposition to it in Mississippi and nationwide. If you're like me, you're wondering who would be against it. Why wouldn't good people want to do all they can to stop cowardly people from cruelly abusing the two species of animals many of us consider to be faithful companions and even family members?
Getting a law like this on the books is not just about protecting household pets from abuse. Studies have shown that people who abuse and kill animals are more likely to eventually target humans. In one survey of battered women, 71 percent reported their partners had threatened or killed the family pet. Even the Federal Bureau of Investigation has noted that a history of cruelty to animals is one of the traits that regularly appears in profiles of serial rapists and murderers. Every day more crime-prevention experts agree that stopping such individuals at the animal-abuse stage would save countless humans from pain and suffering in the future.
The biggest pocket of opposition to a law that would address this issue—a law like Senate Bill 2357 that recently died in the Mississippi Legislature—is the Farm Bureau. Ask your local representative, and he'll admit (off the record) that it is this strong lobbying group that is preventing this kind of legislation from getting to the governor's desk. Their apparent concern is that this would open the door to strict regulation of farm animals like chickens, pigs and cows.
This is absurd. Dogs and cats are completely different animal species, and the Farm Bureau could insert any language into the bill that they want to make that clear. Why such an organization should even care about laws pertaining to family pets (not farm animals) and why such legislation is continually routed through the Agricultural Committees (dogs and cats are not livestock) are interesting questions that no person in our state government has answered well.
A felony animal cruelty law specifically protecting cats and dogs should be the easiest thing in the world to pass. Most of the people who understand what this would overwhelmingly support it, so there would be no damaging political impact to anyone's career. Many Americans support this initiative, with surveys showing that more than 85 percent of American households consider this type of law important. There is no logical argument against SB 2357. It is time for the lawmakers in this state to serve the majority of its citizens. It is time for us to act as the evolved and civilized Mississippians we are.