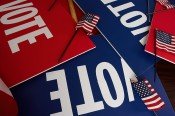 Your Voter Questions Answered
JFP Endorsements for Mayor and City Council
JFP Interviews with All Democratic Mayoral Candidates
JFP Election Blog with Full City Election Coverage
Read About City Election Turnout in 2005
It's cinco de mayo, and the day we all go to the polls to vote for our city's future. Please do your part and cast your vote today; it's as important as the vote you cast for president last fall for this city. Remember, Frank Melton won the Democratic primary (and thus the election) four years ago with only 25,922 *total* votes (and 26,759 in the general election). Low voter interest help put him there. Your vote counts; help make this year a real turnout.
For now, share your observations about the elections below.
Previous Comments
ID

146774

Comment

From Adam's story four years ago about the turnout; it might surprise you! On June 10, election officials tallied the official count of voters in Jackson's June 7 mayoral elections. Last-minute tallies revealed that Democrat winner Frank Melton walked away with 26,759 votes, or 88.8 percent of the vote. Soft-spoken Republican candidate Rick Whitlow stepped off with a small 3,369 votes, or 11.2 percent of the vote. Local papers considered Melton's win a landslide victory although Jackson Municipal Election Commission co-chairwoman Barbara Powell called the actual number of votes a very low turnout compared to past elections. "I really can't tell you the average, but this was pretty low," said Powell, who has worked with the elections office since 1989. There were 30,128 votes cast in the June 7 general election. With there being 131,713 voters registered in Jackson, the election only stirred up about 22.8 percent of voters. [...] With 92 of 95 precincts reporting, incumbent Harvey Johnson got 14,779 votes to Melton's 25,922 votes in the May 2 primaries. Democratic challenger Annell Vaughn Smith received 272 votes. The May 3 cataloguing of 40,973 votes meant that 33 percent voted in the primaries.

Author

DonnaLadd

Date

2009-05-05T07:19:41-06:00
ID

146776

Comment

I already voted! I believe the turnout this year will be a lot heavier than in past elections, due to the high number of candidates out there. I believe, however, that the primaries will have more turnout than the general election.

Author

golden eagle

Date

2009-05-05T07:29:09-06:00
ID

146778

Comment

I hope you're right, golden. And I may be wrong, but I believe a higher turnout works against Melton—UNLESS a high volume of them vote for someone other than the top two candidates, thus splitting the vote and getting Melton into the runoff. Strategically, that is one of my biggest fears. I'm not saying not to vote for a candidate who is not likely to win—but I am saying to think carefully about it if you would like to see Melton lose today.

Author

DonnaLadd

Date

2009-05-05T07:32:57-06:00
ID

146779

Comment

BTW, all, where are the victory parties tonight? The only one I know about so far is John Horhn at Schimmel's. Please post if you know about the others. I suspect we'll head over to Pi(e) to watch returns after the paper goes out if anyone wants to join us there.

Author

DonnaLadd

Date

2009-05-05T07:35:32-06:00
ID

146780

Comment

Verbatim: ROBERT L. JOHNSON TO VOTE at CALLAWAY HIGH SCHOOL, PRECINCT 81 at 10:30 a.m., Tuesday, May 5 (Jackson, Miss.) – May 5, 2009 – Jackson Democratic Mayoral candidate Robert L. Johnson will be voting today, Tuesday, May 5, 2009 at 10:30 a.m. at Callaway High School, Precinct 81. Friends of Robert L. Johnson will gather this evening at the Regency Hotel and Conference Center, 400 Greymont Street beginning at 6:30 p.m. Robert Johnson will join his friends and supporters later in the evening.

Author

DonnaLadd

Date

2009-05-05T07:37:32-06:00
ID

146782

Comment

I was wondering if you guys were going to have an election return viewing party. I guess I'll be at Pi(e). I have nothing else to do.

Author

golden eagle

Date

2009-05-05T07:52:34-06:00
ID

146783

Comment

Having kids, we won't be at Pi(e). But we hope that the election results come in favorably, and you all have a wonderful evening. Clinton looked slow this morning. But we don't have anyone noteworthy to vote for or against. Only one Clinton candidate scares the crap out of me, and it sounds like she wants to be Clinton's version of Miss Mary. Thankfully, she's only running for Alderman.

Author

Lady Havoc

Date

2009-05-05T08:01:52-06:00
ID

146784

Comment

We didn't plan one, golden. It's press day, and we're too busy planning debates! So it's easiest to just go over to Pi(e).

Author

DonnaLadd

Date

2009-05-05T08:57:37-06:00
ID

146788

Comment

Any word on how turnout is in Jackson?

Author

golden eagle

Date

2009-05-05T10:15:01-06:00
ID

146790

Comment

Author

LatashaWillis

Date

2009-05-05T11:09:56-06:00
ID

146800

Comment

I've been to four precincts - all slow. Since it's cinco de mayo - let me share that we can now get great tacos in Jackson. I saw in the CL last week that that Mexican grocery store at the corner of County Line and Old Canton had expanded into a larger space and had turned the former store into a taqueria - Taqueria La Guadalupe (601.206.7776). We went on Sunday and each got three chicken tacos. They are made to order ($1.85 each) and are smothered in fresh lettuce, tomatoes, avocado, cilantro, and cheese. Homemade salsas on the side. They also have pork and steak tacos, burritos and sandwiches. You can eat in at the counter or take out.

Author

Jennifer2

Date

2009-05-05T13:46:14-06:00
ID

146801

Comment

I just spoke to a friend who lives in Ward 1 who mentioned the turnout at his precinct site looked very light to him.

Author

Jeff Lucas

Date

2009-05-05T14:00:48-06:00
ID

146802

Comment

At my precinct in Ward 7, there was no line and 20 people had voted by 7:45 am. During the presidential election, I went at the same time and had to wait in line behind about 10 people, with another 10 people showing up behind me before I left.

Author

chip

Date

2009-05-05T14:21:47-06:00
ID

146803

Comment

Chip, how about the turnout at your precinct during the last municipal election?

Author

Jeff Lucas

Date

2009-05-05T14:54:30-06:00
ID

146805

Comment

I was away at college so I don't have any previous experience with local municipal elections.

Author

chip

Date

2009-05-05T15:10:26-06:00
ID

146807

Comment

Light turnout is not good, but hopefully, other precincts are heavier or that more people will filter later, especially after 5p.

Author

golden eagle

Date

2009-05-05T15:26:30-06:00
ID

146809

Comment

I'm expecting a larger crowd this evening than there was this morning. It would be nice to see 80,000 turn out, but I would be happy if we could at least get 50,000. Even that may be too optimistic. I do know this though. Every person who complains to me about the city over the next four years will have to tell me that they voted before I even begin to listen!

Author

chip

Date

2009-05-05T15:50:32-06:00
ID

146811

Comment

Well, I feel absolutely idiotic. C5, Clinton, AE Wood Library: went to vote, and no voter machines. At all. We'll have to wait until the June election: we have one candidate in each party for Mayor and Alderman At Large, and our ward only has one Republican running for Alderman. So we had no vote today. I'm pretty upset with the Clinton News for not advertising on their website that some precints would not vote today. The City of Clinton did not do a good job with getting the word out at all. Even the librarians didn't know how to explain the situation. This feels like bad customer service: change the rules in the middle of the game, then leave your front line people to clean up the mess with no instruction whatsoever.

Author

Lady Havoc

Date

2009-05-05T16:10:52-06:00
ID

146814

Comment

Good to know baquan - I'll try La Morena.

Author

Jennifer2

Date

2009-05-05T16:34:24-06:00
ID

146815

Comment

Well, it's 7pm. Best of luck to the City of Jackson.

Author

Lady Havoc

Date

2009-05-05T18:03:30-06:00
ID

146816

Comment

Either #238 or #248 (can't remember which) at Belhaven, ca. 3:30p. I don't remember the last municipal election tally but at about the same time of day I was #415 or so in the presidential primary last March. Turnout is probably low due to the overwhelming number of candidates and the amount of time required to figure out who's for what. Hopefully it'll be higher on the 19th if there's a contentious runoff. I'm hearing enough people say "you're not going to believe this, but I voted for Melton" that I'm now concerned that he will actually be in the top two.

Author

Tom Head

Date

2009-05-05T18:06:01-06:00
ID

146838

Comment

I'm rather disappointed at the low voter turnout today. If my math is correct, only about 32K people so far bothered to cast a vote for mayor; even fewer total for city council seats. Where there just too many choices for people not to choose or are the citizens here so apathetic about problems going on in Jackson?

Author

golden eagle

Date

2009-05-05T21:50:57-06:00
ID

146840

Comment

So any predictions about the general, and who will be endorsing who.

Author

NewJackson

Date

2009-05-05T22:04:55-06:00
ID

146845

Comment

No doubt the most significant endorsement -- if it happens -- would be from Horhn. He could easily back off of it by saying he's a sitting Senator that needs to work with either candidate. But he had a good showing tonight and if his endorsement excited his voters (who were, by definition, fairly passionate folks) to back either Johnson or Crisler, that looks like the biggest boost to me. If Kenny Stokes endorsed one or the other that might be helpful too, although whether or not it also polarized other potential voters could be interesting. I think Hohrn is a bit of a rain-maker here. My vote would be that he make the candidates earn his endorsement by promising to listen to his council on issues relating to the Leg and economic development, as well as some of his thoughts on the "problems of spirit" that Jackson faces.

Author

Todd Stauffer

Date

2009-05-05T23:23:15-06:00
ID

146846

Comment

As a Horhn supporter, I'm stunned and pleasantly surprised that he got 18%--same as Melton. That's much better than the polls had indicated, which tells me that he probably pulled in a lot of undecideds. Agreed that he could be a rainmaker. And, I hope, a good liaison to the next mayor in the legislature. God knows we could use some help from the state. I'm not sure how much his endorsement would help Crisler, but it could help Johnson considerably. Johnson's going to need more donors, for starters. (In other news, I should not use Twitter. I think I just flooded out 150 people.)

Author

Tom Head

Date

2009-05-05T23:55:35-06:00
ID

146847

Comment

Yes, I'm pleased to see that Horhn did so well—and didn't put Melton in the runoff. It will be interesting to see what he does. I know the offers will be flying—I hope he truly considers what's best for the city. One interesting thing tonight: It's looking like Crisler did not do so well in black precincts—as many of us predicted, considering that Billy Mounger gave him $5,000 (wasn't it?) and all the baggage that comes with it. It'll be interesting to crunch those numbers in the light of day. And the low turnout is depressing as always. I'd originally thought it might be a bigger turnout than the 40,000+ in 2005 due to the Melton factor, but the Ledger's high "undecided" finding over the weekend worried me a bit. If they were still undecided then, it could be they just wouldn't bother. I'm not sure it's worse, though, than all the people who turned out in a lather four years ago because Melton was gonna solve crime in 90 days. But it's always better to see more votes rather than fewer. My bottom line issue, though, is I think all the lies and myths and rumors and conspiracy theories suppress votes -- people don't know what to believe, so they stay home. We really must ratchet up efforts to raise the truth standard in our community, and call out people who spread sh!t without confirmation or attribution every time we see it instead of shrug our shoulders and say, "aw, that's just old ____________." That's stankin' thankin', and it's bad for our community. (Yeah, we got Twitter happy on each other. Oops. It's so easy, though!) I'm going to bed now, with my phone (so to speak). I'll post if I hear any confirmed news about Mr. Melton.

Author

DonnaLadd

Date

2009-05-06T00:27:13-06:00