Wednesday, March 25, 2009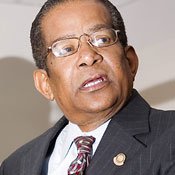 Jackson Attorney Dorsey Carson, who represents the Jackson Democratic Executive Committee, is arguing in a March 24, position statement in Hinds County Circuit Court that the committee had the right to reject Jackson Mayor Frank Melton from the Democratic ballot, and that the burden of proof is on the mayor to prove his primary residence is in Jackson. Melton sued the committee in Hinds County Circuit Court March 18 after the Committee unanimously refused to recognize him as a Democratic candidate running in a local election. The committee argues that they do not believe he qualifies as a Jackson resident.
"The question for this court to decide is not whether Mr. Frank Melton maintains a residence in Jackson… Rather, the question for this court to decide under Mississippi law is whether Mr. Melton and his family abandoned their established domicile in Texas, and now maintains their primary residence in Mississippi," Carson writes.
Carson points out that Melton "boldly lied" to the committee about his homestead in 2005 and that his family continues to "act in a manner consistent with their primary residence being located in Texas."
Melton's Texas drivers license, issued or renewed in 2001, is still designated as "current" on a Lexis/Nexis public records search, according to Carson. And the motion argues that Texas law makes it mandatory to declare a Texas residence a "principal residence" in order to qualify for homestead exemption, and that it is "impossible to lawfully file for homestead exemption in Texas while claming to be a qualified elector in Jackson."
Melton has not yet disputed that he lied to the commission in 2005, despite evidence that he and his wife have been filing for a Texas homestead exemption since 1996. The position statement argues that Melton "should not be allowed to circumvent the letter and spirit of the law based solely upon his own dishonesty."
Read the position statement here.
Previous Comments
ID

145074

Comment

While I think its a little disingenuous to argue that Melton is not a full-time resident of Jackson, it's the *strange* marital relationship between the Meltons that contributes greatly to this mess. Married but living apart, maintaining separate careers and households in two states, having property ownership in both areas...it's all a recipe for confusion and controversy.

Author

Jeff Lucas

Date

2009-03-25T09:26:51-06:00
ID

145078

Comment

I agree with you baquan. Too many fell for the image that Melton had cultivated for years through "The Bottom Line" as a businessman, crimefighter and community organizer in touch with the youth of the streets, so the red flags you mentioned were largely ignored.

Author

Jeff Lucas

Date

2009-03-25T10:04:46-06:00
ID

145096

Comment

this is going to be interesting, as the court case the defense sites as precedence is a little different in nature to this case. In the former case, Brinson was claiming residence at his mother's house in Hinds County shortly before attempting to run for office. In this case, Frank is claiming residence in a house he owns and has lived in for years. Frank has a much stronger case than Brinson did, so we'll see what the judge says. I think Melton will inevitably be back on the ballot, but it's about a 55-45 chance. At the end of the day, I hope common sense prevails and Frank is allowed on the ballot so he can get voted out of office by the people of Jackson.

Author

eyerah

Date

2009-03-25T14:14:05-06:00
ID

145107

Comment

You are right, baquan2000. Donna is the only journalist in this city who has ever had the guts to question the legitimacy of Frank Melton. Others have stood idly by and allowed the man to make a laughing stock of this state.For four years Melton has served (under false pretenses/fraud)as mayor of the city of Jackson, and no one blinked, except Donna, while bringing the city to ruin.What is it about this man that allows him to so easily stick his fingers in the eyes of justice and get away with bloody murder? What magic, voodoo spell does he have on this city?!!! My prayer is that this judge will NOT look at Melton but instead follow the letter of the law that he swore before God to uphold.

Author

blu_n_a_redstate

Date

2009-03-25T16:48:47-06:00