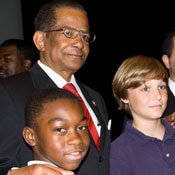 [verbatim] The City of Jackson's Safe Neighborhood and Youth Development Division will host "Lunch With the Mayor in the Park" at Lake Hico Park on Thursday, March 19, 2009, from 11 a.m. until 2 p.m. Area youth on spring break are invited to eat a picnic lunch with Mayor Frank E. Melton and experience educational programs presented by the Jackson Fire Department and the Solid Waste Division's "Go Green" initiative.
Children are encouraged to attend this free event, enjoy great food with Mayor Melton and learn more about fire safety, conservation and environmental programs in the City of Jackson.
Lake Hico Park is located at 4801 Watkins Drive, north of Bailey Avenue.
For more information, contact the Safe Neighborhood and Youth Development Division at 601-960-2174.
Previous Comments
ID

144820

Comment

I'd say he was crazy as Cooter Brown but that would be an insult to Cooter. Really? He wants a bunch of kids to have lunch with him after all the issues he's had with young people in the past. In the middle of his his reelection bid?

Author

msgrits

Date

2009-03-17T14:42:32-06:00
ID

144822

Comment

It could be a way to proverbially stick his tongue out at those of us who have questioned his methods of mentoring kids. Meantime, Sid Salter has declared on this blog that Melton's desire to have more black jurors is the "last straw." Really, Sid? Could not the "last straw" have been lying under oath about giving y'all's paper a false memo about MBN agents; pulling police officers off their beat to help him "bring in" young friends; swearing out false affidavits against enemies; drinking alcohol while getting needy teens to help tear down private homes; or even one of the multitude of instances over the years of attacking the rights of black citizens in this city? Does it really, truly take a perceived slap at white Mississippians to suddenly make it the "last straw"?!? Had he said something like this when he was running last time, perhaps y'all wouldn't have endorsed him? This state. That paper. Sigh.

Author

DonnaLadd

Date

2009-03-17T14:49:35-06:00
ID

144828

Comment

What decent parent would allow their children socialize with Melton? Melton is using your children to get free media. Melton want to use the Fire Department when he has refused to abide the contract signed and adopted by the last administration. Man what a joke. The Jackson Firefighter Association supported Melton in 2005 and he puts a non-union person as Fire Chief. This was the same thing he did at WLBT with their union? I can say one thing I wish I could change the past and no have supported Melton but like others I didn't want to believe he was as bogus and two faced as he really is. Hey Frank I do my homework very good don't I?

Author

Tony Davis

Date

2009-03-17T17:38:00-06:00
ID

144830

Comment

Channel 16 is reporting that Frank Melton has been disqualified based on residency. Can't figure out how to post this so.. Verbatim JACKSON, Miss. -- The Jackson Democratic Committee disqualified Mayor Frank Melton from the Democratic primary. The committee disqualified Melton because he didn't meet the residency requirement to run for mayor. I have all my sources digging. If I find out anything I will post.

Author

AGamm627

Date

2009-03-17T18:17:06-06:00