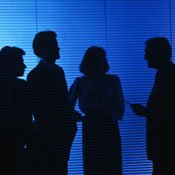 Last week, reporter Ward Schaefer revealed what could be serious problems with the allocations and tracking of federal tutoring funds provided to public schools under the No Child Left Behind Act. The Jackson Free Press obtained a variety of documents indicating that at least one provider could have been overpaid. The story showed that the state Department of Education distributed a document accusing Jackson Public Schools of mishandling federal funds, but then withdrew the document the next week.
This document-shuffling came several months after JPS' handling of these tutoring funds had supposedly been audited, and after JPS documents submitted to the state raised serious questions about how much money was paid.
Both the local school district and the state Department of Education are public institutions that are accountable to the people. But so far, both agencies have adopted a bunker mentality, answering questions in a superficial way and not providing documentation that this problem has been taken care of and any overpaid funds refunded. If this is not a real problem, as both the state and the district have indicated to the JFP, then both agencies must swiftly show complete transparency and prove why.
They must immediately release all relevant documents and reveal to the public what happened in detail. Alternatively, we call on federal authorities to investigate the confusing chain of documents connected to the handling of tutoring funds in the 2007-08 school year.
This is no time for the district or the state to throw up their hands and act like this is no big deal. The lack of transparency alone on a program involving federal tax dollars, and administered by agencies on the local, state and federal level is enough to raise red flags. JPS Superintendent Lonnie Edwards needs to return our reporter's phone calls, and both agencies must provide full documentation and correspondence on this issue immediately.
This superintendent was not in place when the possible mishandling of documents and/or funds occurred, but it is his responsibility to get in front of the issue and explain the chain of events thoroughly. Anything less can be seen as a cover-up: an effort to keep the public from knowing how our public servants are administering our funds and educating our children.
It is also not a time for the JPS school board to hide behind executive sessions, or to mislead the public about what they knew when. When asked, some school-board members pretended they had never heard of this controversy, while others said it is being investigated. Someone is not telling the truth here, and the board must be held accountable by the public. Any school-board member who lies to the public about district business should not be allowed to retain his or her position.
We call on JPS and the state Department of Education to be fully accountable to the public. Now.