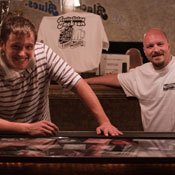 When Adam Hayes and Daniel Dillon bought 303 Farish St., the building was in terrible shape: The ceiling was falling, it had neither a kitchen nor plumbing, and to top it off, a homeless person was living there. The two immediately started cleaning up the place, with free help from carpenters, plumbers and construction workers due to the eagerness they shared for getting the job done. Dillon and Hayes got down and dirty when constructing the space, and in the end it all paid off. Nestled in the otherwise quiet historical Farish Street District, the renovated vibrant blue building will open as F. Jones Corner on July 11, the first of several new entertainment venues to open on the street this year.
Dillon and Hayes met 10 years ago while studying culinary arts at Hinds Community College. They instantly clicked and together dreamed of opening a restaurant. "We're like an old married couple," Dillon says.
Last September, Dillon's father, Sherman Lee Dillon, noticed that a place on Farish Street was for lease. Daniel Dillon put in his two-weeks notice at the healthcare facility where he worked, and Hayes left his kitchen manager job at the U.S. Army base in Nannheim, Germany. In March 2009, the two finally came together again to make their dreams a reality.
Everything in F. Jones Corner tells a story. In 1923, the building was a gas station called Frank Jones Corner, named after a Farish Street businessman. The owners thought that naming the restaurant in honor of the gas station would keep a piece of history alive. If you look hard enough, you can find an actual gas pump hole in the building.
Open for lunch and dinner, the cuisine at F. Jones Corner includes burgers, crab cakes, chicken and salads. Pictures of Mississippi history, including many famous Mississippi artists such as B.B. King and Jesse Robinson, are found on the bar counter.
A sign inside F. Jones Corner reads: "No Black. No White. Just the Blues." The quote represents the desire to bring people of different backgrounds together for the sake of a common art. "Black folk and white folk, poor and rich can come and have a good time," Dillon says.
F. Jones Corner celebrates its grand opening July 11 from 10 a.m. to 2 p.m., with events benefiting the Boys and Girls club in the morning. Activities include face-painting, fun obstacle courses, magicians, clowns, free meals for kids, and music workshops with bluesman Jesse Robinson. F. Jones Corner will be open for lunch July 13. For more info, call 601-983-1148.
Previous Comments
ID

149509

Comment

This is pretty awesome. Can't wait to visit.

Author

David McCarty

Date

2009-07-10T12:54:56-06:00
ID

149513

Comment

Congratulations to both Dillon and Hayes, and I hope their business thrives. This is what believing in Jackson is all about.

Author

Lady Havoc

Date

2009-07-10T13:13:05-06:00
ID

149516

Comment

This is great news! I will definitely visit soon.

Author

News Junkie

Date

2009-07-10T13:55:47-06:00
ID

149519

Comment

awesome, love the concept, will definitely visit for lunch, congrats and much success!!!

Author

lanier77

Date

2009-07-10T14:12:58-06:00
ID

149855

Comment

http://www.clarionledger.com/article/20090720/NEWS/90720015/Jackson+blues+club+opens+on+Farish+St. Check the inaccuracies in this article, y'all. #1: the name of the restaurant, although that's a picky detail. #2: Didn't this place open on July 13th, not today? #3: Not an inaccuracy, but they didn't give the actual street address: just North Farish and Griffith. An exact street address is much better if you need to use Mapquest or Google to find your way there. No wonder people don't have a clue what's going on in Jackson! Thanks, Ronni, for giving us a better, more detailed and interesting story than the Ledge ever could.

Author

Lady Havoc

Date

2009-07-20T16:33:21-06:00
ID

149857

Comment

It's grand opening was July 11; we had a story in the Daily about it almost two weeks ago! What in hell are they talking about? Also, they misspelled owner Dillon's name once in the piece.

Author

DonnaLadd

Date

2009-07-20T16:38:04-06:00
ID

149858

Comment

Oh, and Lady, the above story was by our intern Gerard Manogin, who just graduated from Murrah. ;-)

Author

DonnaLadd

Date

2009-07-20T16:41:07-06:00
ID

149859

Comment

Thanks for the correction, Donna. Shows how crazy I am: I looked at who posted it and didn't read the byline. Hats off to Gerard for such a fantastic article! With writing talent like that, you will go far. :)

Author

Lady Havoc

Date

2009-07-20T17:11:19-06:00
ID

149873

Comment

Their first night open for business was June 12th for Jesse Robinson's Birthday Bash. The official "grand opening" was July 11th, when they had the "Blues Benefit Day" for the Boys and Girls Club. Yesterday, July 20th, the Chamber of Commerce had a ribbon cutting there.

Author

Tre

Date

2009-07-21T09:52:14-06:00
ID

149874

Comment

Ah, that's what the Ledger reported as the "grand opening." I see.

Author

DonnaLadd

Date

2009-07-21T09:58:42-06:00
ID

149877

Comment

So, they only count the ribbon cutting as the grand opening? What kind of business could these guys have had for that one week if the CL had reported that they were open? Another signal that the CL is anti-Jackson.

Author

Lady Havoc

Date

2009-07-21T10:46:43-06:00
ID

149878

Comment

It appears that CL just ran this piece yesterday, the 20th. Most businesses have soft openings before having a "grand opening." And it seems this article may have misidentified the official ribbon cutting as their grand opening. Three very separate things, just incorrectly identified by CL. I hate CL as much as the next guy, but c'mon, cut them some slack on this one. They didn't "hurt business" or take an "anti-Jackson stance" by reporting this the way they did. It just ran yesterday, so they are behind for certain. Now the misspelling of names...that's another story.

Author

2599

Date

2009-07-21T10:59:48-06:00
ID

149890

Comment

I agree with the last post - The CL isn't the best paper around for sure, but they just misidentified the event. They did cover the Jesse Robinson birthday party in the "Weekend" thing (June 11) - featured it on the cover and middle section - so, the thing yesterday wasn't the first mention of F. Jones Corner. In my opinion, the JFP article above is MUCH better. As a matter of fact, I was there last weekend talking to Lonne George during the band's break. He said that he read about the gas pump hole somewhere in the building - I knew he read the JFP article! I am just happy to see it thriving. Farish Street needs this! Jackson needs this! We can't wait for the city or politicians to "revitalize Jackson." The People have to do it, and that's what Adam, Daniel, and the patrons of F.Jones are doing. Their t-shirt says, "Revitalizing Jackson... One Beer at a Time."

Author

Tre

Date

2009-07-21T14:02:45-06:00