Monday, February 23, 2009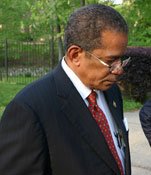 - Kenya Hudson's Melton-Recio trial photos here.
- Read JFP's original breaking story on Ridgeway destruction here
- Full coverage of Trial and Melton here
- Be the first to hear: JFP Twitter feed @jxnfreepress
UPDATED
Jury deliberations in the federal trial of Jackson Mayor Frank Melton continue this morning after the jury had Sunday off.
On Friday morning, Jordan allowed one juror to get medical attention before returning to deliberations that afternoon.
"This was not a juror who was trying to shirk her duty in any way," he said.
Jordan also dealt with the issue of two jurors who reportedly had outside contact, although it was not clear with whom.
"I found no taint; I found no prejudice unto the defendants," he said after interviewing the two jurors in question. Jordan indicated that he conducted the interviews in chambers so that the rest of the jury would not be affected.
Saturday, Jordan learned that one juror was not following his instructions during the deliberations. He interviewed the juror who informed him and the jury foreman, among others, with counsel present.
Jordan heard motions in his chambers this morning. Because of sensitivity to issues of further potential jury problems, he did not describe the substance of the motions. After sending the jury back for further deliberations he released a statement to the media.
"There were motions, but for the reasons stated on the record, including the risk that it could reach a juror, the substance of the motions will not be released until the trial concludes," Jordan said in the statement.
This afternoon, the jury asked a question regarding the fourth element of count two, which is the willful deprivation of rights. The four elements of the count are: the loss of rights; acting willfully; acting under color of law; and the use or threatened use of a dangerous weapon.
Jordan's response indicated that he wanted the jury to examine the element within the context of the full count. He told jurors that they had to decide whether Melton's and Recio's actions included "a use, attempted use or threatened use as defined in elements one, two and three of count two."
Jordan dismissed the jury for the day shortly before 5 p.m., calling them back for another day of deliberations starting at 9 a.m. Tuesday.
Stay tuned for up-to-the-minute updates as they happen.
Previous Comments
ID

143867

Comment

If some of the jurors are complaining to the judge about other jurors, it doesn't bode well for a unanimous verdict.

Author

Jennifer2

Date

2009-02-23T12:06:42-06:00
ID

143871

Comment

We've all been tempted to damage the crack houses in our neighborhoods inasmuch as the police won't do anything about them. Of course, Melton was the one person in power who could have taken them out legally.

Author

Jennifer2

Date

2009-02-23T12:21:34-06:00
ID

143878

Comment

Someone who does not live here asked me "Did they find the mayor guilty over that crack house", and I kindly responded, It was not a crack house until the mayor cracked the h*ll out of it with a big stick.

Author

lanier77

Date

2009-02-23T13:45:54-06:00
ID

143879

Comment

Hmmm...with all the delays, I'm starting to sense that we are about to be blessed yet again by another visit from the Screw-up Fairy.

Author

chaffeur

Date

2009-02-23T13:52:31-06:00
ID

143881

Comment

If they could call the cops and arrest welch after they tore the house down, than they should have did it before hand.

Author

NewJackson

Date

2009-02-23T13:58:31-06:00
ID

143883

Comment

JFP should have summoned a mock jury. At least we'd have a verdict by now.

Author

dd39203

Date

2009-02-23T14:04:35-06:00
ID

143890

Comment

i think they are guilty on count two period. the other two are shaky but count two is solid.

Author

NewJackson

Date

2009-02-23T14:45:27-06:00
ID

143900

Comment

what in the HELL.......

Author

kcaven

Date

2009-02-23T15:54:33-06:00
ID

143906

Comment

Does anyone know enough about the law to speculate on what motions were filed? If one juror and a foreman are claiming that another juror is obviating the judge's instructions, I'm assuming that the prosecutor would move to have the juror replaced by an alternate. Maybe the defense team has moved to declare a mistrial? What a circus this has become.

Author

tonygunter

Date

2009-02-23T16:47:27-06:00
ID

143909

Comment

Someone who does not live here asked me "Did they find the mayor guilty over that crack house", and I kindly responded, It was not a crack house until the mayor cracked the h*ll out of it with a big stick. ROTFL! I needed that!

Author

LatashaWillis

Date

2009-02-23T17:10:12-06:00
ID

143913

Comment

this needs to go on the comedy channel........i KNOW we have good video people in town-

Author

kcaven

Date

2009-02-23T17:51:12-06:00
ID

143931

Comment

Our Donner Kay is quite a twitter She's kept us all from getting a-jitter. With timely texts and fashion glitter She's patiently sat with her transmitter. From gavel up to gavel down We've sat with phone and thumb on round. Anxious for word of verdict near The tweets are the first news we hear. So, Donner Kay, please keep them coming The tweeks and twits that keep us humming. The buzz in Jackson is all trial related Many of us wait verdict belated.

Author

Razor

Date

2009-02-24T06:24:28-06:00