Saturday, February 21, 2009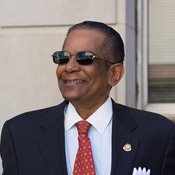 - Listen to MC law professor Matt Steffey on today's events
- Kenya Hudson's Melton-Recio trial photos here.
- Read JFP's original breaking story on Ridgeway destruction here
- Full coverage of Trial and Melton here
- Be the first to hear: JFP Twitter feed @jxnfreepress
FEDERAL COURTHOUSE—Minutes after Judge Dan Jordan broke and then extended suspense in an obvious delay in jury deliberations, Mississippi College law professor Matt Steffey called the development "curious and serious" while standing in front of the courthouse.
Steffey said Jordan's announcement that he had spent the morning interviewing each of the 12 jurors individually in front of counsel from both sides after a complaint from a juror is a fairly unusual development, and could indicate jury tampering or inappropriate communications involving one or more jurors. Those violations could range from a juror revealing that he or she had viewed media about the trial or discussed it with someone outside the jury to the most extreme of someone associated with the prosecution or defense trying to to contact a juror -- what Steffey called "mobster" activity, which he said was unlikely here and something out of the movies.
Jordan said either side can make oral motions Monday morning based on the interviews today, adding that they would be argued at that time. The judge dismissed the jurors until 9 a.m. Monday.
Steffey said that it does not look like Jordan thinks the case is a clear case of tampering that would lead to an immediate mistrial -- such as three or four jurors obviously involved in inappropriate behavior. Otherwise, he said, Jordan could have called a mistrial and sent these jurors home, so they don't have to come all the way back Monday. Some come from as far away as the Gulf Coast.
The law professor said it is more likely that the accusation, regardless of severity, is limited to one juror, and that the judge will entertain motions Monday, and then decide whether to replace that juror with one of three alternates who sat through the entire trial, or declare a mistrial.
Steffey said that a mistrial declared due to behavior of jurors that is unrelated to actions by the two sides would essentially reset the case to "square one," and a court date would be automatically set. Such a circumstance is more likely to benefit the prosecution, he said, in a case where the jury seems to be undecided on the fourth day of deliberations. He predicted that lawyers for Melton and Recio might not want to take the same chance on another jury that might not be as undecided as to their fate.
The jury has to vote unanimously either to convict or acquit each of the men on each of the counts. The jury can be hung on some counts and convict or acquit on others, returning a "mixed verdict."
Tampering could delay a conviction and jail time, and force the prosecution to start again from scratch. They also said that the interviews with individual jurors might indicate that the judge is trying to find out what each of them knows, and if others might be involved in the problem.
Steffey said that, should inappropriate activity be shown by either of the parties to the case, it is a serious criminal violation, and subject to federal prosecution as a separate case, in addition to whatever immediate results, such as mistrial or replacement of juror(s), might occur.
About an hour before the judge made the announcement, Melton's attorney John Reeves briefly left the judge's chambers and went into the courtroom. When asked by Melton supporters what was going on, he said repeatedly that he could not tell them: "I can't say a word." He then said: "It's going to be a lot longer. A lot longer." Afterwards, in the hall, he told a Clarion-Ledger reporter it could be "days."
Steffey said that it is not unusual that the jury was not sequestered, and has been allowed to go home at night, and that jurors obviously prefer it. However, he said it would be very surprising if Jordan did not decide to sequester a new jury were the trial have to start again from square one.
Previous Comments
ID

143818

Comment

Did you get my haiku on Twitter? :P

Author

LatashaWillis

Date

2009-02-21T16:58:11-06:00
ID

143822

Comment

Maybe the jurors have complained that one juror refuses to deliberate. Just a guess.

Author

Jennifer2

Date

2009-02-21T17:27:20-06:00
ID

143823

Comment

This case has been so 'nutty' since it started. I wouldn't be surprised what happened! I mean maybe Melton had a dinner party for all the jurors last night.

Author

moma kathy

Date

2009-02-21T17:40:13-06:00
ID

143824

Comment

Would he interview them all individually for that? Not skeptical; just don't know. ;-)

Author

DonnaLadd

Date

2009-02-21T17:51:28-06:00
ID

143825

Comment

If one of the jurors reported that a juror wouldn't deliberate (or that one of the jurors was citing outside information be it the Bible, newspaper articles or the juror's own inside information), the judge would interview them all individually to get the best picture of what was going on and without the danger of one juror's comments tainting another juror. If that is what happened, then the decision would be whether to kick that juror off and continue deliberating with just 11 jurors. I assume the alternates were already let go and, thus, wouldn't be available to step in and allow deliberations to start over. If the alternates were kept around (and away from outside influences), replacing the "bad" juror would be another option. The problem you get into in this situation is determining whether a juror is refusing to deliberate or just refuses to go along with the rest of the jury. Alleged juror misconduct - always a very delicate matter.

Author

Jennifer2

Date

2009-02-21T18:09:28-06:00
ID

143826

Comment

Makes sense; thank you. The judge told the alternates that they weren't released entirely when he let them go before, that they still shouldn't look at media, etc., in case they needed to come back.

Author

DonnaLadd

Date

2009-02-21T18:19:12-06:00
ID

143827

Comment

I still say, whatever it is, this whole episode from beginning to end is one for the books! Could it possibly be some personal conflict between two jurors? Just not like each other and vote opposite for spite or something like that?

Author

Razor

Date

2009-02-21T19:04:16-06:00
ID

143828

Comment

Another possibility that would justify individual interviews is if one or more of the jurors reported improper contact with someone not on the jury. For example, if someone tried to discuss the case with them or if a juror witnessed or overheard something improper in the courthouse. The judge would need to find out which, if any, other jurors experienced something similar or were told of this improper contact and if it had any impact on their ability to continue to deliberate.

Author

UTgrad

Date

2009-02-21T21:45:16-06:00
ID

143829

Comment

I've been quiet long enough. Dante Alighieri's said that "the darkest places in hell are reserved for those who maintain their neutrality in times of moral crisis." So please indulge me as I give my analysis in the Frank Melton case: The federal judge is relatively new to the bench. Regardless, this jury should have been sequestered. In Melton's 1st trial before circuit judge Green, she sequestered the jury and Melton pled guilty. In Melton's second trial the appointed county judge (acting as a circuit judge) didn't sequester the jury and there was an acquittal. Robert Walker and Goldia Revies should have been sanctioned for talking with potential juror during jury selection. They should have been at least fined. First of all they should have been working, as should all the other city employees at the federal courthouse. The message to the public would have been that the court was not tolerating disrespect and disregard for the criminal justice system or the court. Melton's tampering with witnesses should have been met with swift sanctions by the judge. Melton's bond should have been revoked and he should have been placed in detention/or house arrest for the duration of the trial. The court should have sent a strong message to all parties and the public that he would not tolerate any illegal conduct. The judge began losing control of his court early in this trial. Check your calendar, the tampering (discussing and gift giving) with Michael Taylor took place during the time when Melton was supposedly hospitalized or resting in Texas. When the prosecution rested on Thursday. The court should have taken motions and immediately started Defendants' case. After all, the Defendants had 2 weeks to get there witnesses together while the jury was being chosen and the prosecution was putting on their case. Even in a capital murder case, a jury is picked within the first day or so. The trial rarely goes into the second week. When court recessed from Thursday (2/12/09) to Tuesday (2/17/09) (5 days), two things occurred. First, the opportunity for jury tampering/tainting increased. Second, it gave Defendants 5 days to increase the number of witnesses and revamp a defenseless case. Generally, the jury is read instructions, the lawyers do their closing statements and the jury begins deliberations. Nothing should come into the jury after they begin deliberations. If a judge starts late and the jury doesn't finish for the night, he should've sequestered the jury and start the first thing the next morning. There has been continuous interruption of the jury's deliberation. Juror must remember the testimony as best they can from open court. Trial transcript brings into the jury a court reporters note that may or may not contain what each jury heard during the trial.

Author

guidryb

Date

2009-02-22T09:28:13-06:00
ID

143830

Comment

I've been quiet long enough. Dante Alighieri's said that "the darkest places in hell are reserved for those who maintain their neutrality in times of moral crisis." So please indulge me as I give my analysis in the Frank Melton case: The federal judge is relatively new to the bench. Regardless, this jury should have been sequestered. In Melton's 1st trial before circuit judge Green, she sequestered the jury and Melton pled guilty. In Melton's second trial the appointed county judge (acting as a circuit judge) didn't sequester the jury and there was an acquittal. Robert Walker and Goldia Revies should have been sanctioned for talking with potential juror during jury selection. They should have been at least fined. First of all they should have been working, as should all the other city employees at the federal courthouse. The message to the public would have been that the court was not tolerating disrespect and disregard for the criminal justice system or the court. Melton's tampering with witnesses should have been met with swift sanctions by the judge. Melton's bond should have been revoked and he should have been placed in detention/or house arrest for the duration of the trial. The court should have sent a strong message to all parties and the public that he would not tolerate any illegal conduct. The judge began losing control of his court early in this trial. Check your calendar, the tampering (discussing and gift giving) with Michael Taylor took place during the time when Melton was supposedly hospitalized or resting in Texas. When the prosecution rested on Thursday. The court should have taken motions and immediately started Defendants' case. After all, the Defendants had 2 weeks to get there witnesses together while the jury was being chosen and the prosecution was putting on their case. Even in a capital murder case, a jury is picked within the first day or so. The trial rarely goes into the second week. When court recessed from Thursday (2/12/09) to Tuesday (2/17/09) (5 days), two things occurred. First, the opportunity for jury tampering/tainting increased. Second, it gave Defendants 5 days to increase the number of witnesses and revamp a defenseless case. Generally, the jury is read instructions, the lawyers do their closing statements and the jury begins deliberations. Nothing should come into the jury after they begin deliberations. There has been continuous interruption of the jury's deliberation, including requests for transcripts. Jurors must remember the testimony as best they can from open court. Trial transcript brings into the jury a court reporters note that may or may not contain what each jury heard during the trial.

Author

guidryb

Date

2009-02-22T09:39:00-06:00
ID

143831

Comment

I mean maybe Melton had a dinner party for all the jurors last night. Don't give him any ideas. I really don't understand why the jurors weren't sequestered. Maybe the judge doesn't read the JFP. ;-) At the point when the judge found out that Melton himself had decided to serve a subpoena on one of the victims of the attack might have been the point to re-consider the non-sequester decision. Just sayin'.

Author

DonnaLadd

Date

2009-02-22T10:58:22-06:00
ID

143832

Comment

guidryb, I agree on so many of your points; just could not have said them as well. Thank you.

Author

Razor

Date

2009-02-22T11:36:04-06:00
ID

143834

Comment

The Folo blog today linked to this story above and The Clarion-Ledger's report on Saturday trial developments, calling the two stories "remarkably similar." Actually, there are a number of differences, including the fact that this story came out *yesterday*, and the Ledger's *today*. Just sayin'. Folo also tickled us a bit the last couple days, complaining a bit about our trial fashion tweets and then spending tons of comments talking about them. We also thought it was funny that someone complained that the, er, "tradition" while waiting for a verdict is to talk about old cases. Well, watching network nightly news and subscribing to a daily newspaper are "traditions," too, but that doesn't mean many people do it anymore. Let's just say we're making some new traditions around these here parts (like we did when we introduced blogging to Mississippi media in 2002), and some of them come in the form of very popular fashion tweets. Stay tuned for more (and breaking trial news) @jxnfreepress on Twitter.

Author

DonnaLadd

Date

2009-02-22T14:11:49-06:00
ID

143835

Comment

There is almost nothing more boring than hearing lawyers tell war stories. One reason I don't hang out with other lawyers.

Author

Jennifer2

Date

2009-02-22T14:45:28-06:00
ID

143836

Comment

Frank Melton you are very guilty sir, but everybody already know that. To my black older jacksonians who went through their civil rights being violated how can yall say that its okay for frank to violate someone else civil rights?

Author

NewJackson

Date

2009-02-22T15:18:38-06:00
ID

143840

Comment

who the heck is Matt Steffey? I've lived in this city for nearly 70 years and have known a lot of lawyers, personally and through my businesses (I'm now retired). I NEVER heard of this guy before. He may be great, but has NO credibility with me or anybody else i've talked to about him. NOBODY seems to know anything about him. What are his credentials? Has he ever tried a lawsuit? Why in the world do you stoop to clarion ledger and tv media standings by quoting this guy?

Author

jacksonredneck

Date

2009-02-22T22:03:08-06:00
ID

143841

Comment

NJ: it's easier to bear someone else's rights being violated.

Author

Ironghost

Date

2009-02-22T22:15:12-06:00
ID

143843

Comment

I like the fashion tweets :)

Author

MBeloved

Date

2009-02-23T07:55:52-06:00
ID

143844

Comment

I see but the disconnect is crazy.

Author

NewJackson

Date

2009-02-23T08:18:16-06:00
ID

143846

Comment

It's how rabble-rousing works. Melton knows what he's doing. It's how he's stayed in office.

Author

Ironghost

Date

2009-02-23T09:24:47-06:00
ID

143848

Comment

If he walks, he played the system. Why wasnt he thrown in jail for tampering with a witness, why was he allowed in the judges chambers while they interviewed each individual juror.

Author

NewJackson

Date

2009-02-23T10:04:45-06:00
ID

143850

Comment

@jacksonredneck: Matt Steffey is a professor at MC Law. http://law.mc.edu/faculty/profile_steffey.htm

Author

Todd Stauffer

Date

2009-02-23T10:11:24-06:00
ID

143852

Comment

I didn't realize Melton was there while the jurors were interviewed. I thought it was just the attorneys and the judge. If Melton was there, this is even more of a travesty. The judge is a huge problem in all of this--muddled handling of the clear violations of rulings and essentially ignoring what was arguably witness tampering, for instance.

Author

MBeloved

Date

2009-02-23T10:20:42-06:00
ID

143914

Comment

Re Steffey: I've figured out that it's sport for attorneys to anonymously complain about other attorneys. The truth is, with Melton's cases, I have yet to find another attorney/law professor willing to go on the record about them. If any of you legal types out there are, be in touch. If not, I suggest that your complaining is sounding a bit more like envy. ;-)

Author

DonnaLadd

Date

2009-02-23T17:57:07-06:00
ID

143915

Comment

I can't say for certain that Melton and Recio were in the same room when the jurors were interviewed. They did seem to be in the chambers area all morning, however, and out of sight. The assumption is they were in with the judge, too. But I don't know for sure. It seemed curious to me, too, that they would be in with the jury members and the attorneys. But I'm no expert, anonymously or otherwise. ;-)

Author

DonnaLadd

Date

2009-02-23T17:58:37-06:00
ID

143916

Comment

Oh, and no worries, Beloved. The praise for the fashion tweets is leading over complaints at least 10-to-1 (and the complaints seem to come from anonymous attorneys. Hmmmm.) Them fashion tweets be stayin'.

Author

DonnaLadd

Date

2009-02-23T18:00:17-06:00
ID

143923

Comment

ladd, using steffey because you can't find another attorney to go on the record ought to tell you something, duh! you're a good reporter. PLEASE don't stoop to what the broadcast media does and use superficial sources because it might be easier. You're much, much better than that. dig deeper. i'm sure there are more qualified lawyers out there that you can find that would be willing to talk. You obviously just haven't tried hard enough. sorry to sound insulting, but i'm unsulted by steffey sh*t. this man simply should not be allowed to shape the public opinion with his unqualified statements.

Author

FriendsofJackson

Date

2009-02-23T21:23:05-06:00
ID

143924

Comment

"FriendsofJackson", your argument against Steffey is completely ad hominem. Is there some analysis in particular you disagree with? He's a professor at MC Law focused on constitutional issues. If you disagree, go ahead and put it out there. But let's avoid flinging "sh*t" because you've got nothing else to say.

Author

Todd Stauffer

Date

2009-02-23T21:33:29-06:00
ID

143925

Comment

I didn't say that, Friends. Don't twist my words. I said I have yet to find another one. But I did not say that's *why* we use Steffey. We like Steffey, and think he does good commentary. That said, we would use others if they weren't too chicken shit to speak about the Melton case—and no, *I* do not respect that at all. If I and my staff can manage to do what we've done on the Melton story for four years, legal "experts" should have the balls to comment. This is about them, not Steffey or us. You don't insult me; you are simply uninformed on this, and following the anonymous anti-Steffey crowd. And by the way, nothing is smaller than bashing people by name personally while using a pseudonym. Coward. And for the record, we have at least one other legal expert in Ward's story tomorrow, and it had nothing to do with you and the other cowards whining about Steffey.

Author

DonnaLadd

Date

2009-02-23T21:37:35-06:00
ID

143926

Comment

Just saw Todd's post: what he said, too. Ad hominem attacks are not allowed on this site, and certainly not by people hiding behind a fake name.

Author

DonnaLadd

Date

2009-02-23T21:38:39-06:00
ID

143928

Comment

iTodd and Ladd, Wow!! I'm sure there's some good reason for you both to unmercilfully attack poor FRIENDS about Steffey. I happen to agree with Friends. I'm not a lawyer, but I've used many of them over my many years here in Jackson. I've talked with them about Steffey and they are, to a person, unimpressed (actually, that is not really strong enough). They are frankly shocked that you would use such an inexperienced and unrecognized person as your source, particularly given your reputation for excellence in reporting and journalistic ethics. But, I'm disappointed in you two for other reasons. I might point out that how defensive you are coming across is not really very becoming. You sound like the clarion ledger. seriously!!! I'm not kidding. Attack folks when you merely disagree with them? I thought you were better than that. In fact, I KNOW you are better than that. You really, really will lose credibility and respect, which we realize you have worked for years to earn, when you make such attacks on your bloggers, simply because YOU disagree with someone else who has strongly held convictions or opinions. Does this mean that YOU TWO are the only ones that are allowed to voice opinions that are meaningful or should be heard?? Are you going to insult or attack others simply because you may not like the message? I think your passion and zeal for blogging may have blinded your usual journalistic excellence. I suspect you'll have some sarcarstic comment about my comment/opinion. I know it ain't worth much, but, it's my opinion, honestly and firmly held. And I agree with "Friend." You guys are, in my lowly, humble opinion, just way off the mark on this one. I suspect you've lost "friend" as a reader. "Friend" seemed to be genuinely upset about this issue. Weird, but so am I. Even as a non-lawyer, something about Steffey and his self-promoting, self-serving commentary is just, well, silly. Of course, I'm only a retired and old businessperson, so what do I know? And, you're right, it's not about steffey, it's about melton. All the more reason to quit being defensive because somebody dares to disagree with you; find another source, another REAL expert!!! And all the BS about the "coward lawyers" not willing to talk on the record only demonstrates that you are NOT TRYING HARD ENOUGH. Sounds to me like you're making excuses. Of course, I could be wrong, I frequently am. But, this is not what I expect from the younger, more vibrant, more penetrating and thoughtful JFP. Oh, by the way, you should check out steffey's REAL credentials. The link iTodd cited above shows that Steffey has every bit of TWO whole years of experience as a lawyer!!!! Yep, that's it; 2 years, and that was 20 years ago! And, it was with one of those huge law factories where the baby lawyers get absolutely NO real law experience. Also, since you obviously didn't look closely enough or you wouldn't have published the link (on the MC College website), take a look at the rest of his credentials where it says "professional experience" . Guess what, it says NONE!! On this issue, you are wrong. At least in my opinion. I trust you will respect that without excoriating me. Let's be realistic. If you just keep beating up on your JFP readers who disagree with you, soon enough, you'll not have anybody online to disagree with. They'll be gone, looking for what the JFP USED TO BE! And, that would be a great loss to all of us who depend on JFP for the REAL stories. So, sorry to give you a message you don't want to here, but you know, YOU guys are wrong on this one. Quit belittling those who dare disagree with you. If you can't take the criticism from a faithful reader/blogger without attacking them, then perhaps you've lost sight of what the JFP was supposed to be all about.

Author

msnative1943

Date

2009-02-23T23:33:06-06:00
ID

143930

Comment

I like Steffey, for whatever that is worth to the JFP. Someone needs to try and interpret for us layfolks WHAT and WHY. This trial seems so long and drawn out to me and I crave information. Anytime he is giving suppositions, he has clearly said so. Perhaps other cities have gone through events like this, but not in my experience. So much that effects many of us hinges on the outcome of this trial. I understand that we cannot hurry judgement, but please understand, Mr. Redneck, many people have relied on the Free Press for over two years to give us timely news and opinions. We have been able to freely exchange our own ideas without fear of reprisal.

Author

Razor

Date

2009-02-24T06:05:01-06:00
ID

143933

Comment

Wow!! I'm sure there's some good reason for you both to unmercilfully attack poor FRIENDS about Steffey. msnative, everyone is welcome to their opinion. But you're accusing me (I'll let Donna defend herself) of something I simply didn't do. "Friends" is anonymously saying that Steffey is unqualified, etc., but offers no support or argument against anything that he's said. You're doing the same thing -- attacking him as a man instead of discussing any argument that he's made. Instead, you seem to be attacking him for a combination of the fact that he's an academic and he's willing to go down to the courthouse, sit through the proceedings with others and then offer an opinion to the media. You might consider this fact -- any other third-party attorney that the JFP would quote about the day-to-day proceedings would not have access to the same information. It's a closed court, no TV, radio, etc. So having an expert on site is pretty handy. Also, since you obviously didn't look closely enough or you wouldn't have published the link (on the MC College website), take a look at the rest of his credentials where it says "professional experience" . Guess what, it says NONE!! And as for his qualifications, I linked the page so others could judge. I don't have a dog in this hunt -- Steffey can stand on his own. (I've met him once briefly on Saturday and he seems to be a nice guy.) But I will note that the page lists Professional Qualifications twice and it's the second area that's blank -- there might be more to blame on MC's Web editor than Steffey himself. Will you apologize because it was actually *you* who didn't look closely enough? Or is that not how you roll? ;-)

Author

Todd Stauffer

Date

2009-02-24T09:07:24-06:00
ID

143934

Comment

Sorry, msnative. This lecture isn't working. The guy you're defending was on here posting personal and professional attacks anonymously against another person by name. People who do that are cowards, and should be called such. There are sites that welcome that kind of behavior; this is not one of them. I'm sorry if that offends you, but it doesn't change anything. Personal attacks going forward on will be deleted without further comment.

Author

DonnaLadd

Date

2009-02-24T09:08:36-06:00