Wednesday, February 18, 2009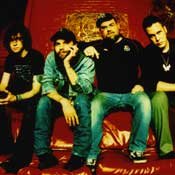 The Mississippi Academy of Ancient Music brings back the 17th-century dueling harpsichords with John Paul and Shawn Leopard Thursday, Feb. 19, in the St. James Episcopal sanctuary at 3921 Oak Ridge in Fondren. These are two of the most accomplished piano/harpsichord/keyboard players in the state, so it's always a treat to hear them perform on rarely heard harpsichords. The concert will feature music by Bach and is $15, $5 for student; 7:30 p.m. Call 601-977-7782 or 601-852-4848 for details. The Jazz, Art & Friends monthly series at the Mississippi Museum of Art is also Thursday at 6 p.m. $5.
One of the faster-growing fan bases in town will descend on Martin's Thursday night for Passenger Jones. Their cello-driven roots-rock is solid and original, and matches perfectly with a cold beverage and friends. Listen to their music at http://www.myspace.com/passengerjones.
The party starts Friday night with Blind Dog Otis at Ole Tavern at George Street. Their whiskey-fueled Allman Brothers-meets-ZZ Top Hammond B3 Organ jams are a raucous good time. If you prefer your jams with a little more Dirty Dozen-improv harp-and-horn groove, check out Jason Ricci and the New Blood at Martin's Friday night. Friday night also marks the much anticipated return of the Last Waltz Ensemble at Hal & Mal's. Their improv Dylan and The Band jams are always worth the price of admission.
Saturday night, Feb. 21, offers jazz/world fusion favorites Nekisapaya for a free show at Fenian's. It's been a while since these locals have gotten together to play out, so support their efforts and show them some love.
Be sure to mark next Saturday, Feb. 28, on your calendar for the return of Lucero at Ole Tavern at George Street. Goodman County will open for the Memphis alt.country, southern-punk favorites. Lucero is so tight in their live show that it's easy to see why their fans are so eclectic and undeniable. Their gravely, twangy vocals and pedal steel are unquestionably southern, but they have the energy of The Pogues just beneath the surface. Lucero is good times. Check them out at http://www.luceromusic.com.
With the release of the stellar lineups at the spring and summer outdoor music festivals like Bonnaroo, South by Southwest, Coachello and Pitchfork you might be beginning to get the itch for planning a spring road trip. Hit up http://www.thelyricoxford.com and get your tickets before they sell out for Modest Mouse at the Lyric in Oxford on Friday, March 6. Mark your calendars now for the sure-to-sell-out Death Cab for Cutie show at the Memphis Orpheum on Saturday, April 11 with Cold War Kids and Ra Ra Riot. This year's New Orleans Jazz and Heritage Festival on April 24-26 and April 30-May 3 looks good with Kings of Leon, Wilco, Spoon, Earth, Wind and Fire, Drive-By Truckers, Erykah Badu, Dave Matthews, Ben Harper, Bon Jovi and lots more at http://www.nojazzfest.com. Hit up our regional calendar for the Galactic in Oxford April 15, the Oxford Double Decker Festival April 25, Umphrey's McGee May 2, and lots more. Cheers.