Tuesday, February 10, 2009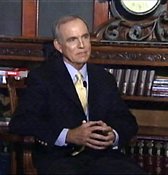 The Associated Press is reporting that Mississippi attorney Richard "Dickie" Scruggs, who is currently serving a five-year sentence for bribery, has pled to a second charge of mail fraud in connection with a second bribery.
AP writes:
Richard "Dickie" Scruggs admitted he was involved in a scheme to entice a judge to rule in his favor in an asbestos case by promising he'd be appointed to the federal bench with help from Scruggs' brother-in-law, former U.S. Sen. Trent Lott.
Scruggs, who already is serving five years in jail, was to be sentenced later Tuesday. Federal prosecutors recommended a sentence that would tack two years onto that term, and it could be reduced if he testifies in a later case.
"Mr. Scruggs' cooperation has opened several doors," said Assistant U.S. Attorney Bob Norman.
Lott, who talked to Hinds County Circuit Judge Bobby DeLaughter but ultimately recommended someone else, has not been accused of wrongdoing.