Wednesday, December 16, 2009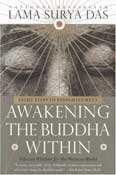 Curious about this whole mindful, compassionate, in-the-moment thing? Here are books to inspire you to focus and meditate and let the stupid stuff go, regardless of your religious faith. (And while you're book-shopping, remember the whole Zen local thing, and head to Lemuria Books to buy or order.)
"Awakening the Buddha Within: Tibetan Wisdom for the Western World," Lama Surya Das (Broadway Books, 1997, $15.95) A thick primer of the Eightfold Path that makes this way of thinking understandable. It ends with great tips on meditating beyond "just sit."
"Living Buddha, Living Christ," Thich Nhat Hanh (Penguin Group, reprint 2007, $15) One of the best books by the inspiring Vietnamese monk that helps you figure out that all faith traditions are really all about one thing: living to serve others. Read all his books while you're at it. Life is too short not to.
"In the Face of Fear: Buddhist Wisdom for Challenging Times," Barry Boyce and Shambala Sun, editors. (Shambala Publications, 2009, $15.95) This newly published collection brings some of the greatest living Buddhist thinkers together. Caution: You'll be blessing your enemies, decluttering your house and changing the world when you finish these essays.
"Taking the Leap: Freeing Ourselves from Old Habits and Fears," Pema Chödron (Shambala, 2009, $21.95) The latest from this American Buddhist nun focuses on the concept of shenpa to help us break habits that "hook" us into blame, self-hatred, obsession and addiction. Shenpa is an opportunity—who knew?
"Smile at Fear: Awakening the True Heart of Bravery," Chögyam Trunpa (Shambala, 2009, $19.95) The late founder of Naropa University in Boulder, Colo., helps you dig into your deepest fear—of yourself—and break the cycles of suffering. Trunpa breaks down tough concepts and injects lots of humor. ("He said that?" you'll ask yourself. Yep.)
"Awake at Work: 35 Practical Buddhist Principles for Discovering Clarity and Balance in the Midst of Work's Chaos," Michael Carroll (Shambala, 2006, $16.95) Don't buy this book unless you work around other people. But if you're not closed up alone all day, this is the one to help you maneuver the daily minefield we call the workplace. Read one meditation a day. Then go meditate. Your co-workers will love you for it.
More like this story