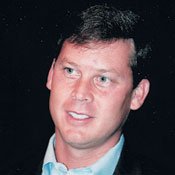 Former Rep. Chip Pickering showed the city of Madison that soccer apparently stirs up the same kind of emotions here as it does in Europe. Madison Police Sgt. Robert Sanders told the Jackson Free Press today that Pickering and youth soccer coach Christopher Hester filed complaints against each other for assault after the two duked it out at Madison's Liberty Park Sunday.
The Madison Police Department responded to the disturbance at 4:30 p.m. yesterday, and collected statements from the two and witnesses.
"There was a disagreement between two coaches. When that occurred, Mr. Pickering did approach Mr. Hester, and that's when the alleged altercation took place," Sanders told the Jackson Free Press. "It must have been a short fight."
WLBT reported Sunday that Hester was already bickering with the coach of the opposing team, when Pickering approached and began complaining about Hester's treatment of his son, who is on the team. WLBT also reported that Madison Municipal Court Judge Dale Danks, a former mayor of Jackson and the attorney of former Mayor Frank Melton, would address the issue today in municipal court, although Sanders said nothing is scheduled just yet.
"This matter is still under investigation," said Sanders, adding that police are still investigating the issue and talking to witnesses. Neither requested medical attention, and the police have issued no warrants for arrest related to the scuffle.
Pickering and his ex-wife Leisha Pickering made news this year after she filed a July complaint in Hinds County Circuit Court against Elizabeth Creekmore-Byrd for alienation of affection. Leisha Pickering alleges in the suit that her husband and Creekmore-Byrd had a long-standing relationship that ended prior to the Pickering marriage, but resumed during Chip Pickering's congressional career in Washington, D.C.
The suit also targets seven unnamed individuals whom Leisha Pickering claims acted to keep her husband's philandering under wraps. Pickering filed for divorce earlier this year in Madison County Chancery Court, which demanded Leisha Pickering surrender potentially damning personal accounts in Chip Pickering's journals and documents. However, Leisha Pickering filed a successful motion for temporary restraining order in Hinds County Circuit Court against her former attorney, Bettie Ruth Johnson, so that the journals—obtained during the course of Pickering's divorce—could be preserved and used in her alienation of affection suit against Creekmore-Byrd.
Pickering now serves as a lobbyist with Capitol Resources in Jackson, which lobbies for Cellular South. Creekmore-Byrd is on the board of Telepak, which owns Cellular South.
Previous Comments
ID

154062

Comment

Ah, Gossip. Great page filler.

Author

Ironghost

Date

2009-12-07T15:01:03-06:00
ID

154064

Comment

At least it's *our* gossip, not some other state's. ;-) Not to mention *our* lobbyists, our courts, even our own Judge Danks. Hmmm, maybe it's news after all, come to think of it. Damn.

Author

DonnaLadd

Date

2009-12-07T15:12:05-06:00
ID

154066

Comment

I guess Pickering's affair with his college girlfriend was gossip too, huh? So not only is he a cheater, he's a a youth soccer coach beater. Can anybody say family values?

Author

golden eagle

Date

2009-12-07T15:21:42-06:00
ID

154072

Comment

Judge Danks? Madison? If he's one of Miss Mary's buddies Chip's going to be keelhauled.

Author

Ironghost

Date

2009-12-07T15:56:22-06:00
ID

154073

Comment

I didn't realize Danks was a Madison judge either.

Author

golden eagle

Date

2009-12-07T16:03:27-06:00
ID

154075

Comment

I thought Chip was a Lover, not a Fighter!

Author

Louie

Date

2009-12-07T16:32:08-06:00
ID

154079

Comment

A shiny brass farthing to anyone who sends me a photo of Dale Danks in judicial robes.

Author

Brian C Johnson

Date

2009-12-07T17:10:54-06:00
ID

154081

Comment

wouldn't the black robe make the tan look even more orange? I thought halloween was past.

Author

atlntaexile

Date

2009-12-07T17:50:27-06:00
ID

154084

Comment

I dunno. The image of Judge Dale Danks is kinda precious, don't y'all think? He does get around, doesn't he?

Author

DonnaLadd

Date

2009-12-07T19:18:30-06:00
ID

154085

Comment

WAPT has more from Pickering's point of view.

Author

DonnaLadd

Date

2009-12-07T19:31:21-06:00
ID

154091

Comment

When did he become judge? Was this before or during Melton's trials? I mean, there's conspiracy theories galore one can draw from that information. :)

Author

Ironghost

Date

2009-12-07T21:49:36-06:00
ID

154092

Comment

For what it's worth, I've always thought Danks was one of Jackson's best Mayors. This incident is priceless in and of itself, but Danks' involvement is a bonus.

Author

bill_jackson

Date

2009-12-08T00:56:28-06:00
ID

154093

Comment

Hooligan!

Author

Brent Cox

Date

2009-12-08T02:40:27-06:00
ID

154094

Comment

The dude got into a scuffle with his son's coach...and....no one was hurt, apparently....Tempers flair - it happens.

Author

Queen601

Date

2009-12-08T09:03:55-06:00
ID

154095

Comment

I believe municipal court judges are appointed.

Author

QB

Date

2009-12-08T09:34:41-06:00
ID

154096

Comment

I just think there's some humor here, Queen. Tempers do flare, so we're somewhat laughing at the absurdity of tempers flaring over a little league soccer game.

Author

Brent Cox

Date

2009-12-08T09:39:27-06:00
ID

154100

Comment

Is there an inner city Jackson soccer team?

Author

wade G.

Date

2009-12-08T11:52:14-06:00
ID

154108

Comment

Brent, then you havent been to a little league football or baseball game then I assume lol. This isnt a unique incident just happened to be someone some folks know.

Author

Kamikaze

Date

2009-12-08T13:45:08-06:00
ID

154115

Comment

Exactly my point. Happens all the time. Just so happens this time it was Chip. I actually think pressing charges is going to far. They should just leave it as it was and prepare for next weeks game. The funny part is that the ex-wife was even mentioned in this article. One thing has nothing to do with the other.

Author

Queen601

Date

2009-12-08T14:27:10-06:00
ID

154118

Comment

THIS happens all the time!?! Then that is the real news. Queen, Pickering was a self-appointed czar of "family values" — and has publicly fallen off his wagon. He made himself a news story over all this.

Author

DonnaLadd

Date

2009-12-08T14:37:01-06:00
ID

154121

Comment

Pickering is a bully. Plain and simple. Anyone around state politics knows this and has seen it first hand. I am sad that he is teaching the lesson that violence is acceptable in front of children. And over a ball game? What would he do if, for example, he was elected to office and a war was to come alone?? Oh, wait . . . .

Author

revdrstewart

Date

2009-12-08T14:45:52-06:00
ID

154125

Comment

wuz he drankin ? thatz what my aunt betty wuda asked! as for Danks he's becoming the "Gloria Allred" of the celebrity set over there.

Author

atlntaexile

Date

2009-12-08T15:41:31-06:00
ID

154131

Comment

Chip is off the chain. He's a go get it republican. He doesn't care if it Liberty Park or the Christian Apartments.

Author

Walt

Date

2009-12-08T18:02:47-06:00
ID

154165

Comment

god forbid anyone here ever does anything that they shouldn't...judgement runs wild....and with such ease.

Author

Queen601

Date

2009-12-10T10:08:03-06:00
ID

154167

Comment

Judgement? Queen, the story goes that Mr. Pickering went after the coach who was already in his car. If true, this is the kind of anger "mismanagement" that can lead directly to the kinds of abuse that you and I fight against. Society has to speak out against this kind of violent over-reaction or more people will think it's acceptable. That's certainly not "judgement."

Author

DonnaLadd

Date

2009-12-10T10:16:55-06:00