Tuesday, September 2, 2008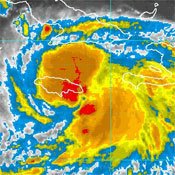 Mississippi Blood Services is reporting an urgent need for blood donations due to Hurricane Gustav. Hospitals and blood drawing stations across the state closed because of the storm, creating a shortage of available blood. If you don't have time to volunteer or money to donate, you can still stop by MBS' Jackson location:
1995 Lakeland Drive (Next to Penn's Fish House)
Jackson, MS 39216-5095
Phone: (601)981-3232, (888) 90-BLOOD or (888)902-5663
Hours:
Mon. - Fri. 7:30 a.m. - 6 p.m.
Thurs. 7:30 a.m. - 7 p.m.
Sat. 7:30 a.m. - 2:30 p.m.
Sun. Appointment Only
Also see:
Jackpedia: Hurricane Gustav for more ways to help.