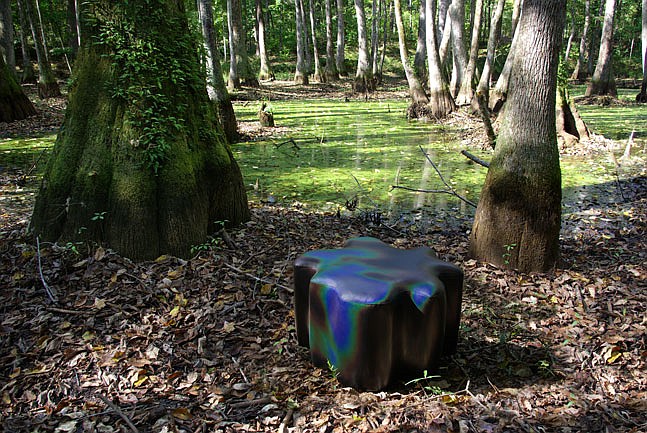 "PLEASE TOUCH" reads the strip of stickers lining the doorframe that leads into Visual Reference Studio. The workspace, located on Millsaps Avenue, is where designers Nuno Gonçalves Ferreira, 35, and Erin Hayne, 31, develop functional pieces that encourage human interaction. Using thermochromatic technology, the pair fashions furniture that changes color as the temperature changes. Human body heat generates lush violets and greens with just a touch of the hand.
The inspiration for the studio's products comes from the Cypress Swamp, where Gonçalves Ferreira and Hayne married in January 2006. Located just off the Natchez Trace, the swamp has a "beautiful and organic" quality that attracted the two artists. The collection of furniture, appropriately titled the Swamp Collection, borrows the shapes of cypress tree trunks, lily pads and algae to create highly functional stools and loungers—not just for sitting, but also for "exploring."
Gonçalves Ferreira and Hayne encourage people to play with the pieces, breaking through traditional concepts of space and proximity and opening themselves to engaging behavior. "It becomes much more about their relationship with each other than with the object itself," Hayne says of observing people exploring their pieces at art shows.
Just two years after opening Visual Reference Studio, the couple's work has appeared in several shows and galleries, including the media lounge at the 2008 Sundance Film Festival and the International Contemporary Furniture Fair in New York. Their work has appeared in international design magazines, and buyers from Belgium, South Africa, Switzerland, France and Hong Kong have acquired pieces for various types of space.
Hayne says that people have a "great reaction to domestic production." The couple works out of their Jackson studio, and two companies in north Mississippi do the stitch work and foam cutting. "People are really exited to come (to Jackson) because of our work," Gonçalves Ferreira says. "We are helping in some way, and that's fantastic."
The couple stays busy with Web design, photography and constant travel around the U.S. to show their work, but they are finding time to explore other ways humans can affect their pieces.
"What's next in the future?" Gonçalves Ferreira asks, predicting my next query. "We want to work with sound interaction.