Tuesday, November 21, 2006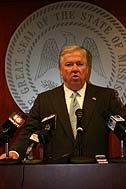 Gov. Haley Barbour is proposing a budget with increases in K-12 education, but he refuses to fully fund the Mississippi Adequate Education Program (MAEP) formula because he says it will hurt higher education.
Barbour declared that he would not be "shortchanging higher education in order to fund K-12." He presented charts showing that K-12 funding has expanded to the detriment of higher education funding. He has referred to MAEP as an "artificial formula," and he has vowed not to be bound by it.
Instead, Barbour's budget gives more money to state universities, to the tune of a $73.6 million increase over last year, a nearly 11 percent hike. It also includes a 2 percent set-aside to raise the state's financial reserves to more than $300 million by the end of FY 2008.
Nancy Loome, executive director of legislative watchdog group The Parents' Campaign, said the seesaw between higher education funding and K-12 funding is legislators' fault.
"It's true that we have increased funding to K-12. It's true that we've cut funding for higher education, but did one cause the other? Probably not," said Loome. "Legislators obviously have to make choices. It's not written in law somewhere that if you fund K-12, you've got to take money from higher education."
Barbour's FY 2008 budget tops out at about $5.4 billion, a 7 percent increase over the budget for FY 2007. He proposes a $158 million increase in funding for K-12 public schools, including an additional 3 percent pay raise for teachers, which he says would bring the average teacher pay up to $43,000 a year. The increase also includes $5 million for early childhood development initiatives like Headstart, and other programs related to education such as gifted student and disabled student education.
MAEP pays for teachers' salaries, education materials, utilities and the growing fuel costs of busing students to and from their homes, but does not pay for early childhood development or the $73 million increase to state colleges. Fully funding MAEP would consume all of the $158 million increase in education funding.
Local tax revenue generated from property taxes largely fund state schools, but property taxes don't always bring in the necessary dollars, especially in rural areas. Lawmakers devised MAEP in 1997 to counter the faltering tax revenue of Mississippi's poorer, largely black districts when it became apparent that grades were suffering in sparsely populated regions such as the Delta and many lowland counties. All school districts, rural or urban, pay different amounts of ad valorem taxes, but MAEP is a guideline for the state to supplement the tax shortfalls found in those rural districts, essentially leveling the playing field.
While the idea of funding pay raises and more after school care is seductive, Rep. Cecil Brown, D-Jackson, says Barbour's plan will come at a serious cost: less money for basic school operating costs and another year of shortchanging MAEP.
"To try to pit one against the other is a typical divide and conquer strategy that the governor is using on education," Brown said. "Barbour wants to put the money in the bank so he'll have something to run on in the next election. It's about building up the reserves so he can say he came in with a $700 million hole and put $300 million in the bank. That's great. I'd like to be able to do that too, but that's at the expense of our children."
Brown questioned why Barbour signed a bill reinstituting the formula during the last session if he had no intention of following it.
"He calls it artificial, but he signed the bill. If he didn't like it he should have vetoed the bill," Brown said.
"The governor calls for $158 million for his education priorities. MAEP calls for $158 million, but with MAEP, there are no future salaries, no teacher supply money, no maintenance money, no school improvement programs, that sort of thing. He's essentially pitting these things against one another," Loome said.
Loome said Barbour's attempts at divide and conquer were probably going to fall short among the state's educators, despite the wage increase Barbour's proposal tosses to them.
"He won't be successful in getting the parent campaign to lobby for that thing, and I don't think he'll be successful in pitting teachers against MAEP. There's no teacher in Mississippi who will take a $300 raise at the expense of having to keep more than 40 kids in their classroom. They'll tell you this in a heartbeat," Loome said.
Barbour praised his state for successfully "bearing the brunt of the worst natural disaster that ever hit America," while digging itself out of a $720 million budget deficit—"without raising anybody's taxes." The governor owes much of his budget's buoyancy to the more than $350 million that federal taxpayers sent to the state following the devastation of Hurricane Katrina, however. It is a boost that will not last forever.