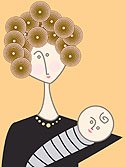 She's taken care of you all your life, made sure you were clean, fed, clothed and loved. She's your mother. Even if you frequently tell her thanks, that you love her more and more with each passing day, and take her out to eat now and then, you'd best make sure your celebration this Sunday is even more special. Traditionally the busiest day for restaurants, Mother's Day in Jackson is no exception. To help you make your plans, here's some information about dining out in the metro area on her special day.
AJ's Seafood Grille, 900 E. County Line Road, 601-956-2588
One of Jackson's favorite restaurants opens at 10:30 a.m. There's a special menu and complimentary mimosas or champagne for Mom.
Amerigo, 6592 Old Canton Road, 601-977-0563
It's always their busiest day of the year. They'll open at 10:30 a.m. and serve lunch pork chops, chicken courtvuion, lunch sea bass and a fish special. They're not taking reservations.
Archestratus Grill, 507 Springridge Road, 601-926-4422
Their Sunday buffet is special, especially if it's your Mom's favorite place.
Bravo! Italian Restaurant & Bar, 4500 I-55 N, 601-982-8111
Bravo! opens at 11 a.m. for their Sunday brunch. No need to make reservations; it's seating upon arrival.
Bon Ami, 1220 E. Northside Drive, 601-982-0405
Make reservations for the 11 a.m. seating for Mother's Day brunch. After that, it's first come, first served.
Char, 4500 I-55 N, 601-956-9562
Sunday brunch here is traditional with many Jacksonians. Why not start your own tradition on Mother's Day?
Del Sol, 4659 McWillie Drive, 601-982-4956
Their Mother's Day buffet begins at 11 a.m. Seating is first come, first served. Adults eat for $30, children for $15. The buffet includes omelets, eggs benedict, roasted pork tenderloin, sweet potato casserole and lots more.
Edison Walthall Hotel, 225 E. Capitol Street, 601-948-6161
Mother's Day brunch is upstairs in the dining room from 10:30 a.m.-3 p.m. Reservations are needed. Prices are $17.95 for adults, $8.95 for children 6-12, and free for those under five.
Eldorado Steakhouse, 653 Eldorado Road, 601-936-9413
Plans are on for a five-time prix fixe menu from 11 a.m.-2 p.m. Make reservations because they're always busy.
Fairview Inn & Restaurant, 734 Fairview Street, 601-948-3429
Mother's Day is the only day they take reservations. Brunch is from 11 a.m.-2 p.m.
Hilton Hotel, 1001 E. County Line Road, 601-957-2800
There's a buffet in the Westbrook Ballroom, from 11 a.m.-2 p.m. Adults eat for $28 and children 4-11 for $12. You'll find favorite Southern dishes along with carved meats, seafood gumbo and salads. A favorite part of the buffet is their 30-dessert table.
Julep Restaurant & Bar, 1305 E. Northside Drive, 601-362-1411
One of several popular eateries at Highland Village, Julep will be open as they usually are on Sundays, no reservations required.
Monte's Steak & Seafood, 1855 Lakeland Drive, 601-362-8182
They'll be serving their dinner menu throughout Mother's Day. Make reservations between 11 a.m.-9 p.m.
Pan Asia, County Line Road at Avery Blvd., 601-956-2958
First, there's a rose for every mother. Then there's Pan Asia's Asian-fusion dishes. And finally, there's a brand new brunch menu.
Panino's, 1855 Lakeland Drive, 601-713-0383
Brunch begins at noon. Enjoy a meal and conversation with your Mom.
Que Sera, 2801 N. State Street and 3525 Lakeland Drive, 601-981-2520
Sunday means an award-winning brunch at Que Sera, from 11 a.m.-4 p.m. You can't go wrong taking your mother to either location.
Schimmel's, 2615 N. State Street, 601-981-7077
They're pulling out all the stops at Schimmel's, and no reservations are needed unless you've got six or more, 11 a.m.-2 p.m. Adults dine for $25.95 each.
Steam Room Grille, 5402 North East I-55 Frontage Road N, 601-899-8588
From 11 a.m. to 8:30 p.m., Mother's Day is special at the Steam Room—the restaurant's normally closed on Sundays. You can pick from three specials to treat the special woman of the day.