Wednesday, September 7, 2005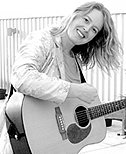 You know the cliché—the sincere hippie chick with a nice voice and sincere, if a bit vapid, lyrics. Well, throw your preconceived notions out the window and run out and get Laurel Isbister's new release, "Nona Mae's Wishes," a live recording of performances the now Jackson-based songwriter gave in California a couple of years back. Yes, Laurel looks a bit like a hippie chick, and yes, her lyrics and delivery are unabashedly sincere. But it works wonderfully, as Isbister's breathy voice, sonorous guitar phrasings and evocative subject matter gel beautifully.
The "Nona Mae" of the album's title is a reference to Isbister's grandmother, to whom the record is dedicated. But the songs on this record defy categorization as simply a tribute to a memory. Rather, the tunes stand on their own, and visit subjects like faith, and romantic love, at times seemingly interchangeably.
The star of "Nona Mae's Wishes" is, with due respect to Isbister's grandmother, the songwriting and execution of the tunes. Isbister's experimentation with altered tunings on the acoustic guitar give the performances depth that belie the fact that, with the exception of an occasional backing vocal or percussion, the live recordings are almost all Isbister performing solo. At times strumming with authority and at other times using deft fingerstyle arrangements, Isbister's guitar work separates from the bulk of folk performers. Her guitar style doesn't simply accompany her songs; it drives them.
Isbister's vocals are also beautiful. At times her delivery seems fragile and capable of losing melodic focus, but it never does. Her voice matches well with the intimate subject matter, and conveys the emotions of the given lyric.
Isbister has studied ethnic music of many kinds, and her melodies often invoke he musical themes. In fact, a Bosnian folk tune makes it onto the record. While Isbister is an excellent composer, the introduction of these varied musical types certainly offers a change of pace.
"Nona Mae's Wishes" is an incredibly well-recorded album. Engineered and co-produced by Nandi Devam, the sound quality is astounding for a live acoustic record. Also of note is the crowd she draws; intensely respectful during performances and very responsive to Laurel, the inclusion of audience applause and Laurel's between song banter enhances the disc. It's nice to hear an audience actually listen during a performance—a luxury all too often missing from Jacktown shows.
If there is a knock on "Nona Mae's Wishes," it's that the songs sometimes run a bit long. Still, it sounds like Isbister may have been catering to a crowd that was digging every note. Stretching things out a bit may have been just what the audience needed.