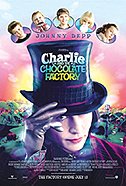 There was perhaps no major American filmmaker better suited for bringing Roald Dahl's offbeat, bittersweet children's story "Charlie and the Chocolate Factory" back to the big screen than director Tim Burton. "Charlie and the Chocolate Factory" is Burton's most enjoyable (and strangest) film in years; it not only stands as a testament to his talents, but it may even be superior to the classic 1971 adaptation "Willy Wonka and the Chocolate Factory."
Anyone familiar with Dahl's book or the earlier film (Burton's version is not technically a "remake" of the Mel Stuart-directed original, since it uses Dahl's work as source material, and is actually more faithful to it than "Willy Wonka"), will find that the story has been left mostly unaltered. Young Charlie Bucket (Freddie Highmore, "Finding Neverland"), lives with his destitute family in a barely standing shack just beyond the gates of a large candy factory run by the mysterious Willy Wonka (Johnny Depp). Though Charlie adores Wonka's candy, the meager wages earned by his parents (Noah Taylor, "Almost Famous" and Helena Bonham Carter, "Fight Club") only allow him to eat one candy bar per year. Charlie's grandfather (David Kelly, "Waking Ned Devine") was once a worker in the Wonka factory, but, following a recipe-stealing scandal that prompted Wonka to fire all of his employees, has not entered the factory since.
One day, the reclusive confectioner announces that he will reopen his factory doors to five lucky children, who will earn admittance by finding a golden ticket in one of Wonka's chocolate bars. International media coverage quickly centers upon the auspicious youngsters, including the overweight Augustus Gloop from Germany, spoiled rich kid Veruca Salt from England, bratty American overachiever Violet Beauregarde and intelligent video game addict Mike Teavee. The fifth ticket, of course, is found by Charlie, who brings his grandfather along for the unforgettable visit. The children are also promised that a special grand prize will await one of them, and they immediately enter into competition with each other.
The character of Willy Wonka, already immortalized by Gene Wilder, is at once the film's strongest asset and its most significant weakness, dwarfing the importance of nearly every other player. Depp's interpretation, bolstered by better character development (Burton's film features several flashbacks to Wonka's childhood as the son of an austere dentist), perfectly meshes scatterbrained lunacy and mercurial sadism. While some are already criticizing his oddball performance, Depp's choices—very different from Wilder's—present a character who is desperately uncertain of how to relate to other people, especially the children he has surrounded himself with, whom he seems to despise (with the obvious exception of Charlie). Just as Burton is the perfect director to adapt this story, Depp is the perfect actor to inhabit Wonka.
Despite a rather slow first act, once the children enter the factory gates and Depp appears, "Charlie and the Chocolate Factory" flies by. Burton has crafted a remarkably engaging film, featuring jaw-dropping sets and costumes, well-timed moments of humor and satire, and several oddly brilliant musical numbers performed by Wonka's Oompa Loompa workers (all of whom are digitally replicated from the same actor).
Far darker than the original film, "Charlie" is certain to please fans of the '70s version and the Dahl book and will play equally well to both children and adults (in fact, Burton's film may actually be better appreciated by the latter, at whom more of the humor is geared). "Charlie and the Chocolate Factory" is, at last, a family film that doesn't leave behind a sour taste.
Previous Comments
ID

84357

Comment

This movie was meant for stoners like myself. I recommend this one to the kids of the 70's as well as kids of the new millennium.

Author

Jocelyn

Date

2005-07-27T07:23:57-06:00