Wednesday, January 19, 2005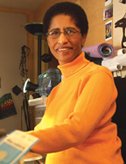 Sixty-one-year-old Gwen Magee grew up surrounded by arts and crafts, immersed in her mother's passion for knitting, crocheting, ceramics—anything except sewing. "She hated anything to do with sewing. I took a home-ec class in high school, can't remember what I made, but it wasn't wearable," Magee told me, laughing softly at her memories.
That she didn't learn to quilt at her mother's knee is difficult to reconcile with the quilts Magee has been making since1989. Magee's oldest daughter was about to leave home for college, and Magee knew she wanted to make something for her, and later for her sister, to have as a reminder of home and family.
"Out of the blue, I decided it should be quilting," Magee said as we sat in her spacious family room last week. Magee found Joy's Busy Hands, a crafts store, in the Appleridge Shopping Center in South Jackson, called and signed up for a six-week class in traditional quilting. "I only intended to make three quilts—the one I learned on and one for each daughter. By the time I finished the one for my youngest daughter, I was hooked on it, piecing by hand, hand quilting. I made quilts for all of my family."
By 1995 she had become, as she put it, dissatisfied with traditional block patterns and moved into a different aspect of quilting with a piece she made for her husband, an amateur astronomer. "I adapted a block called Rebecca's Fan for his quilt," Magee said. She wanted something special for him, depicting the heavens and the stars, and expected it to be placed on their bed. "He said, 'No, this can't go on our bed, this is art.' That hadn't even occurred to me," Magee told me. "He's my biggest fan, my biggest supporter."
Magee did those things that people often do when they have a passion for something—she subscribed to all of the quilting magazines she could find, frequented fabric stores and found groups of like-minded individuals, like the one at Ann's Quilt Shop in Clinton. They named themselves the Faux Pas Quilters, and it was the encouragement of this group of white women that led Magee to submit that special quilt for her husband, which she had named "Infinity," to a major juried exhibit of the American Quilters Society in Paducah, Ky. It was accepted, and she went to Paducah to see the exhibit. "You either stand by your work, grinning and going, 'This is mine!' or you stand to the side, kind of listening," Magee said. She was the only African American, so she got noticed. It was the first of many shows to come.
Magee herself grew more and more interested in having her quilts reflect her heritage. "At some point, I began to really wonder about what African-American quilters were doing," she said. She started using African fabrics in her pieces as well as African themes. Around this time, she also created several purely abstract quilts, beautifully pieced and embellished with stitchery from one of her two sewing machines, a Bernina and a Janome, using glistening threads to make a sort of spiral that inhabits many of her pieces. One abstract, "Bolero," started with a doodle, as have others. With the abstracts, Magee wonders what the doodle will look like in fabric. Or she might start with an interesting line she sees somewhere, maybe even in another piece of art. For Magee, what makes a line interesting is that she likes it. It could be something organic, curvy and wavy, or a sharp jag. It's always something that catches her attention.
Kicking off her shoes, Magee stood on her sofa and demonstrated an interesting line she saw in a Roland Freeman photograph of an elderly African-American woman, seated with her cane in the shadows. "See, I'd take a sheet of tracing paper and put it over this, tracing the line of her hand and the cane," she looked back at me and explained. "Then I'd go from there, adding, taking away, exploring color and composition and design."
Magee feels rewarded by making her abstract pieces because there is so much experimentation involved with new materials and ways of doing things. "There's so much creativity in terms of what you can do with fabrics and threads," she explained.
And let's not forget color. "Color just feeds my soul," Magee told me. Since she was a small child, she remembers being fascinated by color, particularly deep, rich, vivid, saturated color. "I could never do things with color the way I wanted it. I took a class in high school, one summer, in oil painting," she said. Still, she couldn't get the color to work the way she wanted it to. "I never thought I had artistic ability; I was a consumer but didn't have talent," she explained, "and it wasn't until I worked with cloth that I could manipulate and get the range of color that I wanted."
That ability is evident in her works filled with vivid, wild hues. She even dabbles in dying fabric but knows she must be careful because the immediacy of the results of dying, compared to quilting, could draw her away from her quilts. Still, she just had to show me a small pile of silk rectangles that she had dyed herself. And what an explosion of riotous colors in all sorts of shapes and lines—seeing these pieces of cloth made me understand what Magee meant about the immediate feedback of dying cloth. Yet even the black-and-white quilts she has created reflect her intellect and artistic ability in the conscious decision to eliminate color when the piece calls for it.
By 1998, Magee knew she wanted somehow to represent the James Weldon Johnson poem, "Lift Every Voice and Sing," in a series of quilts. The poem, known as the Negro national anthem when Magee was growing up in High Point, N. C., has always been a part of her life. She remembers it from school assemblies and from community gatherings, its lines resonating in her consciousness over the years. At first, she thought it would be best to involve other African-American quilters in the project, but it soon became clear to her that it would take an inordinate amount of time, time away from quilting. Determined, though, Magee decided to depict 12 lines from the poem in quilts she herself would create.
Between 2000 and 2004, Magee did just that, using color and design and composition to make quilts that are works of art, that reveal her deep understanding of the history and struggles of African Americans in this country, that reveal aspects of that history in a way heretofore unseen. Hanging at the Mississippi Museum of Art until Jan. 30, "Journey of the Spirit: The Art of Gwendolyn A. Magee," will then tour Mississippi, stopping in nine other towns. The show includes the 12 quilts in the "Lift Every Voice and Sing" series as well as Magee's traditional quilts and abstracts.
One particular quilt in the series, entitled "Full of Faith," depicts the line "Sing a song full of faith that the dark past has taught us." Magee said, "I had to think about what that line meant to me and how to interpret it." Rarely does she have an initial idea that remains unchanged. "Generally, I'll get an idea or a thought, write it down or do a quick sketch, then build from that," she went on.
Three women of varying ages kneel in the shadow of the cross in this moving quilt, bowing their heads as they pray, exercising their faith in their God. The cross, made with strips of African fabrics, cannot be mistaken for the traditional Christian cross—this cross is African American in nature.
With any of Magee's quilts created since she began to interpret, to narrate, instead of merely piecing traditional blocks, you really want to get as close as possible so that you won't miss anything. Not to say that you shouldn't step back, and back again, to get the big picture, the emotional impact. But, especially with her quilt that epitomizes the line "We have come, treading our path through the blood of the slaughtered," you need to get close.
This quilt will be familiar to those who saw it hanging at the "Without Sanctuary: Lynching Photography in America" series at Jackson State University last year. Covering one complete wall in what could have been the dining room of the old President's House at JSU, this quilt is black and white. Column after column, state after state, year after year, it lists African Americans lynched in the United States. Over on the left side, there's a single tree, quite large and healthy looking, and from its lowest large branch hangs the body of an African American who represents all of those names. And hanging beside the powerful quilt is a narrow strip that lists the names of those lynched in Georgia alone.
Magee is not finished with the poem, though. She'll continue to sit in the middle of the floor, surrounded by fabrics, threads and textiles of many colors, taking from here and there to create other interpretations of additional lines of Johnson's poem. "I do see this work, the art in general, as part of my legacy. It's important to me because I'm adopted, so for me I have no past, I have to look forward into the future, so that's what it means to me," Magee said.
Concerning all of her quilts, Magee told me, "For me, it's about communication, interaction and dialogue. I feel I'm communicating with the viewer. The thing I find so interesting and that I particularly like is that each person comes with his own perspective, own background and sees it through different eyes than I did when I was creating it. … If the viewers are drawn to it and have a dialogue with themselves and the piece, whether they agree or not with my interpretation, if they have a feeling, then as an artist, I'm satisfied."
More like this story