Wednesday, September 29, 2004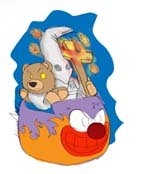 Nearly 40 years ago, in Mississippi, the state fair was segregated. There was a white fair and later a fair for black people. This October, many of the children and grandchildren of those who fought to integrate this 143-year-old tradition say they will boycott the fair due to the presence of an avowed white supremacist and an old man from Neshoba County accused of plotting three of the nation's most notorious murders.
Richard Barrett, leader of the Nationalist Movement, a white supremacist group headquartered in Learned, Miss., has requested and been granted a booth at the State Fair's Agricultural building. Barrett says he plans a petition exhibit to help Edgar Ray Killen, one of the Klansmen said to be involved in the murder of James Chaney, Andrew Goodman and Michael Schwerner, the three civil rights activists killed in Neshoba County in 1964.
"When the Bush administration brought up the re-prosecution of Edgar Killen, I decided that I had to do something to help Mr. Killen," Barrett said. "This is a 40-year-old case for which he has already been acquitted. The seventh amendment says no fact tried by a jury will be tried again." In fact, Killen walked free after a federal judge declared a mistrial in his case. He was charged withe violating the three men's civil rights; no murder charges have ever been brought against Killen or any of the other alleged conspirators by Mississippi. The U.S. Constitution does not, in fact, block prosecution now by the state.
Barrett's petition is the size of a Christmas card with pictures of Chaney, Goodman and Schwerner, with a big red X over them. At the bottom of the picture will appear the words, "The fight against Communism did not end in 1964." The inside of the card reads, "Thank you, Edgar Ray Killen, fighting against communism for 40 years." The petition will read: "Thank you Edgar Ray Killen. You fought communism. You stood up for America. You stood up for us. And now we will stand up for you."
Mike Brinkley of the Fair Commission had originally refused to sign the contract that would allow Barrett to exhibit at the fair on the grounds that this kind of exhibit will possibly incite danger. Jacob Ray of Attorney General Jim Hood's office ruled that the pair has the right to exhibit, based on precedent allowing the Ku Klux Klan to march in a Jewish community because the march would not cause enough trouble to cause harm in the community.
"We met with Agriculture Commissioner Lester Spell and Hinds County Sheriff Malcolm McMillin, and we are comfortable that the matter will not be a problem. We ask that the public and press continue to treat the issue as irrelevant," Ray said, adding that the attorney general's office is investigating the 40-year-old case. "We are working jointly with the FBI and will thoroughly investigate the murders of those civil rights workers." He also asks that anyone who knows any information that might help the investigation to come forward.
Though Barrett said he has received lots of support, many others oppose him. Those opponents aren't predictable. Jim Giles, a "pro-white" third-district congressional candidate who displays the rebel flag on campaign materials, told me: "Barrett is a fraud, a Yankee lawyer from New Jersey. He no more represents the working-class white man than you do, Ayana."
Giles, however, agrees that the state should not be drudging up an old murder case. "We are talking about a 40-year-old crime, but we are not talking about the murders against white people that happened yesterday. However, I do believe that murder is wrong across the board, and if Mr. Killen had anything to do with the murders then I would hang him myself," he said.
Brinkley says Barrett's plan to collect signatures was not on his application for the booth. "We are not trying to block him from having the petition, but we cannot put anything in the contract that is not on the application," he said. "That is for all vendors, not just him." Brinkley said that Barrett tried to write in the petition in the contract without permission.
Barrett says Brinkley told him to write in the petition and change some other typos made on the part of the fair commission. "I called up Mike, and he said to make the changes. Tuesday morning I will be going to the Fair Commission in a good-faith effort and if they refuse to put in the petition language that Brinkley told me to write in, then I will go to the U.S. District court to fight the commission," Barrett said.
For Barrett, this petition is important to freedom in the country. "Martin Luther tacked a petition to the door of a church that caused a reformation which brought down the Pope; Richard Barrett will bring a petition to the fairgrounds that might cause a reformation that will bring down Kenneth Stokes," Barrett said with a chuckle.
City Councilman Stokes, though, is fighting back. "We are going to boycott the fair. ... If they are going to support the state turning back to the ways of the past, then they can do it without our dollars," he said.
Stokes is not the only one staying away: Bonnie Harris of MS Move, a local non-partisan voter organization, says that she has talked to students at Provine High School, and they are not going to the fair this year. "These students are aware of what is going on, and they have decided to do something about it," Harris said.
Barrett vows that he will petition regardless of what the court or the commission says. "We have come in contact with this kind of opposition before," he said.
Brinkley said the commission would meet to discuss Barrett's petition.
This story will continue to be reported at jacksonfreepress.com.