Thursday, October 7, 2004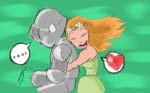 Once upon a time in the Best of the New South lived a fair peasant woman inside a shoe. She had a son who yelled "Never wear panties to a party!" to the Baptist minister. She had her dog Zeke who discarded enough hair in her home to stuff a comforter and choke all guests. She had bills to pay and promises to keep and miles to go before she could sleep, but she had cute shoes, good music and great wine. And it was good.
Until one day, eharmony.com proclaimed, "Thou hast a match. Thy match hath requested communication. Come to eharmony. Give us thy money, and we wilst give you a white knight who is matched to your very own personality." Trumpets played, and the crowd roared. And the beautiful peasant woman obeyed.
As the hours passed to days, the peasant woman and the knight completed the five stages of the communication gauntlet, which begged the question "What happens now?" The white knight procured the e-mail of the fair maiden, and great literature followed, contained therein Lotus Notes and Outlook Express. The white knight pontificated poetry; the peasant woman responded with Delbert McClinton lyrics.
Uh huh. Y'all get the point. Much to the dismay of both me and my friends, I've done gone and gotten myself smitten. Being the etymologist I am, I think smitten, I think smite. I think smite; I think injury and/or death. My friends think I need to move on and get another one, as they are sick to death of this smiter already, but it's so hard to do when I want to squeeze him and hug him and pet him and play with his hair and call him Cowboy.
Now while Cowboy has certainly lived up to his white knight status on several occasions with romantic dinners and trips to all of my favorite blues bars and phone calls into the wee hours of the night, he has also said that we are "just friends."
Imagine this with me, chickadees. You are in downtown Memphis with a man who makes you laugh and makes you think and has bought you many nice dinners and opened all doors and sent you the most romantic-type e-mails and has kissed you like your back ain't got no bone. And then he says, "You have to decide if we are going to be friends who kiss or friends who do not kiss." That's right. Your knight has pulled the friend card.
After a few days of fussing and fuming and jumping up and down and whining to all my friends, I allow Cowboy, with his mass communications degree and all, to articulate exactly what the hell THAT means. He says, "I have commitment issues."
A-HA! Commitment issues! Now there's a new one for me. Honestly it is. My post-divorce dating thus far has included men who want to marry me the very next week, men who just want to get in my pants on a random date, and men who like me but aren't ready for a relationship but that's OK because I haven't really liked them all that much anyway.
But I liiikkkkeee this one. He's just so cute and so smart and … OK, I've told you all that, haven't I? But it does create a dilemma. I don't know about you, but I honestly don't kiss my friends. I have lots of friends, I love my friends, I would give my favorite argyle sweater for my friends, but I really just don't go around sticking my tongue inside their mouths. Ever. Even the boy ones! Either we are on a date or we are not. Date=playground privileges. No Date=No playground privileges. Simple enough to me.
So my actual guy friends, the ones I don't kiss, tried to explain this one to me. We have several options here: 1. He just wants to play with me until something "better" comes along 2. He thinks commitment=loss of freedom 3. He is scared of getting hurt. If any of you guys can think of others, let me know. I'm not going to kiss you for the intel, though, so don't get all excited, but I do feel a calling in my life to just get the truth out there with all this dating, or non-dating as it were, B.S.
I did get excellent advice from my dear guy friend, The David. He said, "Don't talk to your friends about him because if it does work out, then they're going to hate him anyway. And you know you are loving every minute of this … whatever it is." The David is good for actual logical things such as that. He's such a guy.
So I'm trying real hard not to talk every moment of this non-relationship. I'm going to just let it do whatever it does. And let me tell you something, white knights also have that big heavy suit of armor that prevents anyone from getting at their hearts. Maybe that's Cowboy's problem. Maybe not. But for now, I shall remain smitten and not worry about the smite.
He is a good kisser, you know.
Emily Braden is a frequent columnist for the JFP. She lives in Rankin County.
Previous Comments
ID

69403

Comment

Once more I find myself enthralled in another interesting and well written story. Very gooood. Is this what I'm missing by staying married? Cause I tell ya, at least here I know this relationship. Or lack thereof. Good job!

Author

DG

Date

2004-10-06T22:22:39-06:00
ID

69404

Comment

Tres bien, my friend! I love it. You be smitten all you want. Your true story about a certain "meet your mate" web site gives me hope. Keep them coming! See ya, Mel

Author

Melissa

Date

2004-10-07T09:47:13-06:00