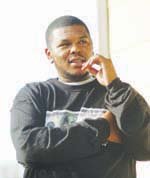 Joecephus Martin, 24, is comfortable in his own skin. As I watch the time, he sits back in a black leather chair, and says, "I'm from the South, I don't rush." He is a teacher, a rapper, a student, a voter, a listener, a talker and a realistic dreamer.
Martin lived in Presidential Hills from kindergarten through seventh grade. "I was class-clown music guy," he says with a full smile, with teeth. He was around people who did bad things, but at home all of his needs were met. "My mom was hell-bent on not letting me become what they thought I would," he says.
After his mom heard he was in a gang, she put him on a bus to Parchman for the Scared Straight program where young people go spend time with inmates. "These weren't just small-timers; they were in for murder, rape and armed robbery, and the people in charge just left us alone with them," he remembers.
Martin works in a Jackson jail, teaching reading, and afternoons at the Family Learning Village. Some of the kids there like George Bush because they think that "No Child Left Behind" means that they can't fail a grade, that they won't be left behind in school, he says.
Working at the jail, people come back over and over again. "If there were 100 people in there, 60 of them had been there before," he says. He tells his students that voting is their only tool, that there is no other way to fight without going to jail.
As young people, as African Americans, as participants of this society, we all have to be critical listeners, watchers and thinkers, Martin says with conviction. "If you watch the news and don't think about it, no telling what you will think," he says.
Martin leans back casually and says, "I want to rap so bad." Then he sits up and makes two fists as if he is grabbing his dream. His nickname, Skipp Coon, has two Ps in Skipp because he is from Mississippi, Coon because a former governor (Paul B. Johnson in 1964) called the African Americans "niggers, alligators, apes, coons and possums" (N.A.A.C.P.), and the combination because he feels that laws in place now skip over black citizens.
Under this name, he has rapped on several Kamikaze mix CDs. He is a graduate of Forest Hill High School and an honors graduate of Jackson State. With his khaki hat perched a little to the right, Martin tells me of his goal: to open a diverse middle school where critical thinking will be emphasized.