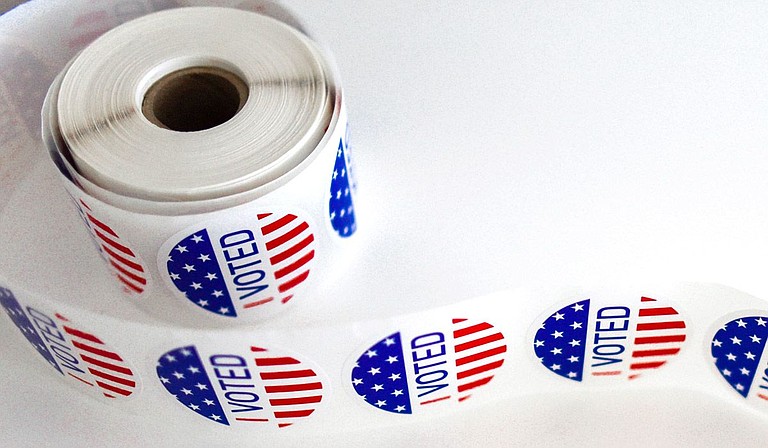 Three independents, one Republican and one Democrat are on the ballot for today's Jackson mayoral election.
The three independents are Shafeqah "Big Mama" Lodree, Charlotte Reeves and Les Tannehill.
Incumbent Chokwe Antar Lumumba, a Democrat, qualified for the ballot after defeating two other Democratic Party contenders in the April 6 primary election. He edged out two contenders: Kenneth Wilson and Patty Patterson. Republican mayoral candidate Jason Wells defeated opponent Pinto Downing that day.
The seven city wards elections are also on the ballot. Four wards have only one candidate: Wards 1, 2, 4 and 5 with Ashby Foote III, Angelique Lee, Brian C. Grizzell and Vernon Hartley, respectively, running unopposed after winning their primaries.
Incumbent Democratic Ward 3 Councilman Kenneth Stokes will go head-to-head with independent Patricia Williams. Democratic City Council President and incumbent Ward 6 Councilman Aaron Banks has opposition in Republican Zidkejah Wilks. Democratic Ward 7 Councilwoman Virgi Lindsay will compete against Libertarian Bryan Keller.
One hundred and ninety-one of Mississippi's 297 municipalities will hold municipal elections today, Mississippi Secretary of State Micheal Watson said in a June 7 statement.
"Voting precincts for municipal elections often differ from voting precincts for county elections, so it is essential voters double-check their polling place with their local Municipal Clerks' Office prior to Election Day," Watson noted. "All mail-in absentee ballots must be postmarked by Municipal Election Day (June 8th) and received by Municipal Clerks Offices within five business days of General Election Day in order to count."
Polls opened by 7 a.m. and will close at 7 p.m. across the 86 polling stations across the city. Mississippi Move is offering free rides to the poll. Anyone interested can call 662-205-6683 (MOVE). Anyone in line at 7 p.m. is eligible to vote. Voter identification is required.
Water Supply Problem Continues
The City of Jackson has put a precautionary boil-water notice in place as contractors work to put a new pump in the Siwell Road Well System. Both the TV Road and Siwell Road well-water systems went offline three weeks ago, and efforts to restore them have been ongoing.
"As of this morning, a temporary pump has been installed at the TV Road Well. The TV Road Well is back online and adding additional water into the Jackson Maddox Well System while repair work continues to install a new pump at the Siwell Road Well," Communications Director Michelle Atoa wrote in a Tuesday, June 8 statement.
"The Siwell Road Well will remain offline as work continues over the next few days, with an anticipated completion of Thursday, June 10, 2021, weather permitting. The temporary pump at TV Road will help, however, residents in the impacted areas, particularly those at higher elevations, can still expect disruptions in their service until all repairs are complete."
Some have continued to suffer from non-availability of water, and the city administration asks them to reach out to the constituency services by calling 311.
"A precautionary boil-water notice is in effect for the impacted areas and will remain in place until the repairs at the Siwell Road are completed and two days of testing are approved by the Mississippi State Department of Health," Atoa added in the statement.
Email story tips to city/county reporter Kayode Crown at [email protected]. Follow him on Twitter at @kayodecrown.