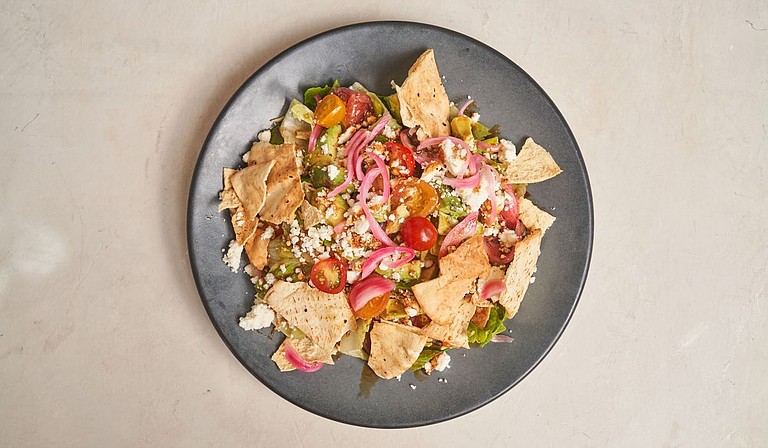 Wednesday, August 4, 2021
A James Beard-nominated chef, Alex Eaton owns both The Manship Wood Fired Kitchen in the Belhaven neighborhood and Aplos Simple Mediterannean at the Highland Village Shopping Center. With a month and change left in the summer, Chef Eaton has provided the Jackson Free Press with a summer salad recipe to share with its readership.
Salad Ingredients
• 4 ounces chopped romaine
• 2 ounces diced heirloom cherry tomatoes
• 1 diced avocado (large cubes)
• 1 ounce red onion
• a drizzle of pomegranate molasses (available at Aladdin Grocery in Jackson)
• pinch of sumac
• 1 ounce feta cheese
• 4 pita chips
• 3 fluid ounces lemon sumac vinaigrette
Pita Chips
• pita bread
• olive oil
• salt, pepper and garlic powder
Lemon Sumac Vinaigrette
• 1 teaspoon dijon mustard
• 1 teaspoon diced shallot
• 1 teaspoon diced garlic
• 1 teaspoon honey
• 2 teaspoon sumac
• 1/4 cup lemon juice
• 1/2 cup olive oil
• salt and pepper
Directions
Slice pita bread into triangles, drizzle them with olive oil, and top with salt, pepper and garlic powder. Bake at 325°F until crispy, approximately 13 minutes. Remove to cool.
To prepare the lemon sumac vinaigrette, whisk together all listed ingredients—dijon mustard, diced shallot, diced garlic, honey, sumac, lemon juice, olive oil, salt and pepper.
Combine salad ingredients, including the pita chips, in a bowl and toss with the lemon sumac vinaigrette until evenly coated. Serve and enjoy!