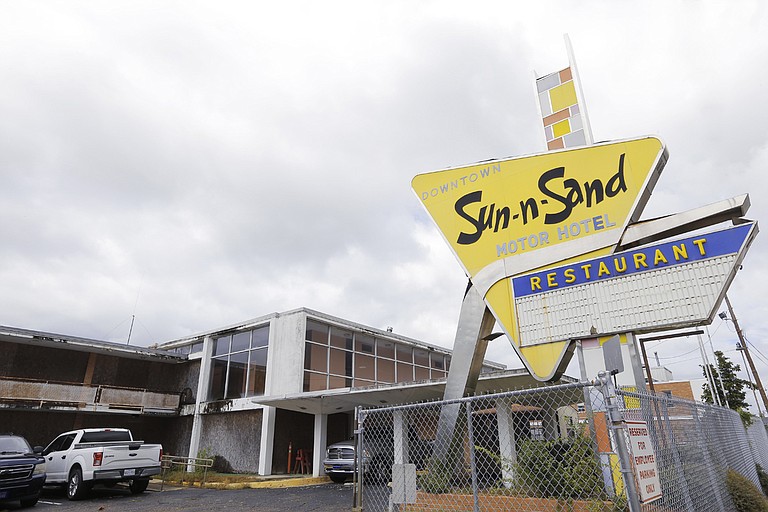 Wednesday, September 18, 2019
MDFA Purchases Sun-n-Sand
The Mississippi Department of 
Finance and Administration in July 
purchased the Sun-n-Sand Motor Hotel on Lamar Street and the Wright & Ferguson Funeral Home on West Street, both 
historic landmarks located in downtown Jackson. The Mississippi Business Journal reported that MDFA paid a total of $2.3 million for the two buildings.
The late businessman Dumas Milner opened the Sun-n-Sand, which has been vacant since 2001, in 1960. It has a long history with author Willie Morris holing up there to write "New York Days" and many legislators staying there over the years.
Milner also owned the King Edward Hotel in downtown 
Jackson, which closed in 1967 and re-opened in 2009. Lamar Properties purchased the Sun-n-Sand in 2005, and the state later bought it for $1,015,021.
MDFA plans to raze the Sun-n-Sand and construct additional parking space for government workers, MBJ reported, but the building's sign will remain standing.
The MDFA purchased the 30,000-square-foot Wright & Ferguson building from Alderwoods LLC in September 2018 and purchased the Sun-n-Sand in January 2019 for $1,285,300.
Habitat Broadmoor Initiative
On Thursday, June 27, Habitat for Humanity Mississippi Capital Area launched a five-year initiative to revitalize the historic Broadmoor neighborhood in north Jackson.
The first homes in the neighborhood went up in the 1950s as housing for 
returning veterans after World War II. Their children, the "Baby Boomer" generation, lived in the neighborhood through the 1990s, but the deaths of original homeowners and the housing-market crash of 2008 
contributed to the neighborhood's decline.
Merrill McKewen, executive 
director of Habitat for Humanity Mississippi Capital Area and leader of the revitalization effort, told the Jackson Free Press that Habitat started work on the first two houses on Jan. 15, 2019. Habitat plans to remove and remodel the interiors of the buildings, including installing new wiring, appliances and plumbing, while leaving the exteriors intact.
Habitat's revitalization effort is also part of the City of Jackson's Blight 
Elimination Project. Habitat will demolish any houses the organization deems unfixable in order to rid the neighborhood of derelict buildings.
The Broadmoor revitalization will 
affect 100 houses in the neighborhood over the next five years, whether the 
organization rebuilds or demolishes them. Habitat will build one new house with Blue Cross & Blue Shield of Mississippi, the construction of which began Sept. 7, 2019. Through the HOME grant, the City of Jackson will assist Habitat in rehabbing five more houses. Habitat will sell all the revitalized homes in the Broadmoor neighborhood based on a 30-year, zero-interest mortgage for each owner.
Refill Cafe Jackson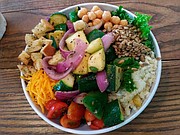 Refill Cafe, a nonprofit workforce-development restaurant located inside the space that once housed Koinonia Coffee House (136 S. Adams St.) in west Jackson, opened to the public on Tuesday, Aug. 27. The cafe is open for lunch Monday through Friday from 11 a.m. to 2 p.m.
The nonprofit works with young adults age 18 to 24 who are not currently working or in school. Refill offers a 10-week training program, of which participants spend five weeks in classrooms on the building's second floor developing skills such as answering a phone, sending emails, how to present oneself, resume building, filling out job applications, personal health and well-being, professional dress and financial management, anger management and interview skills.
Participants then spend the remaining five weeks on the ground floor of the cafe shadowing full-time employees for 
on-the-job training, including working in the kitchen, running the register, serving and busing tables, and other tasks.
The Refill Cafe menu includes carved turkey sandwiches topped with cranberry dressing, daily "power bowls" of brown rice and quinoa topped with vegetables and a choice of protein, a variety of soups and sandwiches, a rotating selection of daily blue-plate specials and more.
For more information, visit refillcafe
jackson.com or find it on Facebook.
B&B Theatres at Northpark
Northpark announced in May that it will open a new 14-screen movie theater by fall 2019. B&B Theatres, which has 50 locations nationwide, is partnering with Northpark to open its second location in Mississippi on 250 Ring Road in Ridgeland, which surrounds Northpark. The other B&B Theatres in Mississippi is at the Vicksburg Mall. For the new 
theater, Northpark and B&B Theatres will renovate the former Regal Cinema, which closed in January 2019.
The renovations will include changes to the lobby, restrooms and concession area, as well as the installation of new screens, seating, carpeting, countertops and signage. The renovations will also include a new exterior facade and a 
resurfaced parking lot.
B&B Theatres will include amenities such as the Marquee Bar, a full-service bar with beer, wine or cocktails for guests age 21 or older. The theater will also have a lounge, a made-to-order food menu, auditoriums with electronic heated leather recliners and more.
Big Fix Clinic
The American Society for the Prevention of Cruelty to Animals recently gave Mississippi Spay and Neuter a $38,000 grant for medical equipment at its new Big Fix Clinic in Richland.
MS SPAN, an organization that spays and neuters pets, as well as feral cats and dogs, in an effort to end euthanasia and mistreatment of stray animals, originally opened in 2005. The current Big Fix Clinic, which opened in 2008, is at 100 Business Center Parkway in Pearl, while the new, larger location will be at 657 Highway 49 in Richland, next door to Mississippi Title Loans. The current Big Fix Clinic will remain open until the new location opens.
The organization also plans to move its thrift store in Florence, Big Thrift, into the new building after it opens. The store, which has been open since 2014, sells clothes, housewares, books, pet products and more. The Big Fix Clinic is scheduled to open in October 2019, and will provide low-cost spay-and-neuter services and basic wellness services such as vaccines and deworming.
Trustmark Fondren Office
Trustmark Bank held a grand opening and ribbon-cutting ceremony for its new office in Fondren on Wednesday, 
July 10. The new Trustmark Fondren branch is located at the corner of Old Canton Road and Duling Avenue in front of Babalu Tapas & Tacos.
The bank broke ground on the new building in February 2018. Cooke Douglass Farr Lemons Architects & Engineers designed the two-story building and will occupy its second floor.
Trustmark previously hosted a "topping-out ceremony" for the Fondren office in August 2018, during which Jackson Mayor Chokwe Lumumba signed the final piece of structural steel that builders installed near the top of the office building.
Millsaps Windgate Center
Millsaps College held a dedication ceremony for its new Windgate Visual Arts Center on Thursday, Sept. 5. The building, which is on the west side of the Millsaps campus, allowed the college to move its art facilities from the third floor of its Academic Complex and into a larger space, Elise Smith, chairwoman of the art department and professor of art history at Millsaps, told the Jackson Free Press.
Students can access the building through a newly opened entrance at the intersection of West Street and Wesley Avenue in Jackson's midtown neighborhood.
The Arkansas-based Windgate 
Foundation, which funds visual-arts 
studies at universities and museums across the United States, donated $2.5 million to Millsaps for the construction of the center. The North Carolina-based 
William R. Kenan Jr. Charitable Trust also helped Millsaps secure additional donations from Maurice and Cathy Hall, and Michael T. McRee.
Millsaps broke ground for the 17,300-square-foot Windgate Center in November 2017, and classes inside the recently completed building began on Aug. 26, Smith says. The center is also the first new building constructed on the Millsaps campus in roughly 30 years.
The center includes expanded studio art rooms for woodworking, metal
working, papermaking, sculpting, painting, printing presses and more, as well as a Mac lab for digital-arts classes, a seminar room and a student lounge stocked with art books for students to borrow. Millsaps will use the building's main 
gallery, the Hall Family Gallery, to host exhibits from artists across the Southeast, as well as gallery talks and juried art exhibitions for senior art majors, Smith says.
"We're tremendously energized as an arts community to be able to give the arts a much stronger focus here at Millsaps," Smith says. "We're hoping to attract students who maybe wouldn't normally take art classes, be better be able to work with midtown businesses like Pearl River Glass Studio and generate community involvement for upcoming projects like our midtown sculpture walk."
South Jackson Renovations
Ronnie Crudup Jr., a lifelong Jackson resident and executive director of New Horizon Ministries Inc., and now a state legislator, has been leading a series of 
projects to renovate and beautify south Jackson all year, beginning with a clean-up of local neighborhoods that took place over Martin Luther King Day weekend in January, Crudup told the Jackson Free Press.
New Horizon renovated five houses in and around the Alta Woods subdivision as part of its ongoing Isaiah 58 Housing Project, which focuses on tearing down abandoned and blighted properties in south Jackson and refurbishing others for residents to move into.
The organization is also working to convert Sykes Park on Cooper Road from baseball fields to multi-use fields for football and soccer, which should be finished before the end of 2019, Crudup says.
For more information on the Isaiah 58 Housing Project, visitnewhmi.org.
Send local business and development news to [email protected]. Subscribe free to jfpdaily.com for weekly updates.