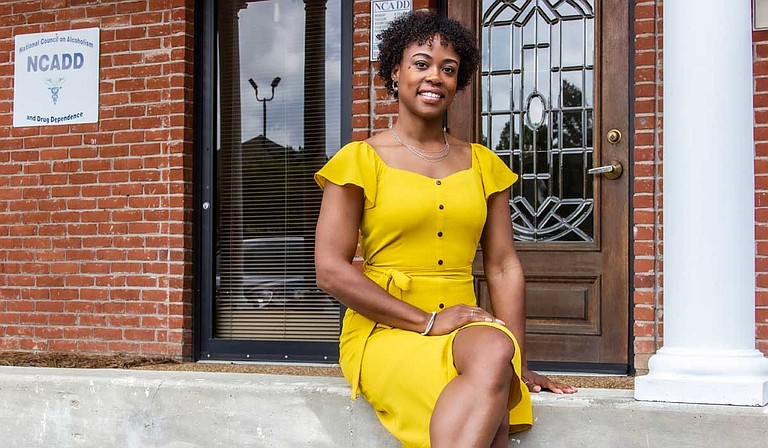 Wednesday, September 18, 2019
During college, Daisy Carter wanted to become an English teacher so she could teach the subject she loves and give back to Jackson Public Schools.
The south Jackson native graduated from Jackson State University in 2006 with a bachelor's degree in English. An 
internship with education organization Friends of Children of Mississippi in 2004 first piqued her interest in the nonprofit sector, but it was being a substitute teacher for JPS that drove the idea home.
She often found herself helping at-risk students, she says. "I said, 'Nonprofit is where I can really do more work in helping those who actually need it versus doing the academic work,'" she says.
Carter graduated from JSU in 2014 with a master's degree in public policy and administration. She took on her current role as the executive director of the National Council on Alcoholism and Drug Dependence of the Central Mississippi Area in 2015.
For Carter, organizations like NCADD are important because they can provide resources for those who suffer from addiction and their families.
"This is a disease, and this is not just something (that) people just can't put down," she says. "It is something that's a chemical imbalance. It is a disease. It's either because they have a traumatic experience that they're trying to work through, and they're using a substance like alcohol or drugs to cover up that trauma, or they may have a mental illness, and they're just feeding that mental 
illness, or trying to fix that mental illness with a substance abuse."
Carter's favorite part of her job is talking to families and 
walking them through the steps of treatment.
"We give them the options, the lay-down of what treatment looks like, what treatment looks like for them as a family, the cost that goes into it, the responsibility that the family has in helping that individual maintain their sobriety," she says.
Carter is the treasurer of the capital-area Sunset Rotary Club, which does volunteer activities through the metro area, mostly in Hinds County; an ambassador of the Greater Jackson Chamber Partnership, which does events for new businesses; a mentor for John Hopkins Elementary School; and sits on boards of coalitions that deal with substance abuse, such as the Mississippi Tobacco-Free Coalition; and is a board member of the McCoy house.
Jackson's schools need something like what she calls "home economics plus," she says, which would include education on 
substance abuse and mental-health issues. It would prepare them, not just for academics, but also for life after high school, she says.
"I think that would be something that's very useful and needed within the schools," Carter says.