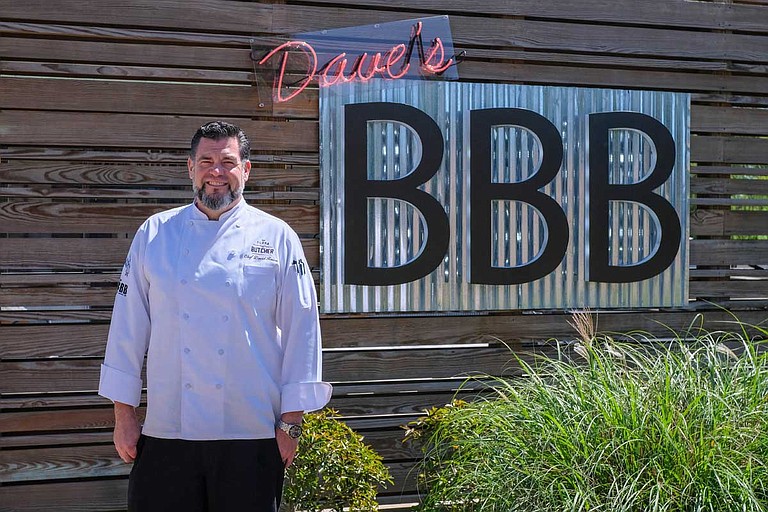 David Raines' passion for local is evident as he sits at a booth at Dave's Triple B, explaining how each element of the restaurant came to be, from the salad produce the restaurant gets from Salad Days Produce, to artist Justin Ransburg helping with the chairs, to sous-chef-turned-artist Graham Caraway's calligraphy on the chalkboard signs.
Raines started his first business, The Flora Butcher, in 2016. In early 2018, he took over the space that formerly house Chimneyville Smokehouse, and turned it into Dave's Triple B restaurant, which specializes in barbecue that uses Wagyu beef from his dad's farm in Louisiana. He recently talked about his journey as a chef, supporting local, barbecue and more.
What have been some of your inspirations as a chef?
I always liked cooking in general. Like, when I was younger, and we'd go fishing, I was the guy who cooked fish. I was the guy when we went hunting that spent all this time in the kitchen at the hunting camp, just trying to make cool food, and I just really enjoy cooking for people.
My grandmother was a great cook. My mom was a great cook. Whenever my dad had parties or something, it wasn't like a cocktail party. It was always him cooking for everybody. It was a cultural thing for my family. When we entertained, we cooked in order to entertain. That was a big part of it.
I wasn't really going to be a chef. I always thought I'd be rich something, doing something else, and then I could open a restaurant because (I'd have) money. But I never got rich, so I went the other way. At some point in my late 20s, I decided I was going to go to culinary school ... so I did that, and then I just loved it. I've never loved school, but I loved culinary school. That was so awesome, and it led me into going to two other culinary schools, and studying with chefs all over the world, living in other countries, you know working for free just for the opportunity to work in like a Michelin-star restaurant, stuff like that.
They call them stagiaire (chef apprentices), but it's just an opportunity. They'll give you like a place to sleep, and they give you food, and you don't have any expenses, but you don't really get paid. You get paid with the experience. There's so much to learn, and you get to live in a cool places sometimes.
So tell me about Dave's Triple B.
I didn't really plan on doing a barbecue restaurant at all, even though that's what it's built for. But ... when we started thinking about it, (we decided) we could do something different. We could do Wagyu from my family's farm, and Wagyu barbecue is something you can't get. ... I get them from my family farm, (so) we could still do them a little bit more affordable than other people can. We thought we'd do the barbecue, and then we would expand the menu to do food that everybody can come get.
It started out pretty simply, but we like we get bored really easy, so we want to do as many things as we can fit on the menu. That's kind of how our menu got to be so big. And we just use local products. We already did (at The Flora Butcher), but now we can use (ones like) Salad Days Produce on a grander scale. They do all our lettuce and tomatoes, and then we get greens from Two Dog Farms, which is also in Flora. They share a driveway, and whenever they have things in season, whether it's broccoli or just herbs and squash and zucchini, we just have some menu items that we can change with the seasons so that we can still use Two Dog. We get local pigs we use for ... making our hams and doing our pork roast and smoking pork shoulders and ribs. It was actually not too hard to develop the menu and pull it off just because we have so much stuff at the butcher shop already.
Why is it important to highlight local producers?
What's the fun in not doing that? It's already there. They're wonderful people. Farm-to-table is very marketable, but most people don't do it. We take a lot of pride in doing it for real. I mean, we really do it. ... I don't know any operators that do it quite like we do it. We literally get the whole animals to do that, you know the beef and the pork and chickens and everything, and then we get all this local produce from people. ... The molasses that we use (is local). We it put on our bread and in our barbecue sauce, and we used local kimchi (from Sweet & Sauer) while they still made it here. When they stopped making it, we dropped it off the menu because we didn't have a local source anymore.
We just try to stick with things that are authentically local. It's a matter of pride in a way. People like it, and I want to be up front with them. I want them to believe in us because we're not just trying to pull the wool over your eyes. If you're going to (support local businesses), you might as well do it.
And I think it is important that you support local. My dad's farm is where we get our Wagyu, so before we even get started, we're already supporting, you know, my family farm. We decided to just focus on supporting everybody in the state of Mississippi that we could. We have very few things outside of it, some gourmet things, but other than that (we don't). I mean everything in the restaurant, for sure, everything is just from a local producer, as much as we can.
How did you go build the menu?
We do blue plates at the Flora Butcher. It's just two items a day. ... We were able to just use those items. We dropped the things that weren't popular. We added things, and we experimented over the last year or so to see what people really liked. ... We just tried to play with it, and see what we could come up with.
(For example) I had a couple of people in here one day. We didn't have a brisket sandwich on the menu, and they were so bent out of shape that I didn't have a brisket sandwich. So I was like, "I'm going to make you one," so I went back, and I made a brisket sandwich. (I) brought it out, and he said, "This is, like, the greatest thing in the world." You should have this on the menu, and I was like "OK."
We have a chalkboard menu. You just wipe it off and write something else in, if you have good handwriting that is, so we just took something else off and just put the brisket sandwich up there, and we sell tons of them now. Some things just happen to be.
So what's your favorite dish on the menu?
It's got to be between the chicken-fried steak and the brisket. The brisket is just so good, but I love chicken-fried steak. I loved fried anything. Fried chicken is probably my favorite weakness, but chicken-fried steak is so good.
We make the white gravy like a traditional white gravy you get in Texas, but we also take we have our house-made andouille and then pastrami and corned beef, and we grind it all up together and then put it in the gravy, and it kind of turns it a little pinkish, but it's got spice, and it's just got his really intense flavor. It's so good. So, you know, I just love it.
We just do it all in-house, and play around with it. I didn't think about (adding) andouille at first, but the andouille in there adds a little tiny bit of heat that people can pick up on and it's really tasty.
Dave's Triple B (970 High St., 601-500-7222) is open Monday through Friday from 10:30 a.m. to 2 p.m. For more information, visit davestripleb.com. For more information on The Flora Butcher, visit theflorabutcher.com.