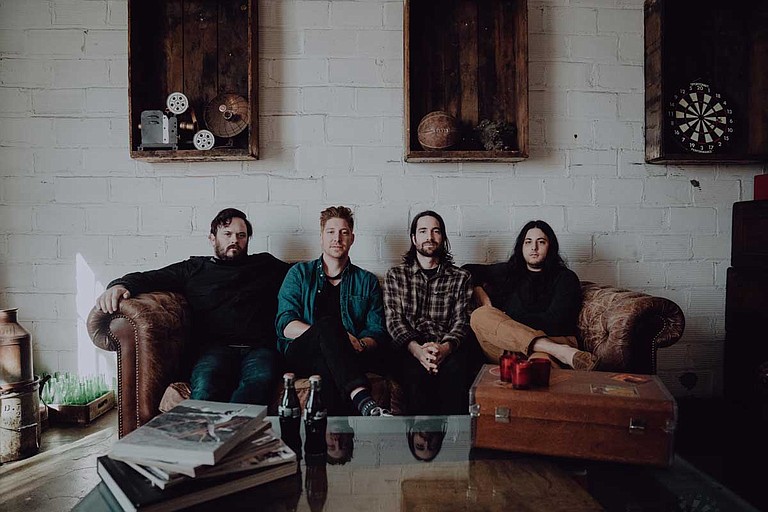 To longtime fans, a phoenix may seem like an apt metaphor for Louisiana-native post-hardcore act As Cities Burn, which has returned with a new album after 10 years. However, to vocalist T.J. Bonnette, the band's revival isn't as dramatic as it sounds.
He was a founding member of the group and performed on its debut album, 2005's "Son, I Loved You at Your Darkest." That was his only record with the band at the time, as he left in 2006 to support his family and moved to Hattiesburg. Meanwhile, As Cities Burn continued on, releasing two top-200 albums on Solid State Records: 2007's "Come Now Sleep" and 2009's "Hell or High Water."
After that, Bonnette says the musicians played the occasional tour and reunion-type show, including a few with him on vocals, but largely, they spent the years focused on other projects and their home lives.
"Then, about two years ago in 2017, I ended up moving to Nashville where Cody—my younger brother, who's the main songwriter—and Aaron (Lunsford), our drummer, live," he says.
"Really (I had) no intention to make music. I just made the move for my career and personal things. But we would always hang out, and the idea came up to write some new music and see how it went."
Thus, the Bonnette brothers, Lunsford, guitarist Hunter Walls and bassist Stephen Keech wrote the music for a fourth As Cities Burn album, "Scream Through the Walls," out June 7 on Equal Vision Records.
Although Bonnette points out he can only speak for the first record, he says working on the new release was much more hands-on, partially due to everyone being more mature than they were in 2005.
"When we were writing 'Son, I Loved You,' we honestly had no idea what we were doing. We just got signed to Solid State and were super stoked young kids, just doing one of the coolest things to do," he says. "Cody ... would bring to the table pretty much a completed song with a majority of the lyrics, and all the band members would just play their part."
The musicians took a different approach for "Scream Through the Walls." They huddled together in a Nashville practice space, with Cody often bringing only a riff or chorus as a jumping-off point to jam and write a song. The result, Bonnette says, is what he hopes fans will hear as a natural progression of As Cities Burn's riff-laden rock and raw lyrics.
"We really wanted to stay true to an As Cities Burn sound being 10 years later as we've matured," he says. "It's a good, heavy, rock 'n' roll record that sounds like As Cities Burn would sound in 2019."
The reaction to the new direction has been largely positive so far, with single "Chains" already having garnered more than 72,000 streams on Spotify. At the same time, there will always be fans who either like or don't like something stylistically, Bonnette says, so it comes down to connecting with what the band is saying.
"I love Cody's writing style and what As Cities Burn is about as far as lyrically, like struggles in dealing with daily life, things like that, faith, and just how Cody writes it down," he says. "I think there's a need for that, regardless if people ask for it or not."
Along with a more mature approach to music comes a mature approach to band life. Bonnette says they aren't prima donnas about touring, but the members of As Cities Burn are happy to put the days of sleeping on strangers' floors behind them.
"We like to, I would say, be as comfortable as possible," he says with a laugh. "... We're just taking care of ourselves a little more, being a little choosier on what we do as far as the amount of touring we can handle. It's just a balancing act between everyone's full-time jobs, but we still want to have this be part of our lives."
As Cities Burn performs Wednesday, June 12, at 8 p.m. at Duling Hall (622 Duling Ave.). All Get Out and Many Rooms also perform. Tickets are $16 in advance and $20 on the day of the show. Doors open at 7:30 p.m. For more information, visit ascitiesburn.net or find the band on Facebook.