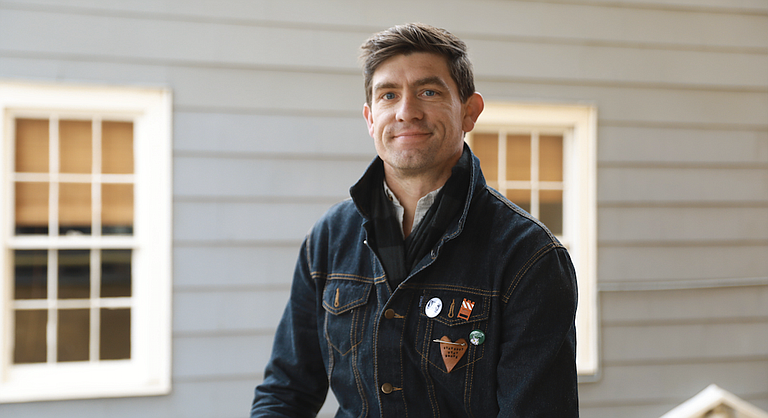 Cody Cox, a Jackson musician and owner of record label Elegant Trainwreck Productions, will open a small-batch bakery called Urban Foxes (826 North St.) in Jackson's Belhaven Heights neighborhood on Monday, May 20.
Cox, who formerly worked as general manager at the Fondren Cups location, acquired the building, which formerly housed the corporate offices of the Belhaven YMCA, in December 2018.
Cox told the Jackson Free Press that most of the recipes at Urban Foxes come from his late grandmother, Frances Wynne, who owned a restaurant called Fran's Drive-in in Lexington, Miss.
"My family has always been about doing everything from scratch," Cox says. "I learned from both my grandmother and my parents. After my grandmother passed, we recorded all of her recipes to be sure we could keep them around."
Urban Foxes will feature a selection of both sweet and savory pies, as well as scones, muffins, cookies and more, all handmade from scratch each day. Cox will prepare only a few dozen of each item per day, with the selection rotating both daily and seasonally.
The pie selection includes sweet ones such as chocolate ganache, apple custard, pumpkin, blueberry and more. Savory selections will include meat pies, chicken and curry potpies, sweet potato or meatball galettes, and more. Other menu items include chocolate-chip cookies, oatmeal currants, cheddar and bacon scones, chocolate-chip scones, maple scones, vegan pumpkin muffins and more.
Urban Foxes will also have a coffee menu that includes espresso, lattes, cappuccino and more, and a tea menu featuring organic loose-leaf teas. The shop will also stock beer from craft breweries.
Urban Foxes will be open Monday through Saturday from 7 a.m. to 8 p.m. Customers will also be able to make bulk orders via email at [email protected]. For more information, follow Urban Foxes on Instagram.
Olivia's Taco Shop at Babalu
Babalu Tacos & Tapas (622 Duling Ave.) will host a one-day, in-store fundraiser called Olivia's Taco Shop on Wednesday, May 15, from 11 a.m. to 10 p.m.
For every taco sold Wednesday, Babalu will donate $1 to the family of Olivia Newman, a Clinton teenager who has been battling acute lymphocytic leukemia, a rare type of blood and bone marrow cancer that affects white blood cells, for 14 months. Babalu will also accept donations at the door during the event.
Customers will also be able to purchase Olivia's Taco, a special taco Newman created with the help of Babalu's chefs that includes grilled steak, white rice, sauteed trio color peppers, sauteed onions, queso dip and corn on a tortilla.
Babalu has hosted similar annual pop-up taco shops to aid children in need for several years. Previous events have featured the child spending the afternoon as a "guest chef" at the restaurant and creating their own signature taco.
For more information, call Babalu at 601-366-5757, visit eatbabalu.com or find the event on Facebook.
Flash Dash at The District
The Lefleur East Foundation will host its annual Flash Dash 5K run and walk event at The District at Eastover (1250 Eastover Drive) on Friday, June 21. The event is a fundraiser that supports businesses and residents in Jackson's Lefleur East district.
Flash Dash begins at 7 p.m. with the 5K run and walk, which will begin at The District and pass through the nearby Loho neighborhood and down Old Canton Road before returning to The District, Stacey Jordan, executive director of the Lefleur East Foundation, told the Jackson Free Press.
The top three male and female racers with the best times will each receive prizes that local vendors donated to the event.
After the 5K, The District will host an after-party on the grounds featuring live music from the Patrick Harkins Band, bounce houses, food vendors, dancing, glitter and face painting, and more. The after-party will also include a costume contest with prizes available for the top three winners.
Registration is $35 and is open online until the day of the event. Participants can also register at The District on the day of the event. Race participants will also receive a free T-shirt, and participants age 21 and up will get a free beer after the race.
Non-runners can also purchase tickets for the after-party alone for $10. Admission includes a ticket for one free beer for attendees age 21 and up.
To register for the event, visit raceroster.com. For more information, visit lefleureast.org/flash-dash.