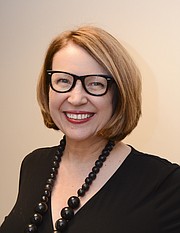 The first time I ever laid eyes on Cedric Willis in the flesh, he was sitting at a PC in a Jackson attorney's office in 2006. A party of lawyers and friends swirled around him, including those who had helped the Innocence Project New Orleans get the Jackson man exonerated and released after he spent 12 cruel years in prison on false murder charges.
Cedric, however, was intent on figuring out how to use the computer, and to read comments piling on under a long story about him this newspaper had run, explaining how Jackson police took him from his home when he was 19 in 1994 with him promising his family he'd be "right back."
But a broken Hinds County prosecution system and bad policing conspired against him, and he did not gain his freedom for 12 years, spending much of it in horrendous conditions in Parchman prison. Our story, by Brian Johnson, details the saga brilliantly, and Cedric would soon take to telling other media that he didn't need to tell his story again because Brian had told it so thoroughly. "Go read it," he told them.
But that party is when my personal connection to Cedric began. When he learned who I was, he bear-hugged me in that way that he has done every time I've seen him over the years up until the last time a few weeks ago. Our embraces remind me of my mama's strong bear hugs. That is because I loved him dearly, and I'm in deep mourning over his murder this week after he spent the first 12 years of his adult life behind bars, then free only 13.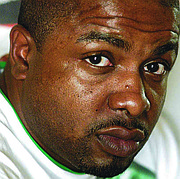 Jackson police took Cedric Willis from his home when he was 19 in 1994 with him promising his family he'd be "right back." But a broken Hinds County prosecution system and bad policing conspired against him, and he did not gain his freedom for 12 years, spending much of it in horrendous conditions in Parchman prison.
I can't imagine what his own dear mother is going through after believing, praying and willing him to be set free; after finally getting her boy back home; after her own illness that upset him desperately.
I got to know Cedric because soon after meeting him I started teaching writing classes and staff/intern workshops using Brian's piece about him. The story was a study in how to write a human, investigative, explanatory narrative story that people can't put down. I mean, no one. I've used that story now in hundreds of workshops, and everybody from a 60-year-old white woman to a 15-year-old boy from Cedric's old neighborhood can't stop reading it.
Seeing that response, I invited Cedric to come to classes, especially those of interns and later teenage Mississippi Youth Media Project students. He would always surprise them. We would discuss his story and why it was so powerful, and then usually during the next class, he would walk into the room. I'm not sure anyone from President Obama to Beyonce would have surprised people more than his visits. The students sat in awe. Some were even speechless, but most asked question after question.
His visits took on different tones at various points in his re-entry into society. Early on, he showed a lot of deserved anger and would break down bawling over parts of his ordeal. At one point, his mother was very ill, and he cried about her much of the time, talking about how much she had been through while he was in prison. At one point, he was wrestling with a parenting concern, he told me. But over the years, I watched him put himself back together, his humor and wit emerging, and his wisdom ripening. I took notes as he talked, giving advice to young writers based on the wonderful and respectful way Brian reported and told his story.
"Take the time to get it right," Cedric would tell the interns and teenagers. "Tell the whole story. It's not your story; it's mine. Get your facts right." Then he'd talk about Brian showing up and staying for hours or insisting that they go visit the house were Cedric had lived when the cops came, although his mother had long since moved, or asking him on deadline the brand of sneakers he wore then.
I, of course, use Brian's story to show why the hard work of journalism matters to real people's lives; why this isn't about journalists' egos; how it can have social impact. That can be in the form of having a Cedric Willis fan club of writers and students spanning generations, or it can be in inspiring now-deceased Rev. Ross Olivier to raise money to buy an exonerated man a car—and to provide him $1,000 for each year he was imprisoned. Rev. Olivier even wrote about Cedric and his "stolen years" for this newspaper after reading Brian's story.
"That's why I consider Cedric's case to be a deeply spiritual matter," the reverend wrote. "How we respond to injustice in our neighborhood describes how we will do so everywhere."
Good writing matters, I'd say to my students. Why it matters is sitting right in front of you.
The connection Brian's story created between Cedric and so many people was also an example of why hard work matters—on both ends of a story. Brian was an editor then, and would cobble together hours whenever he could, day or night, to spend time with Cedric and build trust. Cedric gave him the time because he knew Brian cared. That showed in the final story and the multiple drafts it took to get there.
But Cedric gave back to us so many ways. In recent summers, the Youth Media Project students—many of them from tough backgrounds themselves—would be totally enamored with first his story, then with Cedric the man. He would show up looking buff and content, and then he would hang out, and they would ask him everything they could come up with. I'll never forget a young woman from the Wingfield High School FAME program who opened up about her own dad—and cooking ramen—in prison to Cedric and the rest of us.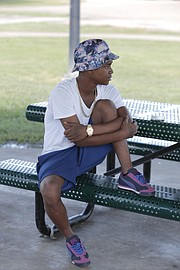 A full archive of the JFP's "Preventing Violence" series, supported by grants from the Solutions Journalism Network. Photo of Zeakyy Harrington by Imani Khayyam.
"Details matter," Cedric would say.
The Cedric I knew was pure love. He loved life, his overdue freedom, his family and, I'm told, his soon-to-be wife. Every time I've seen him in recent years, it felt like he was just drinking up his overdue life as a free man.
His murder devastates me—I can't imagine no more visits or hugs—and angers me because it's yet another example of how society let him down, as it does so many. Like with the five black and Hispanic teenagers falsely accused in the Central Park jogger rape, the media here assumed he was guilty back in 1994.
Cedric had to claw his way to freedom while living in hell. Then he returned to a community that, to the present, has never collectively decided to tackle and prevent violence, instead believing that the police can do that for us. (Nope.) And he lived and died in a state that has long mistreated young men like him and with his skin tone, and pursues policies that will keep them in a school-to-prison cycle that feeds itself and making it more likely that they will cycle in and out of prison as adults.
Jackson, we can and must do much more than blame "the family" or the police or someone other than ourselves, or even pray, which alone won't stop violence. I implore all of you to step up to do your part. Do it for dear Cedric and every other victim of gun violence here, living or departed.
Visit our violence-solutions archive at jacksonfreepress.com/preventingviolence. Watch for an upcoming Jackson crime dialogue in Cedric's honor presented by the Jackson Free Press and the Youth Media Project.