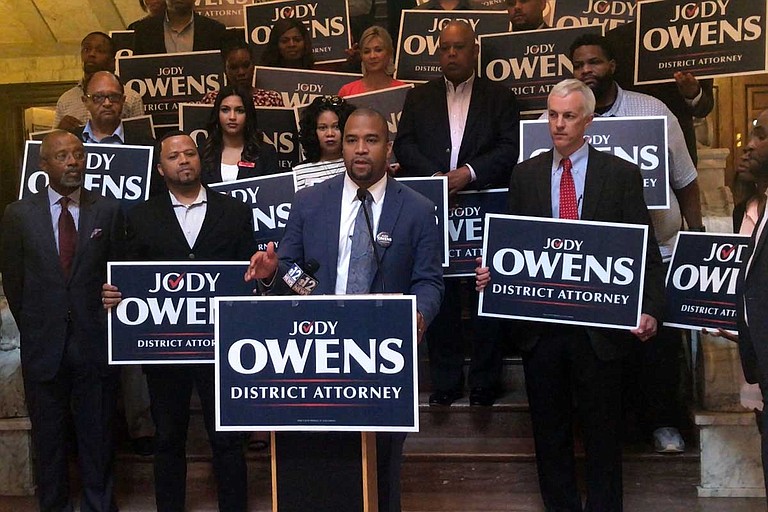 At a Monday press conference, legislators, community organizers and elected officials held campaign signs as they filled the steps behind Jody Owens in support of his bid to become the next Hinds County district attorney.
"I'm humbled by the appreciation of what people believe we can do, and I know it's important for us to be successful. We need people involved in the campaign and the office," Owens told the Jackson Free Press on June 24.
Robert Schuler Smith, the current district attorney, recently was found not guilty of robbery charges arising from a 2015 altercation with his ex-girlfriend, Christie Edwards. The jury was undecided on his aggravated stalking charges. Today, Smith is running for governor.
Owens, who is currently the managing attorney for the Southern Poverty Law Center, graduated from Jackson State University and earned his law degree at Howard University School of Law. He has litigated class-action lawsuits on behalf of children and adults on matters like mass incarceration, private prisons and the school-to-prison pipeline.
"In this capitol, laws are made every year that impact all of Mississippi citizens," he said at the press conference. "I'm the only candidate for the last decade that has worked tirelessly with the Legislature to develop new laws because a prosecutor can only do what the law allows him or her to do."
Owens is running against Darla Palmer and Stanley Alexander, whom he said are honorable candidates. However, their respective work as a defense attorney and a prosecutor has not focused on changing the system, he said.
"What makes me unique is that I understand the totality of the system because I've been a system changer, particularly the juvenile system in Mississippi," he said.
Alexander disputed Owens' characterization.
"I'm the most qualified candidate because of my 18 years of experience as a prosecutor," he told the Jackson Free Press on Tuesday morning. "I know the best ways to enhance and improve the system."
The Jackson Free Press reached out to Darla Palmer in response to Owens' statement, but did not hear back from her by press time.
In a press release, Owens said he is running on the SMART justice platform. He wants to implement a re-entry program for ex-offenders to find jobs and pursue their education; use mental-health and rehabilitation programs to help those with addictions get treatment; provide support to victims and their families to help rebuild families and communities affected by violence; and collaborate with clergy and community organizations to establish interventions that are effective in reducing crime in prisons and courts.
"For me and the people who believe in a fair and just system, it's realizing that you stop crime by making sure people are not going into this repeated cycle," Owens told the Jackson Free Press.
During the press conference, community organizers and elected officials took turns giving their praise and endorsements for Owens.
"When school children have their rights violated (and) when prisoners sat in jail without being indicted for years, Jody was the person who went in and had those meetings, and had the conversations and discussions that changed conditions for so many people across this city, across this county and across this state," Albert Sykes, a community organizer, told the audience at the press conference.
Marshand Crisler, former city councilman and Hinds County Deputy Sheriff, said Owens is committed to his service to the community and his role as an attorney.
"He has the experience and dedication to take the Hinds County District office to the next level," he said.
David Blount, representative of District 29 of the State Senate, called Owens a "special candidate" that has a comprehensive vision for criminal justice.
"He understands the entirety of the criminal-justice system. He understands we have a crime problem that we need to address, but he understands the big picture," Blount said.
Owens said he also wants to run an education campaign in his office to help educate communities on what he is doing. The county can have a safer system if the community trusts the district attorney and law enforcement, he said.
"It's important that people realize that no individual is defined by the worst thing they've done," he said. "Restoring justice means that we're fixing communities and individuals, not just throwing them away."
Jody Owens is the 2014 recipient of the Citizenship award from the Mississippi Bar and a 2015 recipient of the National Bar Association 40 under 40 award. He is also the 2015 recipient of the Beth Arnovits Gutsy Advocate for Youth Award.
Owens, Alexander and Palmer face off in the Aug. 6 Democratic Party primary. Democratic and Republican candidates in other races face off that day, too, including candidates in the races for governor, attorney general, State House and Senate seats and more. If no candidate in any of those races wins 50% or more among primary voters, the top two vote-getters go to head-to-head in an Aug. 27 runoff. The general election is on Nov. 5.
Mississippians must register at least a month before an election in order to be eligible to vote, and must show an accepted form of photo ID at the voting booth, a list of which is available on the Secretary of State website. County Circuit Clerks across the state offer all residents free photo IDs that can be used to vote.
Follow Jackson Free Press reporting intern Aliyah Veal on Twitter @AliyahJFP. Send tips to [email protected].