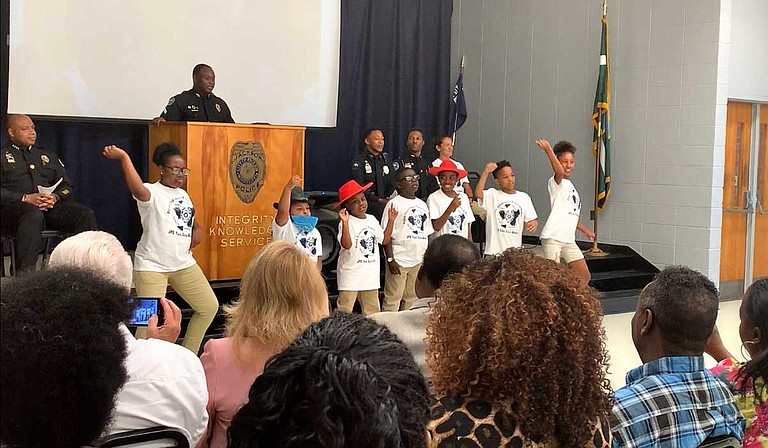 Dressed uniformly in white YCPA T-shirts and khaki pants, the 2019 graduating class of the Jackson Police Department's Youth Citizens Police Academy lined up in six rows and proceeded into their graduation ceremony. The room suddenly filled with a resounding chant—"Left, left, left, right, left"—as the class marched in place, performing a drill before marching to their seats.
The Jackson Police Department held its graduation for it's Youth Citizens Police Academy on June 21. The two-week summer program gave children between the ages of 7 and 17 the opportunity to learn the various facets of the JPD.
"We have learned many things that will benefit us for the rest of our lives," graduate Kentavius Bunton told the audience.
More than 50 graduates received certificates for participating in the program, where they learned about topics such as the dangers of sex trafficking, nutrition and the misuse of 911.
Chief Deputy James Davis thanked God for his vision in pulling all entities of a community together to mold and craft the future leaders of Jackson. He also praised the parents for their support.
"It takes everybody to make a city grow. It takes a village to raise these kids," Davis said. "I'm very proud of you all. You have a responsibility to take what you learn here back to your community and school to make sound decisions."
Lil Nas X's "Old Town Road" blasted through the speakers as the graduates danced in front of parents, deputies and community members. It was their class theme song.
Christian Catchings, the class speaker, said the summer camp taught them many life lessons that they can use after they leave the program. JPD took the children on field trips to the Mississippi Children's Museum and City Hall, and even the Jackson Police Department jail.
"This experience has inspired me to follow my grandfather's footsteps to become a police officer," Catchings told the audience.
Cynthia Lewis said she learned about the program from a friend. Caleb Lewis, her son, had fun, and she plans to enroll him in the program again since it's free, she said.
"It's a camp for kids to get to know the positive side of police. They teach them about respect, courtesy and character-building," she told the Jackson Free Press.
Keelonna Sanders, a graduate, said the police department taught them leadership responsibility, integrity and honesty.
"It gives them a chance to socialize with other children," Shante Sanders, Keelonna's mother, said.
The Jackson Police Department will hold another youth academy July 8-19. Parents can pick up applications from the Jackson Police Training Academy.
Chief Deputy James Davis told the graduates that the police department appreciates the graduates, and are there to love and support them.
"You have a responsibility to be a leader not a follower," Davis said. "I expect to see you in the community doing some good things."
Follow Jackson Free Press reporting intern Aliyah Veal on Twitter @AliyahJFP. Send tips to [email protected].