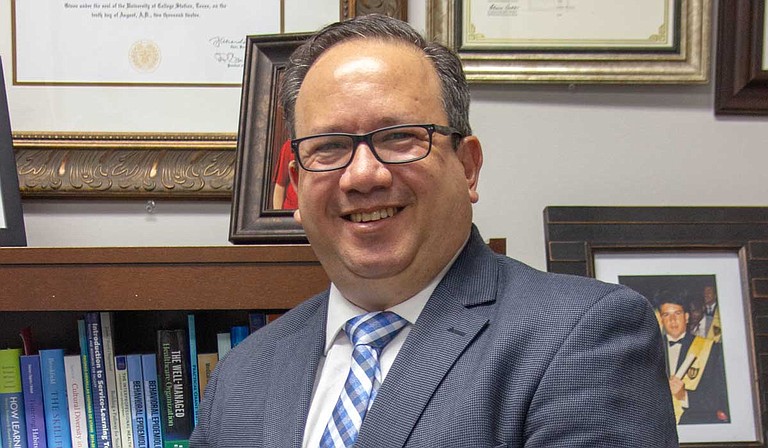 Nelson Atehortua, who was born in Bogota, South America, had a different childhood than most people. At the young age of 3, he was diagnosed with the viral disease polio. However, he always learned how to deal with the difficulties and get the best out of the challenges he faced, he says.
Atehortua had to undergo many surgeries as a kid, so most of his time was spent in hospitals and rehab clinics.
"To me, hospitals were like the natural environment, they were like home to me," he says. These childhood experiences made him want to become a doctor.
Atehortua received his medical degree from the University of Cartagena Division of Health Sciences School of Medicine in Cartagena, Colombia, in 1992; his master's degree in health-care management from Universidad del Norte, or Northern University, in Barranquilla, Colombia, in 1996; his master's degree in public health from Western Kentucky University in 2006; and his doctorate degree from Texas A&M University in 2012.
Though the South America native has traveled to every state except North and South Dakota, and has also traveled across Europe, he found his home in Jackson in January 2018, when he started working as an assistant professor of behavioral and environmental health at Jackson State University.
"Mississippi is a state with many difficulties and challenges in public health, so I said, 'Well, this is the right place to be,'" he says.
He strives to teach his students about the similarities and differences in a country's public health. In fact, Atehortua has planned his first study abroad trip to Spain, one of the healthiest nations in the world, to introduce his students to the different ways people live compared to the way we live in the U.S.
Atehortua also uses his medical inputs in research publications to educate people about public health. His main passions for these publications are tobacco control, and the prevention and intervention of chronic non-communicable diseases such as obesity and type 2 diabetes. He also writes on preventing of certain types of cancers with lifestyle choices. His main message as a professor and educator is that, "Yes, there is room for improvement, but that improvement will happen only if the people believe that each individual contribution matters."
Nelson has been married for three years to Stella Patino and has two kids from a previous marriage. Natalia Bradley, his daughter, is a registered nurse and mother of two. Juan Atehortua, his son, is a senior at the University of Alabama, majoring in aerospace engineering and minoring in mechanical engineering and math.