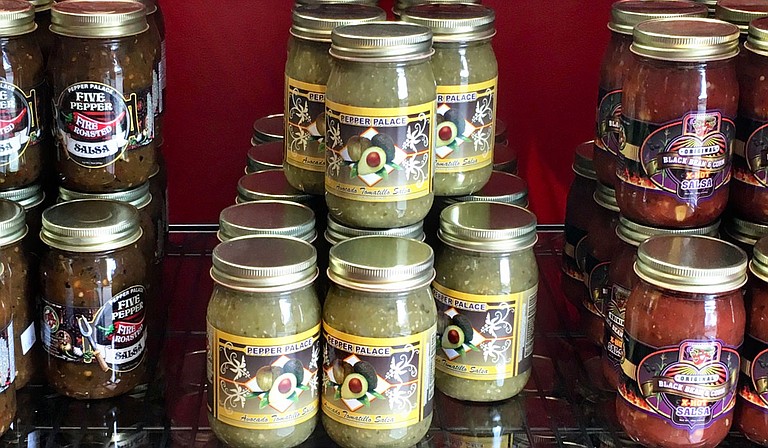 Monday, December 16, 2019
The Pepper Palace, a store that specializes in hand-crafted small batches of hot sauce, salsa, dips, seasonings, barbeque sauce, marinades, pepper jellies, rubs and more, opened at The Outlets of Mississippi (200 Bass Pro Drive, Pearl) on Saturday, Dec. 7.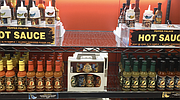 Former steel mill worker Craig Migawa opened the first Pepper Palace in Gatlinburg, Tenn., in 1989. His parents, Bob and Melissa Stabb, had operated their own hot sauce store, Pepper Pot, in Wisconsin, and made their own brand called Uff-da. However, it wasn't until a graduation party where Migawa tried a hot sauce that proved far hotter than he imagined that he truly became hooked and decided to open a store of his own, Pepper Palace Vice President Caleb Stone told the Jackson Free Press.
In 2008, Migawa opened a new store inside a former warehouse in Severville, Tenn., which now serves as the company's headquarters. Pepper Palace handcrafts all of its products at its headquarters using natural ingredients and no preservatives. Pepper Palace currently has 66 locations across the United States and Canada.
Brandon resident, artist and woodcrafter Robert Gonzalez manages the Outlets location. Migawa reached out to Gonzalez in November 2019 and asked him to operate the store, Gonzalez told the Jackson Free Press. Gonzalez has worked as a manager for numerous stores since the early 1970s, including Vineyard Vines and Pottery Barn Kids.
Pepper Palace has more than 400 different products on offer, all of which have individual spiciness ratings based off the Scoville Scale, which pharmacist Wilbur Scoville created in 1912. The Scoville test involves using an exact weight of dried pepper dissolved in alcohol to extract the chemical capsaicin that gives peppers their spiciness. Testers dilute the extract in sugar water and give it to a panel of testers until they can no longer detect the heat in the dilution, then assign it a numerical rating from 0 to 3.2 million based on the spiciness.
The store's hottest hot sauce, called "The End," is made with the Carolina Reaper pepper, the hottest pepper on record with a Scoville rating of more than 1.5 million. Customers must sign a special waiver and be 18 years old or older before they can sample or purchase The End.
Pepper Palace also has a wide array of products made from other peppers like jalapeno, cayenne, habanero and ghost peppers, for those looking for products that won't likely leave them unable to taste anything for several hours afterward. The store allows customers to sample any product on the shelves to find exactly what kind of spiciness they're looking for, and even keeps complimentary mini nacho chips or spoons on hand to sample with them.
For more information on Pepper Palace, visit pepperpalace.com, or call the Outlets location at 769-233-7619.
The Odditorium at Flowood Flea Market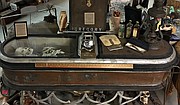 David Murrell, owner of the Flowood Flea Market (1325 Flowood Drive), opened The Odditorium on Saturday, Dec. 14. The new shop is inside a 1,300 square foot enclosed space within the flea market, which once housed a vintage clothing and furniture store that closed over the summer.
The Odditorium is a curiosity shop stocked with items Murrell has gathered from similar stores such as the Oddities and Curiosities show in New Orleans. Among the unusual items on offer are bones, peat jewelry, art pieces based on advertisements or signs, geodes, vintage medical instruments, wood carvings, African masks, old-fashioned radios and cameras and a metal 19th-century coffin with a real skeleton inside. The store also has sections for vintage clothing, furniture, collectibles and toys.
"Weird stuff has always passed through here ever since I first opened the flea market 10 years ago," Murrell says. "I've accumulated so much of it in my office and around the building that I've become known as the guy to go to for strange stuff around here. I love it so much just because it's so weird, and you wonder why someone would make it when you see it.
"I've found that a lot of people enjoy odd things, especially as conversation pieces that get comments and reactions out of people who see it. I want to be able to share these things and help people get over their uneasiness toward the odd or the creepy."
The Odditorium will be open Saturdays from 9 a.m. to 5 p.m. and Sundays from noon to 5 p.m. For more information, call 601-953-5914.
Sweetie Pie's Officially Leaves the Plaza Building
Sweetie Pie's, a St. Louis-based soul food restaurant that became famous after landing a reality show on the Oprah Winfrey Network, officially vacated the Plaza Building in downtown Jackson on Saturday, Dec. 7, following an ill-fated opening in August 2019.
Beverly Hills, Calif.,-based Capital Tower LLC, which owns the Plaza Building, filed a complaint in U.S. District Court on Friday, Nov. 15, calling for payment of $100,000 in back and future rent and other costs, the Mississippi Business Journal reported.
Sweetie Pie's closed within days of its August opening due to noncompliance with city code, particularly parking a large smoker on the sidewalk in front of the building at 120 N. Congress St. The restaurant briefly reopened with the smoker removed, but complaints arose that employees were improperly disposing of grease and cooking oil rather than using a designated container outside the building.
Capital Tower's complaint states that Sweetie Pie's breached the lease it signed in May 2018 as of Oct. 1, 2018. By Nov. 15, 2019, the restaurant owed rent "in excess of $41,463.95." The complaint also states that Sweetie Pie's was occupying a suite that was not part of the lease and was therefore "unlawfully squatting" in that part of the building. Sweetie Pie's manager Tim Norman said in an interview with WLBT-TV that he was not paying the rent because of plumbing and heating problems in the building.
The space Sweetie Pie's occupied had been vacant since 2015, when La Finestra, an Italian restaurant that local chef Tom Ramsey operated, closed. Norman said in the WLBT interview that he plans to move the restaurant to East South Street south of downtown Jackson.