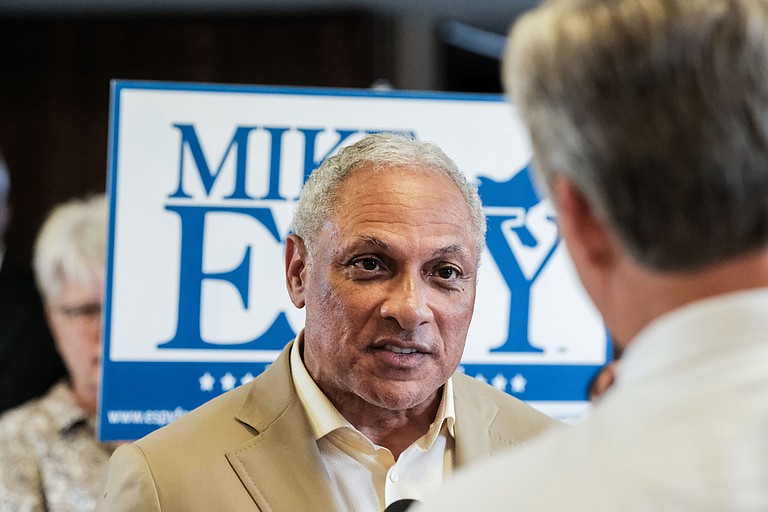 Friday, September 28, 2018
JACKSON—Democratic U.S. Senate candidate Mike Espy has pulled out of an Oct. 4 debate in Jackson because the incumbent, Republican Sen. Cindy Hyde-Smith, will not attend.
"A debate where the person occupying the office is not present is unacceptable to us," Espy campaign manager Oleta Fitzgerald wrote Friday in an email to the debate's sponsors.
On Sept. 14, the Hyde-Smith campaign Communications Director Melissa Scallan told the Jackson Free Press the senator couldn't come to either the Oct. 4 debate or one scheduled for Oct. 23 because of conflicts with her Senate schedule.
"She has got to be in D.C. from Monday through Thursday, so she can't debate during that time," Scallan said, noting that Oct. 4 is on a Thursday while Oct. 23 is on a Tuesday. "She has said she would not skip a vote in order to campaign. So those two dates would not work for us."
However, in an interview with the Associated Press on Friday, Espy campaign spokesman Danny Blanton pointed out that Hyde-Smith's recently announced rally in north Mississippi with President Trump on Oct. 2 is on a Tuesday.
"When she agreed to come to the rally, she put politics before her Senate duties," Blanton said. "That just reeks of hypocrisy."
McDaniel: Espy and Hyde-Smith Guilty of 'Cowardice'
Espy and Hyde-Smith's Republican challenger, Mississippi State Sen. Chris McDaniel, accused both opponents of "cowardice."
"Mike Espy is pulling out of this debate for the same reason Cindy Hyde-Smith refuses to debate," McDaniel said in a statement. "They can't stand in front of the people and defend their Democratic records. This is political cowardice at its worst. As is typical for lifelong Democrats, they both lack the courage to discuss the issues."
McDaniel regularly calls Hyde-Smith a "Democrat"; she was one until 2010, when she switched to the Republican Party. Still, his campaign has sought to tie her in with national Democrats like Hillary Clinton.
Hyde-Smith, on the other hand, points to her support for Trump's policies and accuses McDaniel of being insufficiently supportive of the president.
In a press release Wednesday, Hyde-Smith branded McDaniel's September town hall tour "Chris McDaniel's Trump Insult Tour 2018." The press release cited comments he made at an event in Olive Branch Tuesday night, in which he said President Trump "is going to regret endorsing Cindy Hyde-Smith."
"This is a new level of pathetic, even for Chris McDaniel," Scallan said in the press release. "He simply cannot accept the fact that President Trump supports Cindy Hyde-Smith.
McDaniel's campaign said it would accept an invite to a weekend debate if one came up; the Hyde-Smith campaign said it would "consider" such a proposal.
Oct. 2 marks 10 years since Mississippi voters last saw a debate among top-tier U.S. Senate candidates. The last time was during Mississippi's 2008 U.S. Senate special election, when former Democratic Gov. Ronnie Musgrove debated Republican Roger Wicker. Wicker won that race and is up for re-election in November when he faces a challenge from Democratic House Minority Leader David Baria.
Mississippi Gov. Phil Bryant appointed Hyde-Smith to her U.S. Senate seat in April, after long-serving Sen. Thad Cochran resigned due to ill health.
Voters choose between Espy, Hyde-Smith and McDaniel in a nonpartisan special election on Nov. 6—the same day as the national midterms. If no one gets more than 50 percent of the vote, the top-two vote-getters will face one another in a Nov. 27 runoff. Wicker and Baria also face off that day, and U.S. House seats are up in all four of Mississippi's congressional districts. Polls in Mississippi are open from 7 a.m. to 7 p.m.
Ashton Pittman covers politics and elections for the Jackson Free Press. Follow him on Twitter @ashtonpittman. Email him at [email protected]. Read more 2018 campaign coverage at jfp.ms/2018elections.