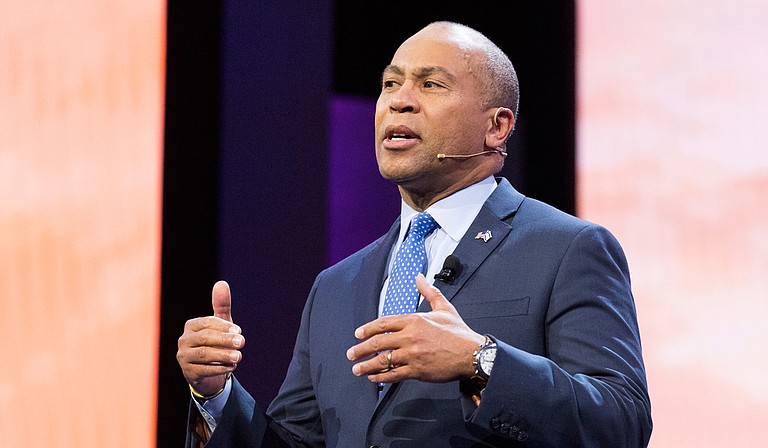 Thursday, September 20, 2018
JACKSON — Former Democratic Massachusetts Gov. Deval Patrick will campaign with Democratic U.S. Senate candidate Mike Espy on Saturday, Sept. 22, in downtown Hattiesburg.
Forrest County Democrats chairwoman Sherry Dryden mentioned the appearance in an email Wednesday. The campaign confirmed Patrick will attend.
After a walkthrough of small businesses in downtown Hattiesburg starting at 1:30 p.m., Patrick and Espy will speak at a roundtable with local business leaders at the downtown train depot.
In 2007, Patrick became Massachusetts' first African American governor, succeeding Republican Mitt Romney, who ran for president in 2008 and 2012. If elected, Espy would be Mississippi's first black U.S. senator since the post-Civil War Reconstruction era. He became the first black congressman since the same era in 1986. In 1993, President Bill Clinton appointed Espy as U.S. secretary of agriculture.
During his campaign, Espy has argued that retaining young people is an important element in boosting Mississippi business. "I talk to students about the brain drain," Espy said on MSNBC's "Morning Joe" last week. "Go to Greece, go to Rome, and sow your oats, but then come back to Mississippi."
Patrick: 2020 Presidential Candidate?
Some Republican donors have pushed Patrick to run for the Democratic nomination for president in 2020, and he has admitted that a White House run is "on my radar screen." Last month, Patrick announced his Reason to Believe PAC, which he said he will use to help Democrats who share his vision in this November's midterms—a sign he may be gearing up for a run.
After leaving the governor's office in 2015, Patrick took a position at Bain Capital, the private equity firm founded by Romney. During the 2012 campaign, President Obama attacked Romney for his work at Bain, claiming Bain enriched itself at the expense of others. Though Patrick was a surrogate for Obama's campaign that year, he defended Bain at the time.
Obama has reportedly encouraged Patrick to run in 2020, despite arguing in 2012 that experience at Bain Capital ought to be a strike against Romney's presidential ambitions.
In 1994, Clinton appointed Patrick as assistant attorney general overseeing the civil rights division of the U.S. Justice Department. That same year, Espy stepped down as U.S. secretary of agriculture amid a flurry of accusations that he illegally accepted gifts from business lobbyists. Prosecutors charged him, but a jury ultimately acquitted him of all 30 counts in 1998.
Before Patrick was governor of Massachusetts, he worked as an executive vice president at Coca-Cola and as a vice president of Texaco.
U.S. Sen. Cory Booker of New Jersey, another potential 2020 presidential candidate, endorsed Espy in July.
On. Nov. 6, the same day as national midterms, voters choose between him, incumbent Republican U.S. Sen. Cindy Hyde-Smith and Republican Mississippi State Sen. Chris McDaniel in the special election for the seat former Sen. Thad Cochran left in March 2018. Mississippi's other U.S. Senate seat, as well as House positions in each of the state's four congressional districts, will also be on the ballot. Polls in the state are open from 7 a.m. to 7 p.m.
Read the Jackson Free Press' wide-ranging interview with Espy here, including about his exoneration on all charges.
Ashton Pittman covers politics and elections for the Jackson Free Press. Follow him on Twitter @ashtonpittman. Email him at [email protected]. Read more 2018 campaign coverage at jfp.ms/2018elections.
CORRECTION: In the original version of this story, the Jackson Free Press had the image credit as Ashton Pittman. The proper credit is Sipa via AP Images. Also, the campaign event is Saturday, Sept. 22, not Friday Sept. 21. The Jackson Free Press apologizes for these errors.