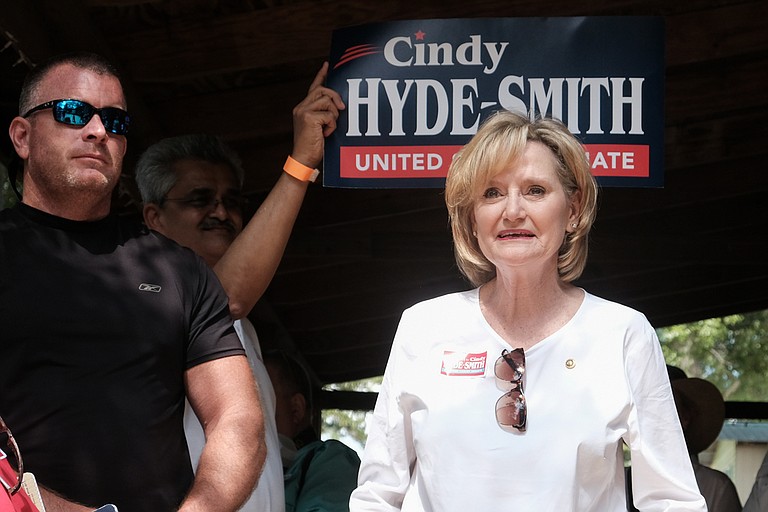 Wednesday, September 19, 2018
JACKSON — Republican U.S. Sen. Cindy Hyde-Smith is criticizing her opponent, State Sen. Chris McDaniel, R-Ellisville, for recent comments she says "demeaned" black Mississippians and a history of "derogatory" comments about women.
McDaniel "demeaned the African-American population in Mississippi, saying they had been "begging for scraps" for the past 100 years," Hyde-Smith campaign communications director Melissa Scallan wrote in a press release Tuesday night. "He claims it was taken out of context, but we all know that isn't true."
The hosts of the MSNBC show "Morning Joe" were filming a special live edition in Oxford on Sept. 14 when a panelist asked McDaniel what he would say to the 38 percent of Mississippians who are black. "I'm going to ask them, "After 100 years of relying on big government to save you, where are you today?'" McDaniel replied. "After 100 years of begging for federal scraps, where are you today?"
After the live audience booed McDaniel, he claimed he intended to direct the comment at the state as a whole—not at the 38 percent he had been asked about.
'Chris McDaniel Files' on Women
During a week when treatment of women is front and center in the wake of a professor's accusations against U.S. Supreme Court hopeful Brett Kavanaugh, Hyde-Smith is trying to use opponent McDaniel's history of commentary about women against him.
"Chris has a history of spouting inflammatory, divisive rhetoric and has made derogatory comments about women," Scallan wrote. "If Chris McDaniel made the runoff against Democrat Mike Espy, his toxic image would put the seat at risk in much the same way Roy Moore lost the Alabama Senate race to Democrat Doug Jones."
Roy Moore was the Republican nominee in last fall's U.S. Senate special election in Alabama who, after multiple women accused him of having directed sexually predatory behavior at them when they were teenagers, lost, making Jones the first Alabama Democrat elected to the U.S. Senate in decades.
In the press release, Scallan linked to a website of "Chris McDaniel Files' paid for by the Hyde-Smith campaign titled "Wrong for Women." The page criticizes McDaniel for voting "present" on a 2017 bill to add spousal domestic abuse as grounds for divorce. At the time, McDaniel said there were "sufficient protections in the law right now" dealing with domestic abuse.
The page also cites disparaging remarks McDaniel made after the 2017 Women's March in which he called liberal women "unhappy."
On Monday, McDaniel drew fire after he claimed that "99 percent" of sexual-assault claims are "made up." He made the comments on ultra-conservative American Family Radio while discussing President Trump Supreme Court, Brett Kavanaugh, who faces accusations of sexual assault.
Hyde-Smith, however, questioned Kavanaugh's accuser's credibility in a statement Tuesday, saying she "remained confident" in the judge who Christine Ford alleges attempted to rape her when she was a teenager. "I have serious questions regarding the questionable timing and handling of this last-minute allegation," Hyde-Smith said, calling on Ford to appear alongside Kavanagh at a Senate Judiciary Committee hearing next Monday.
Hypocritical GOP Responses on Race?
McDaniel's comments on black Mississippians drew denunciations from across the political spectrum. "I condemn and reject in the strongest possible terms Chris McDaniel's characterization of African Americans as beggars," Mississippi's Republican governor, Phil Bryant, tweeted. State GOP chairman Lucien Smith called the comments "inconsistent" with his party's values and that they "have no place in our party or our national discourse."
But those condemnations come with a whiff of hypocrisy. The Jackson Free Press revealed in early 2016 that Gov. Bryant consistently declares April "Confederate Heritage Month," and is a dues-paying member of the Sons of Confederate Veterans who recently gave him the John J. Pettus Award, named after the "fire-eater," slave-owning governor who led the state's secession over slavery. Bryant supports the Mississippi Department of Public Safety's decision to ban Nike products after the company ran ads featuring Colin Kaepernick, the former NFL player famous for kneeling during the national anthem in protest of racism and police brutality against black people.
Mike Espy, the Democratic candidate in the race, sharply criticized McDaniel's comments.
"We're where we are today as a state, ranked dead last in healthcare and 46th in education, because of language like that," the former U.S. secretary of agriculture wrote in a Sept. 14 press statement. "My opponent's rhetoric isn't trying to solve problems. It has only one purpose: to divide us."
Hyde-Smith has declined to join Espy and McDaniel at two debates scheduled for October.
Mississippi's U.S. Senate special election is on Nov. 6, 2018, the same day as the national midterms. Mississippi's other U.S. Senate seat and House seats in each of the state's four congressional districts will also be on the ballot. Polls in Mississippi are open from 7 a.m. to 7 p.m.
Ashton Pittman covers politics and elections for the Jackson Free Press. Follow him on Twitter @ashtonpittman. Email him at [email protected]. Read more 2018 campaign coverage at jfp.ms/2018elections.
CORRECTION: Due to an editing error, the original story gave the wrong first name of the slaveholder governor who led Mississippi's secession, John J. Pettus. Gov. Phil Bryant received an award named for him recently. It is corrected above.