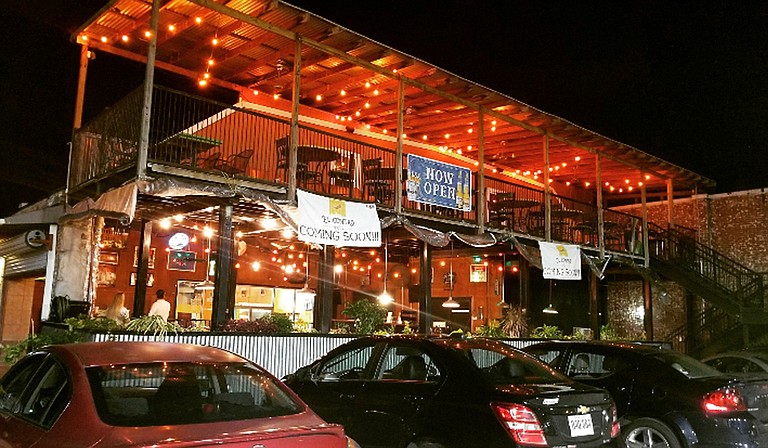 Tuesday, September 18, 2018
CORRECTION: A previous version of this story stated that the Mississippi Museum of Art would reinstall its permanent collection under the same title. The museum plans to change the collection's title before it reopens. We apologize for the error.
Yoseph Ali, owner of Aladdin Mediterranean Grill in Fondren, opened a Mexican restaurant called El Centro (318 S. State St.) in downtown Jackson on Monday, Sept. 17.
The business' menu includes Mexican street corn, taco salad, chimichangas, fajitas, quesadillas, tacos, burritos, empanadas, enchiladas, tamales and more. El Centro will also have daily lunch specials and happy hour drink specials every weekday from 3 p.m. to 6 p.m.
"I just want to invite everyone in Jackson to come on down and see for themselves what kind of great food we're putting together and the atmosphere we've set up here," Ali told the Jackson Free Press.
Ali moved to the United States from Ethiopia in 1995 and opened Aladdin in 2004. He and his family operate the Ali Family Restaurant Group, which also owns Jackson restaurants Kemistry Sports Bar and Hookah Lounge, Kebab & Curry and Wing Guys.
El Centro is open Monday through Wednesday from 11 a.m. to midnight, Thursday through Saturday from 11 a.m. to 2 a.m. and Sunday from 11 a.m. to 10 p.m. The restaurant is currently taking applications for servers, bartenders, hostesses, kitchen staff and managers. For more information, call 769-572-7271 or visit elcentrojackson.com.
Mississippi Museum of Art Reinstalling Its Permanent Collection
The National Endowment for the Humanities recently gave the Mississippi Museum of Art a $275,000 grant for the reinstallation of the museum's permanent collection, as well as public programming and publications on the art and stories of Mississippi. The reinstalled permanent collection will open on Saturday, June 29, 2019.
MMA's permanent collection originally went on display in 2007 as "The Mississippi Story." It contains more than 5,500 pieces dating from around 1865 to the present day, including paintings, prints, drawings, textiles, photographs, sculptures and multi-media works. Among the featured artists are famous Mississippi natives such as James Tooley Jr., George Ohr, Eudora Welty, Gwendolyn Ann Magee and William R. Hollingsworth, along with artists from outside the state such as Georgia O'Keeffe, Andy Warhol and James McNeil Whistler.
The museum de-installed its permanent collection to make space for its bicentennial exhibition, "Picturing Mississippi: Land of Plenty, Pain and Promise," which was on display from Dec. 9, 2017, until July 8, 2018. Stacy Clark, director of marketing for the museum, told the Jackson Free Press that the reinstalled permanent collection will have a new title, but that the new name hasn't been decided upon yet.
For more information, call 601-960-1515 or visit msmuseumart.org.
Jackson Rolls Out FOG Control Program to Protect City Sewers
The City of Jackson is partnering with local restaurants to educate business owners on the importance of keeping fats, oils and grease, or FOG, out of the city's sewer system. A release from Jackson Mayor Choke A. Lumumba's office states that those materials congeal as they move through the sewers and cause line blockages or sewer overflows.
Jackson's Fats, Oils, and Grease Control Program is part of the City's efforts to meet the requirements of a consent decree it made with the U.S. Environmental Protection Agency to reduce the volume and frequency of sewer overflows. The program aims to teach restaurant owners and the public about the best practices to keep fats, oils and grease out of the sewer system and enforce FOG management.
The city's release states that restaurants and other food service establishments can face fines and have water and sewer service interrupted due to blockages and backups. In some cases, the City may hold owners financially responsible for damages from blockages and backups.
As part of the City's FOG control provisions, restaurant owners must install grease control devices such as traps or interceptors on their premises to collect all grease they generate. Grease traps go on dishwashers, sinks, floor drains and dumpster pads. Owners must empty the devices weekly or monthly as needed and give the collected grease to a licensed waste hauler for disposal.
For more information about the City of Jackson's FOG program, call LuFunya Porter at 601-352-6800 or email [email protected]. Alternatively, call April Sawyer at 601-960-1087 or email [email protected].