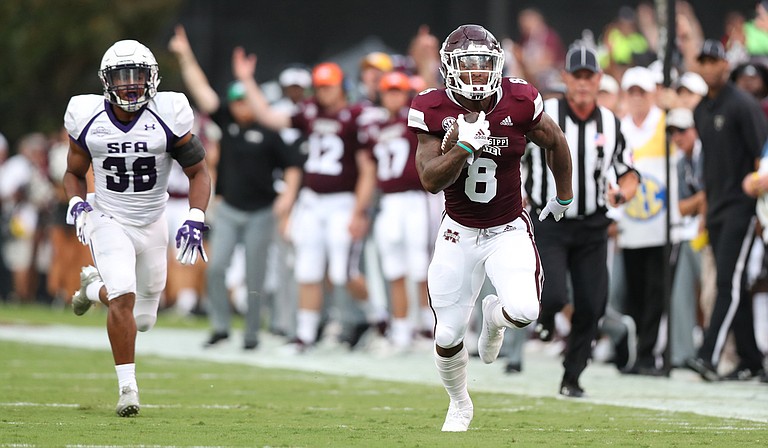 Thursday, September 13, 2018
A new coaching staff at Mississippi State University offered a fresh start for sophomore running back Kylin Hill.
The Columbus, Miss., native wanted more playing time after his freshman season, but at upwards of 220 pounds, he was too heavy to be highly productive in head coach Joe Moorhead's offensive system. In the offseason, Hill dropped about 10 pounds, becoming quicker and more explosive, and the change has shown in MSU's first two games of this season.
Against Stephen F. Austin State University on Sept. 1, Hill caught a short pass on the Bulldogs' opening play and raced 53 yards for MSU's first touchdown of the season. He added a six-yard touchdown run in the fourth quarter.
On the road against Kansas State University the following week, however, he showed why he earned the starting nod over last season's incumbent, Aeris Williams.
In the Bulldogs' second possession, the speedster broke for a 47-yard run, setting up a field goal that put MSU on the board. He then caught a 16-yard pass for a touchdown early in the second quarter, which helped MSU to a 10-3 lead. After the Bulldogs forced a Wildcats turnover, he ran 28 yards to the end zone, giving his team a 17-3 halftime lead.
Hill was not done terrorizing the KSU defense. In the second half, he broke off a 52-yard touchdown, setting up another MSU score. The Bulldogs' next drive ended with an interception, but before the turnover, Hill ripped the Wildcats for an 18-yard run. He scored his second rushing touchdown of the day on a 16-yard run early in the fourth quarter, the final nail for KSU.
Over the course of the game, Hill had 211 yards rushing on 17 carries for an impressive 12.4 yards-per-run average. Overall, he recorded 227 all-purpose yards with three touchdowns in a breakout performance that helped MSU weather Fitzgerald's up-and-down passing day after he returned from an injury and a suspension. The Bulldogs' 31-10 win over a fellow Power Five foe could end up being important later in the season, depending on how the next 10 games play out.
Hill's 200-plus-yard rushing game is the first for an MSU athlete since Anthony Dixon put up 252 yards against the University of Kentucky in 2009. Hill is also the first player to reach 200 yards against the Kansas State defense since 2015.
While it is just two games into the season, fans and media members have already begun comparing Hill to former Pennsylvania State University running back Saquon Barkley. The former Nittany Lions star could make a game-changing play on the ground or take a short pass for a long run.
As a true freshman in 2017, Hill saw action in 13 games, rushing for 398 yards on 78 carries with two touchdowns and a 5-yard-per-rush average. He also had four catches for 38 yards. In just two games this season, he has 261 yards on 26 carries for a 10-yard-per-rush average and three touchdowns. He has surpassed his total receiving yards from last season, as well, with two receptions for 69 yards and two touchdowns. His performance against Kansas State earned him SEC Offensive Player of the Week.
No player in the SEC has more touchdowns than Hill, who currently has five touchdowns. University of Mississippi running back Scottie Phillips is tied for second with University of Alabama wide receiver Jerry Jeudy at four touchdowns.
Before starting his college career at MSU, Hill was a standout player at Columbus High School. In his senior season, he rushed for 1,750 yards with 27 touchdowns and averaged almost 10 yards per carry. Most recruiting outlets gave him four stars 24/7 Sports ranked him as the sixth-best running back in the nation, and Scout as the 11th-best running back.
He earned Dandy Dozen honors, First Team All-State, and Columbus Dispatch Offensive Player of the Year twice, and he was the Mississippi-Alabama All-Star Game's most valuable player. He was the highest-ranking running back recruit for MSU since Jerious Norwood.
Hill will get another chance to put up big numbers when No. 16 Mississippi State hosts the University of Louisiana at Lafayette this Saturday, Sept. 15, at 6:30 p.m. The SEC Network will broadcast the game.