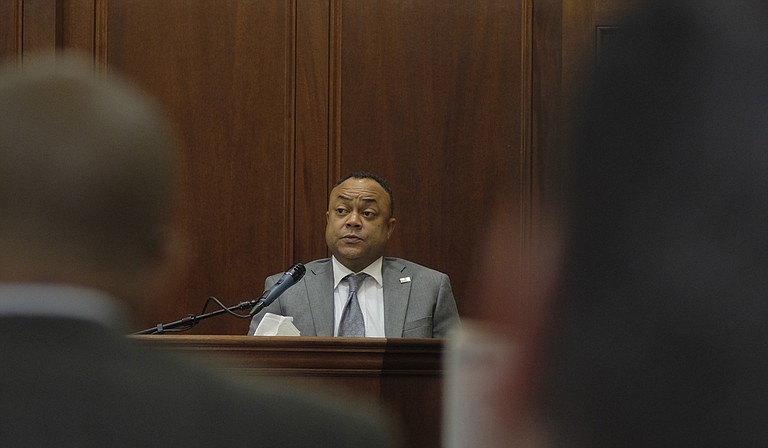 Wednesday, September 12, 2018
JACKSON — UPDATE: A Rankin County jury found Hinds County District Attorney Robert Shuler Smith not guilty for robbery count, and could not decide on the aggravated assault charge.
The attorney general's office released the following statement after the trial:
"Unfortunately, we live in a world where powerful men get away with abusing women and use their position to threaten their victim. Our office takes on tough cases on behalf of victims, particularly victims of domestic violence. We will discuss a retrial with the victim and decide later."
Around 3:30 p.m., the jury went behind closed doors in a Rankin County courthouse to decide whether or not Hinds County District Attorney Robert Shuler Smith is guilty of an aggravated stalking charge and a robbery charge stemming from a 2015 incident with ex-girlfriend Christie Edwards, who testified the morning of Sept. 11.
The all-white jury did not consider Smith's misdemeanor domestic-violence charges from the same incident, but the scuffle will come into play for the aggravated stalking and robbery charges.
Two of the men on the jury are alternates, and the judge excused them from deliberations, leaving eight women and four men to go over 1.5 days of testimony.
Aggravated stalking involves a person making a credible threat knowing that it would cause a reasonable person to fear his or her own safety or that of another, or to fear damage or destruction of his or her property. The offender also would have to use or display a deadly weapon with intent to place a victim under reasonable fear of death or great bodily injury to self or third person.
Robbery involves taking personal property from another person in his or her presence or against his or her will in violence or to put fear of immediate injury to this person. The jury would have to believe the State of Mississippi proved Smith took Edwards' gun out of evil or to cause harm in order to find him guilty. However, if the jurors believe Smith acted to prevent significant evil, or if he had no alternative to taking the gun, or that the harm he caused by taking the gun was disproportionate to "harm avoided," then Judge William Chapman instructed the jurors to find Smith not guilty.
Smith On the Stand
It is possible that Hinds County District Attorney Robert Shuler Smith has now been in every seat in the courtroom after he chose to take the witness stand this morning as his defense counsel's only witness. Smith waived his Fifth Amendment right that protects defendants from becoming a witness against themselves. This opened Smith up to cross-examination from Assistant Attorney General Stanley Alexander, a former opponent in the 2015 race for the Hinds County District Attorney seat.
Smith's testimony corroborates Edwards' story in some parts and contradicts it in others. He confirms that Edwards was living in his trailer in Pearl, Miss., so that she could save money. However, Edwards testified that Smith invited her to do so because the couple had been engaged.
The district attorney's recount of Aug. 13, 2015, also begins with a visit from an appraiser to survey the value of the mobile home in Pearl that Smith considered selling. Smith brought his father along to do the estimates on the district attorney's lunch break. The appraiser finished early after feeling uneasy seeing a gun on the table and also a man hiding in the closet, he testified.
Smith said he went into the home after Edwards met him at the door after he knocked. The district attorney said Edwards kept asking why he was there. Then the shouting began. As Edwards followed Smith through the home, he said she continued shouting, and that they both yelled profane language.
Eventually, the man from the closet, Edwards' then-boyfriend William Fears, emerged. Smith recalls shaking Fears' hand, and Fears testified the same.
Smith said the shouting progressed into the bathroom.
"Shut the hell up. Please let us finish. We're only going to be here for a minute. "Why are you doing this in front of my dad?" Smith said he exclaimed that day.
Smith testified that "it didn't feel right or look right" when Smith was in the bathroom and Edwards was in front of him with Fears in tow.
"I wanted to get out of there ... so I did push her out of the way, lightly the first time hoping that she would allow me to pass her without any confrontation whatsoever," Smith said.
Smith said he showed his gun and badge, hoping that Edwards and Fears would move out of the way upon seeing his weapon. Smith alleged he did not remove his weapon, and resorted to pushing instead.
"In order to avoid any confrontation, I pushed her again," Smith said. "I said 'don't do it,' once I heard her tell him 'go get my gun.'"
This presents a he-says-she-says scenario, as most of the trial has been. Smith says he uttered, "Don't do it," while both Fears and Edwards testified hearing Smith say "I'll do it." Fears and Edwards also both say Smith pulled his weapon off his hip, but Smith says he only displayed it.
Then Smith said he ran past them back to the living room where his father had been waiting. Smith said he grabbed the gun from the table, went outside and told Edwards he would call her father, to whom the gun belonged.
"There was no way I was going to give the gun back to her," Smith said. "I called her dad immediately for him to get the gun back. I knew that was his gun, but I also didn't want to take any chances to be in a bad situation."
Smith said he called and texted her father on later occasions to try to arrange a drop-off for the gun. AG investigator Lee McDivitt confirmed this during his testimony on Sept. 11.
The DA did not deny he took the gun for "everyone's safety," nor did he deny pushing Edwards or that her injuries could have come from the shoves. Smith testified that he "had to" push Edwards in order to leave. In Alexander's line of questioning during cross-examination, Smith said that "pushing is not" violent.
"You're not saying that your pushing didn't cause those bruises?" Alexander asked.
"I really don't know," Smith replied.
During questioning from his defense attorney, Vicki Gilliam, Smith brought up his wife, Dr. Wanda Smith. The DA did not initially reveal that he had a romantic relationship with Edwards, but Alexander brought it out on cross-examination.
To make the love triangle even wider, Smith's wife was formerly known as Wanda Fears. She used to be married to William Fears, who testified yesterday because he was romantically involved with Edwards in August 2015, and he was at the trailer when the incident took place. In 2015 Smith began dating Wanda Fears and married her in September 2015, a matter of months after ending his relationship with Edwards.
Edwards testified on Sept. 11 that she found text messages between Smith and Wanda that confirmed his infidelity. Using Facebook, Edwards found Wanda's husband, William, with the intention to reveal to him Smith's relationship with Wanda. At the time, however, Wanda and Williams were on the verge of divorce, William said. William has since remarried and lives in Indianapolis, Ind., after the relationship with Edwards did not work out.
There is a murky timeline about Smith's involvement with his current wife as it relates to Edwards—leaving any potential overlap unclear. Smith apparently purchased an engagement ring for Edwards in February 2015, but by March or April of that year, he had decided he did not want to marry her anymore. In July or August of that year, around the time Edwards found out Smith had been cheating, Smith testified that he bought a ring for his current wife, Wanda.
Smith said he probably spoke to Edwards about marriage, but maintains they were never engaged because he "just didn't want to do it."
Closing Arguments: 'A Woman Scorned' or Overdue Justice?
Special Assistant Attorney General Patrick Beasley began closing arguments on behalf of the State at 2:18 p.m. He went back over the love triangle and raised questions about whether Smith had in fact de-escalated the situation, as the defense alleged in opening statements.
Beasley asked the jury rhetorically why Edwards had bruises if Smith truly intended to de-escalate the incident? Beasley relied heavily on the testimony from Edwards and Fears, but also brought out some of Smith's own words following his testimony. "By the defendant's own admission," Beasley argued, Smith is guilty of aggravated stalking.
The State prosecutor framed the jury's decision as an ultimatum: either you believe Smith, or you believe Fears and Edwards. He urged them to use their common sense, adding that he felt Smith was not acting within his role that day.
"On August 13, 2015, he wasn't acting like a district attorney," Beasley said, adding that if Smith wanted her gone, there were lawful mechanisms to get that done.
"He is also a bully. He is also a coward. He is also a liar," Beasley said of Smith. "Now those latter three—he didn't have to run for office for those."
At 2:41 p.m., defense attorney Michael Sterling stepped up to the podium before the jury, a red coffee cup in hand, repeating many of the same words from his opening statement.
Sterling told the jury Robert Smith does not think he's above the law, but rather that he enforces the law and holds people accountable for violating. Sterling suggested that Smith sitting through trial in front of a jury of his peers and even testifying on his own behalf show his willingness to submit to a process that any lawful person would.
In retracing Smith's and Edwards' argument after the appraiser came to the trailer, Sterling framed Smith's and Fears' handshake as an example of the DA "diffusing the situation." The Atlanta attorney insisted on Smith's innocence before turning the mic over to Gilliam.
"You can believe the events that day were unfortunate ... but to escalate to a felony robbery to a felony aggravated stalking—that's just not right," Sterling said.
Gilliam started out her closing statement expressing that she thought it was "really cool" Smith, a leader in the state, asked her as a woman to be lead counsel.
"I thank you, Robert, for that opportunity," she said.
Then Gilliam's remarks took on a feminist tone. Gilliam said she believed she had to work harder to earn respect because of her gender. But then she used that reliability as a woman to slight Edwards.
"We're talking about what Christie Edwards said, who is a woman and whether or not you're going to believe her...," Gilliam said. "She had to earn your respect in order for you to believe her. It's credibility. Does she have your credibility? Was she credible?"
Gilliam said Edwards did not earn her respect because she did not call the police, she did not file a protective order, she did not sign an affidavit in Rankin County, but instead went to the FBI. She also picked at Edwards for initiating a relationship with Fears via Facebook that turned intimate in a week's time.
"Hell hath no fury like a scorned woman, and that's what it made me think," Gilliam said.
Gilliam did not slight all women in the case, however. She characterized Sandy Middleton of the Center for Violence Prevention, who helped Edwards, as someone whom she greatly respected. But Gilliam still questioned why Edwards did not have Middleton walk her over to local law enforcement to sign an affidavit. However, Middleton testified on Sept. 11 that she intentionally called the FBI to deal with the case because of Smith's proximity to area law enforcement.
Gilliam ended with a personal plea.
"I know you're a Rankin County jury looking at a man from Hinds County...," Gilliam said toward the end of her closing argument. "Please don't be afraid to come back and say we didn't believe her. We thought she had a motive...."
Assistant Attorney General Alexander was the final lawyer to speak to the jury. He took a more feminist approach than Gilliam, advocating that protective orders, "pieces of paper" as he called them, do not always protect women from abuse. He sees Edwards as an example of why women do not report such incidents.
"Ms. Gilliam answered her own question: Why didn't she report it? This is why," Alexander began. "A woman says it, and she's suddenly the bad guy for coming forward. She's suddenly a bad woman. She's a bad woman because she went online and said, 'hey, I think you're cute.' Smith's not the bad man, though, for having an affair with a married woman.... He's not the bad man for shaking her up, brushing her or pulling a gun on her. It's the woman."
Alexander did take jabs at Gilliam, who had said in closing arguments she once represented a serial rapist when she was fresh out of law school, and when she felt threatened, she called the police out of fear. Alexander took that as bait.
"Now we know she doesn't have a problem representing guilty folks," Alexander said.
This is a developing story. The jury is deliberating the case at press time.
Email city reporter Ko Bragg at [email protected] and read more at jfp.ms/dafiles.