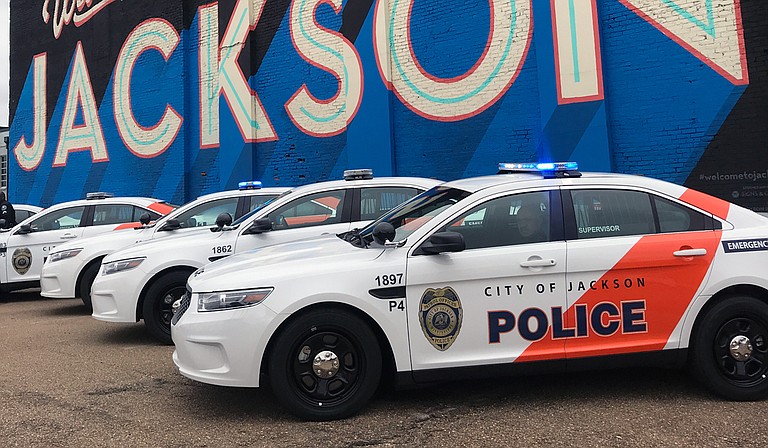 Tuesday, September 11, 2018
JACKSON — The Jackson Police Department unveiled a new fleet of 46 vehicles for the patrol division, each donned with a distinctive orange stripe across the rear doors. Mayor Chokwe A. Lumumba wants Jackson to "stand out" as it moves in a new direction, he said yesterday at a press conference under the downtown "Welcome to Jackson" mural.
"As we're trying to foster a new relationship with the community, we thought that we needed a new, fresh design that our officers look good in," the mayor said. "So we're excited about that."
The mayor deflected speculation that the orange stripe represents his alma mater, Callaway High School. He informed yesterday's crowd that his favorite color was in fact red—perhaps crimson to be more precise, as it is one of the representative colors of the mayor's fraternity.
JPD precincts throughout the city will receive all but one of the cars. The remaining one will go to the training academy, where a new recruit class is undergoing training now.
The mayor credited Deanna Gentry, executive assistant to the mayor's chief of staff, with coming up with the design. The rear of the 2018 Ford Tauruses say "Committed to Serve" rather than "Protect and Serve," putting an emphasis on community engagement and the new direction that both Interim Police Chief James Davis and the mayor envision for Jackson under a self-described "radical mayor."
"This is a radical administration that represents a radical city that more than wants to change the conditions in Jackson. We stand on the proposition that we want to change the conditions of the world," Lumumba said, adding that he does not want JPD officers to look like other officers in neighboring municipalities anymore because they are "special."
Interim Police Chief James Davis wants the cars to encourage conversation and build morale within the department and citywide.
"When you see these cars rolling through the community, I encourage you to flag that car down," he said. "It's a new look and a new commitment. Let these officers know how much you appreciate the work that they're doing."
Beyond the cars, which cost approximately $29,000 a piece for a grand total of $1.3 million, systemic changes are afoot at JPD. At the end of June, Mayor Lumumba announced his second interim police chief since December 2017, when Lee Vance retired from the role. There have been no updates about the national search supposedly underway for a permanent chief. Davis expressed his desire to lead JPD beyond his service as a fill-in.
The department could also have to adapt to releasing names of officers following officer-involved shootings. Lumumba formed a task force this spring to grapple with city's policy to address the longstanding practice of zero transparency following those incidents. The task force recommends releasing names within 72 hours, which is on par with national standards. The mayor has not spoken about what his official stance will be in terms of enacting policy, but in the past he has gone on record about his personal views that align with releasing officers' names after they shoot citizens.
For now, change will come in the form of a cool breeze, as the department slowly phases out old cars that lack functioning cooling systems.
"We have officers who are riding in the Mississippi heat with no air conditioning, and that is inhumane," Lumumba said. "That is not indicative of the dignity that we think this job deserves and that these officers deserve."
Email city reporter Ko Bragg at [email protected]. Read more about officer-involved shootings at jfp.ms/policeshootings.