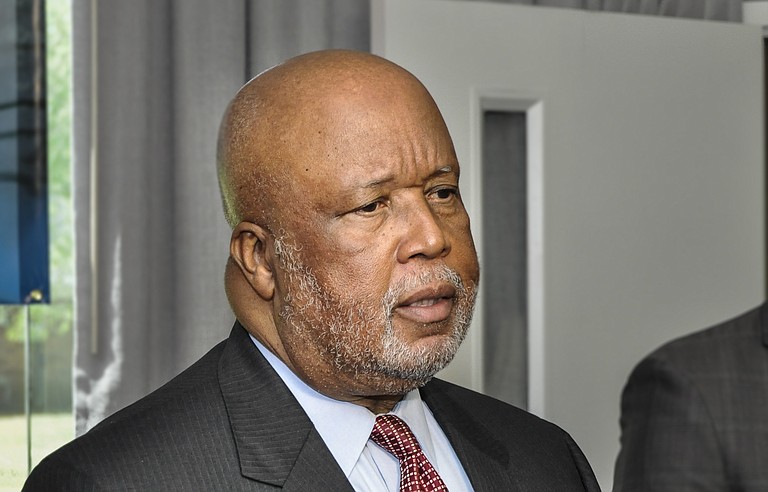 Thursday, September 6, 2018
JACKSON, Miss. — In a surprise move, U.S. Rep. Bennie Thompson and a coalition of businesses, public-interest organizations and citizens are speaking out against a draft plan to dam the Pearl River and create a lake development that backers say will help control some local flooding in the Jackson area, while creating both green spaces and lucrative waterfront property for development.
The plan is creating controversy locally and downstream all the way to New Orleans, due to questions around taxation, effectiveness, environmental harms, threats to wildlife, transparency and potential negative effects on businesses downstream along the Pearl River.
Congressman Thompson attached PDFs of multiple letters and a list of 54 questions, including many that this newspaper has raised over the years and recently, demanding to know the financial interests of the Levee Board members and lake planners; who owns the property along the proposed lake footprint; environmental mitigation plans; how the lake backers plan to mitigate damage to Pearl River-related businesses (some of whom are included in a long list of signatories of his statement); exactly who will have to pay what in taxes; and many more questions.
Like the Jackson Free Press, Thompson also challenges the transparency of the publicly funded Levee Board, including how it is allowed only a short 45-day public comment period (after years of plan development) and how it conducts public meetings, not allowing attendees to ask questions publicly, only dictating them individually to a court reporter or emailing to a Gmail account later.
Congressman Thompson, the New Orleans-based Gulf Restoration Network, Audubon Mississippi and the Sierra Club released the following statement and documents today, reprinted verbatim below.
JACKSON, Miss. – Today marks the public comment deadline on the Integrated Draft Feasibility and Environmental Impact Statement (DEIS) on the ill-conceived, destructive project locally known as "One Lake".

After hearing from many of his constituents, long-time U.S. Congressman Bennie G. Thompson (D-02), whose District the project resides in, and will allegedly benefit, has weighed in to express "grave concerns" regarding "this highly controversial project". In a letter to Major General Richard Kaiser, Commander of the Mississippi Valley Division of the U.S. Army Corps of Engineers (Corps), Congressman Thompson outlines "a multitude of serious, unresolved economic and environmental issues that demonstrate its fiscal imprudence and destructive nature." [See attached letters.]

Congressman Thompson further states, the project's local sponsor, the Rankin-Hinds Pearl River Flood and Drainage Control District (Drainage District) "is not fully complying with federal law" as his reasoning to "strongly object to One Lake and urge the Corps to reject this project."

Congressman Thompson cites his "objection is supported by, but not limited to, the following issues":

Lack of Compliance with Federal Laws

Inadequate Opportunity for Meaningful Public Review

Unacceptable Public Health and Safety Impacts

Unacceptable Environmental Harm

Unacceptable Costs to Taxpayers and Economic Harm

In separate letters addressed to the Vicksburg Corps and the Drainage District, Congressman Thompson requests answers to 54 questions regarding the project on topics ranging from:

"What are the number of homes and businesses that will be flood-free because of this project, versus those that will only have a reduction in flood stage?"

"[W]hat would be the estimated annual ad valorem tax increase per affected property owner in Hinds and Rankin Counties?"

"Identify property owners who own property in the project footprint, or property that could benefit from the project (i.e. for example, property that would become lake "waterfront", or be filled so that the property would no longer be in the floodplain and could be more readily developed)..."

"Is there a contaminated creosote site in the project area and what is the projected clean-up cost that will be at tax-payers' expense?"

"Do any federal, state or local elected officials or any of their direct relatives own property in the project area, or hold any pecuniary interest in the project?"

Congressman Thompson is no stranger to the issue of Pearl River flood control having served as president of the Hinds County Supervisors when the dubious Shoccoe Dam project was proposed – and rejected - in the 1980's.

"Then as now, these projects are little more than private real estate development schemes, financed at taxpayer's expense, and masquerading as flood control," stated Louie Miller, State Director of the Mississippi Sierra Club.

Recently, the U.S. Fish and Wildlife Service made a stunning conclusion in their assessment of the DEIS; that One Lake "is the most environmentally damaging plan" and that the Drainage District should be required to produce a second draft DEIS that would provide "greater details regarding plan formulation, design, operation, mitigation, and adaptive management" before the project advances. [See attached letter.]

"This confirms what we have been saying all along, this document is sloppy, incomplete, and scientifically unsound," stated Jill Mastrototaro, Policy Director for Audubon Mississippi.

In addition, 56 national, state and local businesses and public interest organizations representing millions of members and supporters, have signed onto letters expressing stern opposition to this questionable project. [See attached letter.]

Opposition to One Lake spans a wide range of organizations and interests - from the New Orleans Chamber of Commerce and nature tour businesses to conservation groups and the recreational-commercial fishing sector to local counties, parishes, and cities, and state natural resource agencies.

"The mounting opposition against One Lake speaks volumes," stated Andrew Whitehurst, Water Program Director for Gulf Restoration Network. "This project embodies the short-sighted, enrichment of a few at the expense of our precious natural resources, regional economy, and affected communities."
The Jackson Free Press has requested a response from Levee Board and Pearl River Vision Foundation spokesmen. This story is developing.
Read the JFP's full coverage and investigations of flood-control projects, past and present at jfp.ms/pearlriver.