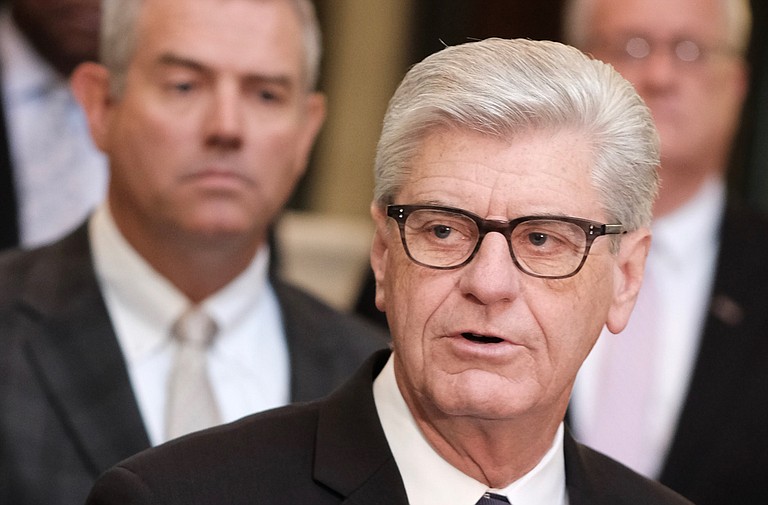 Thursday, September 6, 2018
JACKSON — Mississippi Gov. Phil Bryant joined 15 other Republican leaders across the country in signing a brief that asks the U.S. Supreme Court to rule that the 1964 Civil Rights Act does not protect transgender people and that employers have the right to fire them for their gender identity.
The amicus brief comes after lawyers from the Alliance Defending Freedom asked the Supreme Court to hear an appeal of a ruling by the 6th U.S. Circuit Court of Appeals. In the ruling, the court decided a Michigan employer—a devout Christian—violated an employee's Title VII protections by firing her after she disclosed that she was transgender and transitioning. Title VII bars employers from discriminating on the basis of race, color, religion, sex or national origin.
The U.S. Equal Employment Opportunity Commission first brought the lawsuit against the Detroit-area R.G. & G.R. Funeral Home in 2014 after the woman, Aimee Stephens, filed a sex-discrimination claim after the business fired her from her job as a funeral director.
The only reason offered for her termination, Stephens alleged, was that "the public would (not) be accepting of (her) transition." Over the course of the investigation, the EEOC also found that, while the funeral home provided male employees with clothing benefits, it allegedly did not do so for female employees.
A lower court initially ruled against the EEOC and Stephens, but the 6th U.S. Circuit Court of Appeals in Ohio overturned that ruling in March of this year, finding that "discrimination against employees, either because of their failure to conform to sex stereotypes or their transgender and transitioning status, is illegal under Title VII."
Bryant was one of three Republican governors to sign onto the amicus brief asking the U.S. Supreme Court to deny such protections to transgender people; Kentucky Gov. Matt Bevin and Maine Gov. Paul LePage also signed. The other 13 signees were Republican attorneys generals. Like Mississippi, Bevin and LePage's states have Democratic attorneys general.
Bryant's office did not return a call for comment. Mississippi Attorney General Jim Hood's spokeswoman, Margaret Ann Morgan, confirmed to the Jackson Free Press that Hood had no involvement in Bryant's decision to join the petition.
The Meaning of 'Sex'
In the brief, Bryant and the others argue that the high courts should overturn the 6th Circuit's ruling because "'sex' under the plain terms of Title VII does not mean anything other than biological status."
"When Congress enacted Title VII, ... the understanding of the word 'sex' did not include the expansion of that word to include 'gender identity,'" the brief continues. "The term 'gender identity,' or as the 6th Circuit labels it, 'transgender' and 'transitioning status,' are not found in the text or legislative history of Title VII."
In its ruling, however, the 6th Circuit pointed to Supreme Court precedent, highlighting Price Waterhouse v. Hopkins, a 1989 case in which the court found that "sex" in Title VII "means that gender must be irrelevant to employment decisions." The case involved a female employee who, as the 6th Circuit explains, "was not discriminated against for being a woman per se, but instead for failing to be womanly enough."
"Based on Price Waterhouse," the 6th Circuit wrote, "we determined that 'discrimination based on a failure to conform to stereotypical gender norms' was no less prohibited under Title VII than discrimination based on 'the biological differences between men and women.'"
Transgender people, the Court found, should not be excluded from claims of discrimination based on gender non-conforming behavior because, regardless of their gender identity, the discrimination would not happen "but for their sex."
Consequences of Kavanaugh
If the Supreme Court takes the case, its decision could have ramifications on the legal rights of transgender Americans for years to come. For LGBT rights activists, the case highlights the importance of this week's Senate confirmation hearings for Brett Kavanaugh, President Trump's nominee to the U.S. Supreme Court.
If confirmed, Kavanaugh would be taking the place of former Supreme Court Justice Anthony Kennedy, the pivotal fifth vote on the Court and the author of every major gay-rights decision in the past two decades, including the 2013 Windsor decision that struck down the Defense Against Marriage Act and the 2015 Obergefell decision that legalized marriage for same-sex couples nationwide.
Chad Griffin, president of the Human Rights Campaign, told Variety that Kavanaugh threatens the rights of LGBT people across the board, whether in the realm of marriage, adoption, anti-discrimination protections for gender identity and sexual orientation, trans military service, or healthcare access.
"These are all things that are headed to this court, and sooner rather than later," Griffin said. "There is a significant reason to believe just what we know from his published decisions that he is on the wrong side of all of these issues, and would likely be a vote against us on all of these issues as these cases rise."
GLAAD, another national LGBT rights advocacy organization, concurred.
"If confirmed, Brett Kavanaugh will have a chance to ensconce President Trump and Vice President Pence's hate-fueled anti-LGBTQ agenda on the nation's top court for decades to come," said GLAAD President Sarah Kate Ellis. "In a nation that has only forged forward in our affirmation of rights for women, LGBTQ people, immigrants, and all vulnerable people, Kavanaugh's confirmation threatens our progress, as well as our deepest and most closely held American values."
The Federalist Society—a socially conservative right-wing organization with a history of opposing LGBT rights, including non-discrimination laws—vetted Kavanaugh before Trump nominated him.
Kavanaugh's confirmation hearings continued for a third day Thursday.
Ashton Pittman covers states politics for the Jackson Free Press. Email him at [email protected]. Read more 2018 campaign coverage at jfp.ms/2018elections.