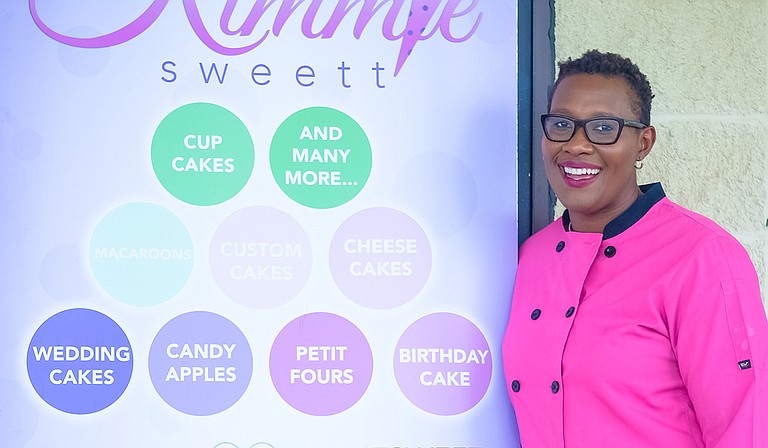 Wednesday, September 5, 2018
Two customers gathered around the counter at Kimmiesweett in Brandon. One patiently waited as owner Kimberly Ruffin finished preparing a caramel cake—an emergency birthday cake—for another guest.
"Give me just a minute, and then we'll go in the back," Ruffin said to this reporter.
After White took care of the first two customers, a third one—a server at Fernando's Mexico City Dining—came in to get a cupcake before her shift started. 
It was Tuesday, and in keeping with Fernando's $2 tacos on that day, Kimmiesweett does $2 cupcakes.
The decor of the shop is bright and playful, with shades of neon green, pink and a purple reminiscent of pansies. On one wall is a bouquet of pink, purple and white flowers, with a backdrop of dark green leaves. Beside that is the outline for a flower mural, which Ruffin's sister, Christy White, is creating for the shop. Pink and yellow streamers hang down from the ceiling near the front door.
Ruffin's mom, Gloria White, took over at the front counter as Ruffin headed to a room off to the party room in the back to talk. It had long tables in an L-shape. Brightly colored aprons hung on chairs, and blue-and-white teacups sat in front of each seat.
"This is our classroom," Ruffin told the Jackson Free Press. "It's coming along."
Ruffin grew up in a family that loved baking, but she found her love for cake decorating while working in baking departments for grocery stores such as Kroger, where she worked for seven years before launching Kimmiesweet.
"I loved the artistry," she said.
After the Canton native graduated from Hinds Community College with an associate's degree in hospitality, she decided to find a job in a hotel, but had no luck in the field and returned to decorating cakes.
'Well, I guess this is where I'm supposed to be, God, but if this is where I'm supposed to be, I don't want to just work at a grocery store," Ruffin told herself then. "I want to have my own bakery.'"
She started Kimmiesweett as a home-based business around 2008. Over time, it grew so big that, Ruffin decided to take it on full time in 2017, opening her first location in Northpark Mall. When Northpark began an extensive remodel earlier this summer, though, the mall informed Ruffin that Kimmiesweett's space would not be available once construction is completed.
"We were like, 'We've got to go somewhere. The people are looking for us,'" Ruffin said. "... We were not going to let Kimmiesweet die."
Ruffin shuttered the business in June 2018 and reopened in the Fannin Mart shopping center in Brandon on Aug. 1.
The new location gives Kimmiesweett more possibilities, she said. They are developing a co-working bakery space, which will have WiFi, a kitchen for guests to practice decorating and a classroom. In the future, Ruffin wants to have multiple bakery locations.
"I want to be everyone's community bakery. ... I think this (business) is my platform to teach. This is my platform to tell people to follow their passion. This is my platform to help," she said. "This is where I'm supposed to be. I know that."
Kimmiesweett (1149 Old Fannin Road, Brandon, 601.720.9774) is open Tuesdays from noon to 8 p.m., Wednesdays and Thursdays from 8 a.m. to 5 p.m., and Fridays from 8 a.m. to 6 p.m. For more information, find the business on Facebook.