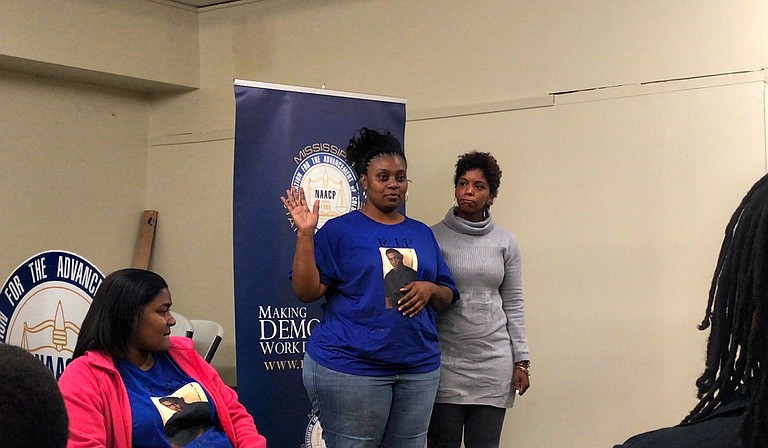 Tuesday, October 23, 2018
JACKSON — Willie Jones Jr., 21, was found hanging from a tree outside his child's mother's home in Scott County on Feb. 8.
Seven months later, the family has joined forces with the Scott County Chapter NAACP, the New Black Panther Party, the Jackson Chapter of the Malcolm X Grassroots Movement, and two Jackson-based pro-bono lawyers to get more answers. On Oct. 22, about two dozen people came to the Masonic lodge near Jackson State University to strategize next steps to garner community support for the case.
"I can't sleep, and I won't sleep until justice is served," Tammie Townsend, Jones' mother, said.
A release from the family said Jones had been dating a white woman in her 20s off and on for a few years, and they had a child together. Jones apparently accompanied his child's mother to her home just before he died.
"She and Willie are said to have had an argument," the statement reads. "Less than an hour later, Willie's mother, Tammie Townsend, received a call saying her son was hanging from a tree in his child's mother's front yard."
Family Rejects Suicide Ruling
Scott County Sheriff Mike Lee initially said in an Associated Press report that the death is consistent with suicide, with no evidence of a racially motivated crime. Lee said witnesses told his office that Jones fought with his girlfriend and threatened to hang himself shortly before he was found dead near her home south of Forest.
However, his mother does not believe her son committed suicide.
"Saying my son hung himself—I don't believe it. I'll never believe it," Townsend said at the community meeting. "There is nothing they can do to make me believe my child hung himself. He didn't have a drug problem, he wasn't depressed. He was always smiling. He'd give you the shirt off his back. And I know this is what he would want me to do."
Townsend added that the support of various community groups have helped her to keep going.
On Feb. 16, local media reported that the Mississippi Bureau of Investigations had taken on the case.
Thomas Bellinder, a lawyer working this case pro bono, said that this case is ongoing and could appear before the grand jury in November. Scott County District Attorney Steven Kilgore could not be reached at press time.
Bellinder criticized the legal system that he says is built to protect the investigation, and "in reality the investigator," and called on the community to step forward with any evidence or witness statements before November.
"We need all eyes on this case to pressure the county and the state to do what it's supposed to do," he said.
Rukia Lumumba hugged Jones' mother, Tammie Townsend, who got teary-eyed in a blue t-shirt with her son's face screenprinted below the letters "R.I.P" in black. Lumumba, who is also working this case pro bono, praised Townsend's strength as a mother.
"Far too often things happen in Mississippi, and nobody talks about it," Lumumba said. "The constant issue is people up north say, 'Oh, well, it's Mississippi, you know. It's supposed to happen there.' No. Injustice ain't supposed to happen nowhere—and it's not supposed to happen here for sure, in Mississippi, where we have overcome so much trauma, so much heartache."
Disturbing Number of Hanging Cases
In the last several years, other cases have mirrored Jones' on the surface. In Port Gibson in 2015, Otis Byrd, 54, was found hanging from a tree behind his house with bedsheets around his neck attached to a limb 15 feet above the ground, no chair in sight. The Justice Department did not rule it a homicide.
Phillip Carroll was 22 years old when his body was found hanging from a tree in the Washington Addition neighborhood in Jackson in 2017. His death was ruled a suicide.
Nick Naylor, 23, was found hanging by his dog's leash after going for a walk in Kemper County in 2003. His death was ruled a suicide and featured on the program "Injustice Files" on the Investigation Discovery Network.
In Kokomo, Miss., in 2000, family found Raynard Johnson, 17, hanging from a pecan tree yards away from his family's front door. Two autopsies led to a suicide ruling. This case was also featured on the ID Network.
Rukia gave an impassioned speech and apologized for assisting "late in the game."
"We've already waited way too long," Lumumba said. "Far too often we've seen in Mississippi over and over again (people) hanging from trees or hanging in a jail cell, and what do they call it? A suicide."
Townsend also saw remnants of the past.
"In this case I see so many young black kids," Townsend said. "Y'all gotta watch y'all kids. It's some evil-hearted people out here—I know that first hand."
Email city reporter Ko Bragg at [email protected].