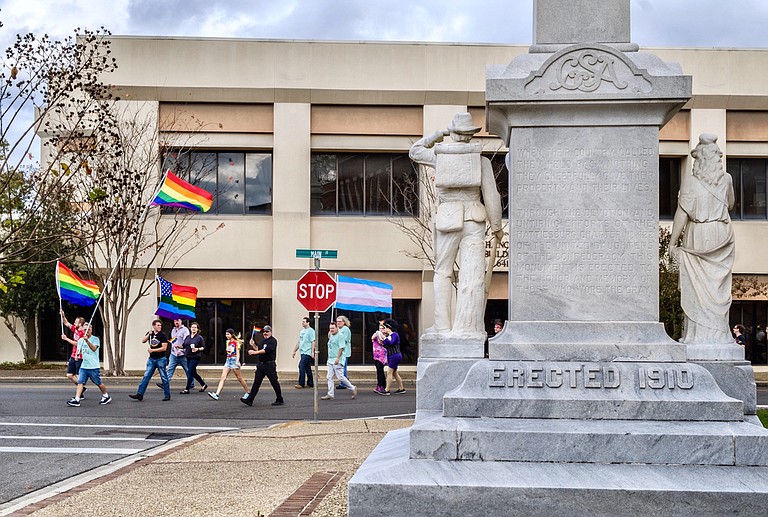 Jackson and Hattiesburg lead among Mississippi's nine largest cities in LGBT equality, the Human Rights Campaign says in a new report.
On Oct. 8, HRC released its 11th annual Municipality Equality Index report, which ranked 506 cities across the country on their support and legal protections for lesbian, gay, bisexual and transgender individuals in 2017.
The report ranks cities on a scale of one to 100, from least equal to most. The national average of the cities ranked is 58—a one-point increase since last year's report.
Jackson is the only Mississippi city that meets or exceeds the national average with a score of 65. It earned marks for leadership positions on LGBT equality, its nondiscrimination policies in housing, employment and public accommodations, and other legislative efforts.
In second place, Hattiesburg earned a 33 based on positive rankings for its LGBTQ law-enforcement task force, an LGBT liaison in executive office, leadership positions on LGBT equality and a law banning discrimination in city employment. The city does not have protections for discrimination in housing, private employment or public accommodations.
Oxford comes in third with a paltry score of 17 for leadership positions and a ban on discrimination in city employment.
The lowest ranked city, Southaven, scored 0. Bay St. Louis fared slightly better, with 3 points awarded for leadership positions on LGBT equality.
The nine Mississippi cities are ranked as follows:
Jackson (65)
Hattiesburg (33)
Oxford (17)
Biloxi (15)
Starkville (14)
Gulfport (13)
Ocean Springs (4)
Bay St. Louis (3)
Southaven (0)
Smaller Cities Protect LGBT Rights
While the HRC survey focused on the state's largest cities, smaller Mississippi cities have taken it upon themselves to enact laws protecting LGBT rights.
Clarksdale was the third Mississippi city to pass a law banning discrimination against LGBT residents on Aug. 14, and it will not be the last, Rob Hill, director of the Mississippi branch of the Human Rights Campaign, told the Jackson Free Press in August.
Jackson and Magnolia passed LGBT nondiscrimination ordinances in 2016 and 2017, respectively.
Five other cities—Hattiesburg, Oxford, Greenville, Bay St. Louis and Waveland—have passed resolutions stating opposition to LGBT discrimination.
"While those resolutions are wonderful, and they are something that we welcome, those resolutions are non-binding, so there's no legal teeth to them," Hill told the Jackson Free Press. "And the difference between a resolution and a law is that a law can be enforced."
Ordinances like the ones passed in Clarksdale, Jackson and Magnolia, Hill said, allow legal recourse for situations in which someone is discriminated against in the workplace, or denied housing or services on the basis of their sexuality or gender identity.
"Passing a non-discrimination ordinance that protects any minority is simply the right thing to do," Clarksdale Mayor Chuck Espy told the Jackson Free Press in August. "Everyone has a right to not be discriminated against in the United States, and I just felt that with what is going on in this nation right now, it's the appropriate thing to do to make sure that when tourists come to our city from across the globe, they know that Clarksdale is a safe city for them."
Chuck Espy is the nephew of Mike Espy, who is running against Republican Sen. Cindy Hyde-Smith and State Sen. Chris McDaniel, R-Ellisville, in Mississippi's U.S. Senate special election in November.
When Mississippi Gov. Phil Bryant signed the Mississippi Religious Liberty Accommodations Act, also known as House Bill 1523, in 2016, Chuck Espy said he was "stunned." The law defines and protects three religious beliefs and moral convictions: marriage is a union of one man and one woman; sexual relations are reserved for such a marriage; and "male" and "female" refer to an individual's "immutable biological sex as objectively determined by anatomy and genetics at time of birth." The law protects the right of Mississippians who hold those beliefs to discriminate based on them.
A federal judge in Jackson found HB 1523 unconstitutional after it was passed, but the 5th U.S. Circuit Court of Appeals overturned his ruling last year. The U.S. Supreme Court declined to hear the case.
"This was our opportunity to say not only do we disagree with that legislation, but to make sure everyone understands that human rights are non-negotiable," Chuck Espy said.
Hill pitched the ordinance to Espy, and the City went to work to vet and pass it immediately.
"It was a no-brainer," Espy said, adding that he had not heard from anyone in Clarksdale who opposed it.
Lost Tax Revenue Due to Discrimination
HRC has reached out to city leaders and LGBT rights advocates elsewhere in the state, too, and is working with them to pass similar ordinances.
"I was talking to a mayor in a town the other day, and I explained the economic benefits of passing nondiscrimination ordinances to him," Hill said, "and he said, 'You know, that's good and all, but it's just the right thing to do.'"
Hill would not identify the mayor in question, but he did name some cities HRC believes are ready to pass LGBT protections of their own.
"We think that college towns like Oxford and Hattiesburg are places that would benefit from passing local nondiscrimination ordinances, and we've been in contact with people in those communities," Hill said.
Hill brought up an incident in January in which the University of Southern Mississippi had to cancel a three-game home series against Stony Brook University from New York because, after Bryant signed HB 1523, New York Gov. Andrew Cuomo banned all non-essential state travel to Mississippi.
"Think about the tax revenue that was lost that weekend due to the ban on travel," Hill said. "It impacts people who rely on travelers to come into their community to spend money."
If Hattiesburg had a non-discrimination ordinance in place, Hill said, it could protect the city against such losses in the future.
Hill said the passage of HB 1523 helped HRC begin its push for comprehensive non-discrimination laws. The ordinances do not conflict with HB 1523, he said, because the law does not prohibit city governments from passing their own non-discrimination ordinances.
Using Religion to Discriminate
James Taylor, the vice president of Jackson-based conservative think tank Mississippi Center for Public Policy, opposes anti-discrimination ordinances. He told the website One News Now that he believes the purpose of the ordinances is to discriminate against "people of faith," such as conservative Christians and Orthodox Jews, by forcing them to "bow down to the same-sex lifestyle."
"The radical homosexual lobby is looking for local wins in the South as well as the Midwest," ONN reported Taylor as saying. "Their goal is to change the culture and the politics one city at a time, one classroom at a time, one book at a time."
Hill, a former reverend in Jackson, said people of faith have nothing to worry about.
"This doesn't apply to a church, and a pastor doesn't have to marry anyone their religion prevents them from marrying," Hill said. "Our religious beliefs are something we hold sacred. I'm a person of faith, and I'm glad I live in a country where I'm able to worship freely, but our religion should never be something that we use to discriminate against someone else. Jesus tells us to love our neighbors as ourselves. By denying service to someone or discriminating against them, how is that loving your neighbor?"
Hill said he believes most Mississippians oppose laws that allow businesses to discriminate against LGBT people in services and employment.
"We may not be able to agree on everything, like marriage for instance, but most Mississippians agree that you should be able to have a job, and you shouldn't have to fear being discriminated against in the workplace or denied service because of who you are or who you love," Hill said. "Most people already think this is the law."
The efforts to pass such ordinances are part of Project One America, which HRC launched in 2014 to promote social and legal protections for LGBT people in three southern states: Alabama, Arkansas and Mississippi.
It is not clear how the city ordinances would interact with state laws like HB 1523 if challenged.
Ashton Pittman covers politics and elections for the Jackson Free Press. Follow him on Twitter @ashtonpittman. Email him at [email protected]. Read 2018 campaign coverage at jfp.ms/2018elections.